ADVERTISEMENT:
One of the best investments I ever made, I made scared. I bought the original set of 5 Commander decks in 2011, without knowing a single card that was in them. Star City had a promotion where if you bought four of the decks, you got the fifth one free.
I'd only recently gotten into Commander, and it was exactly what I wanted when I got back into Magic: a way to use my old cards, and a reason to go spelunking through the boxes I still had.
The original cards, I've long since traded and/or sold off. We've gotten to the point that now we've had two Commander Anthology sets released, proving that Wizards knows full well what a gold mine they have on their hands.
Today, I want to look back at the earliest Commander sets, and see if there's lessons to be learned. The cards that spiked, did they hold a price? What about the new decks and the allure of building something new?
The rest of this content is only visible to ProTrader members.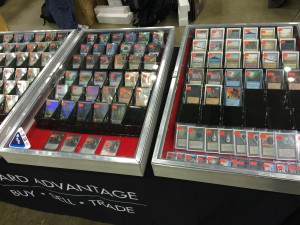 ProTrader: Magic doesn't have to be expensive.

Cliff has been writing for MTGPrice for five years now, and is an eager Commander player, Draft enthusiast, and Cube fanatic. A high school science teacher by day, he's also the official substitute teacher of the MTG Fast Finance podcast. If you're ever at a GP and you see a giant flashing 'CUBE DRAFT' sign, go over, say hi, and be ready to draft.
Track your collection's value over time, see which cards moved the most, track wishlists, tradelists and more. Sign up at MTGPrice.com - it's free!
ADVERTISEMENT:
Please follow and like us: