ADVERTISEMENT:
Everything old is new again and everything new seems to care about everything old. The Weatherlight has a new captain and while it's not a Green/White creature, she is a creature a lot of people have been waiting on for a long time. We finally got the "Izzet-colored, arifacts matter" commander that people have been clamoring for and while she is sort of… linear, she also has a few surprises in that her card drawing triggers off of more than just artifacts. Let's look at the card, shall we?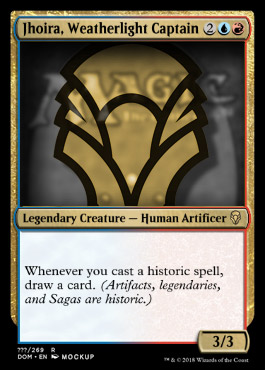 We can't look at the card. Despite the fact that we have all of the information about the card, and it leaked because of a mistake Wizards made, they have decided that unveiling the art when they had planned to will still be exciting and it's sort of hard to argue. Leaks like this are garbage. I saw someone compare it to sneaking downstairs the night before Christmas and peeking at all of your presents so you're not surprised on Christmas morning and I'm not sure I agree. To me, it's like finding out Santa Claus isn't real and your parents got you socks. Also, I'm in my 30s and I was pissed off this year because no one got me socks. I had to buy my own socks like a peasant. I guess what I'm trying to say is that if I weren't a financier, I wouldn't have even looked at these stupid leaks and it's a good thing I looked because this is the second commander I came across that is going to build a very linear, obvious way and that will bump a lot of cards.
Card Bumps, You Say?
Yeah, man, why you think we're here if not to talk about the money we're about to scoop up because we're even farther ahead of the curve than normal? While it sucks that these leaks happened, the silver lining is that we have a few extra weeks to predict what EDH players are going to build when they finally get ahold of the cards. Normally there is a gap between cards coming out and people buying them in large enough quantities for prices to move but this time the gap will be even larger since we can start thinking about what to buy now. Let's make the most of this time and look at what I expect to end up in Jhoira decks.
The first thing to remember is that Planeswalkers are now Legendary so they are eligible for the trigger and may get jammed into decks alongside Jhoira.
The rest of this content is only visible to ProTrader members.
ProTrader: Magic doesn't have to be expensive.

Track your collection's value over time, see which cards moved the most, track wishlists, tradelists and more. Sign up at MTGPrice.com - it's free!
ADVERTISEMENT:
Please follow and like us: