ADVERTISEMENT:
By: Travis Allen
@wizardbumpin
---
Don't miss this week's installment of the MTG Fast Finance podcast, an on-topic, no-nonsense tour through the week's most important changes in the Magic economy.
---
One week out from Pro Tour: Nexus of Fate, and things are mostly ok. One Turbo Fog deck made the top 8 of Brussels, but none cracked the ceiling of Orlando. There were three and four lurking in the top 25 and 32 of each event though, so it's certainly clear that despite what I imagine is every single player showing up to those events with clear knowledge that it would be the deck to beat, Nexus of Fate is still powerful enough to (reasonably) overcome. Prices aren't too absurd at the moment at $25 a copy, which makes it one of the most expensive cards in Standard, but not the most, and not a seemingly unacceptable rate for for the format in general. We'll see how October goes.
If anything, the real problem is Teferi. I've seen several pros on Twitter lately remark that every single line of text on that card is poorly designed. His +1 is deceptively protective, since while it doesn't give you a direct blocker, it provides resources to thwart attacks, and his ultimate (which is your plan A with Teferi, as I understand it) is one of the most miserable ways to lose a game possible.
I was curious to see if I could include him this week as a card to watch despite an already-high price tag, but that just wasn't going to fly. You'll pay $35 on TCGPlayer to take home the cheapest copy on the market. For comparison, Gideon, Ally of Zendikar was only more expensive than that for a week or two immediately after release. He was south of $30 for like, 95% of the time he was legal in Standard. Interesting.

ADVERTISEMENT:
The rest of this content is only visible to ProTrader members.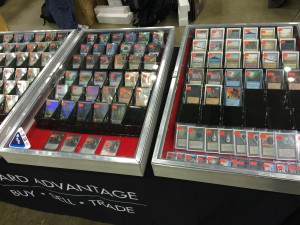 ADVERTISEMENT:
ProTrader: Magic doesn't have to be expensive.

Track your collection's value over time, see which cards moved the most, track wishlists, tradelists and more. Sign up at MTGPrice.com - it's free!
ADVERTISEMENT:
Please follow and like us: