ADVERTISEMENT:
By: Travis Allen
@wizardbumpin
---
Don't miss this week's installment of the MTG Fast Finance podcast, an on-topic, no-nonsense tour through the week's most important changes in the Magic economy. And if you enjoy playing Magic, make sure to visit https://scry.land to find PPTQs, SCG Opens, and more events on an interactive map with worldwide coverage. Find Magic near you today.
---
After an exciting few weeks with Masters 25 spoilers coming in fast and furious, and Dominaria spoilers immediately after, the past seven days have been a bit more quiet. Nothing new was released today on the Dominaria front, so we don't know anything now that we didn't a week ago.
Over on Tumblr Rosewater said that Unstable has been through three printings so far, and if it's clear there's enough demand, they'll fire up a fourth, which got fans of the quirky set jazzed up. If there is such a printing, it's likely to be the last. There will not be a better chance to get foil basics than the fourth run.
ADVERTISEMENT:
Masters 25 is finally in players hands, and aside from a suspect collation error, there doesn't appear to be a "priceless treasures" set gimmick. No bonus' or perks or anything exciting that we didn't know prior to release. Which means what differentiates Masters 25 from every other masters set is a decrease in card quality, I guess. Happy 25th anniversary, Magic! Your cards are of worse quality today than they were in 1993.
ADVERTISEMENT:
The rest of this content is only visible to ProTrader members.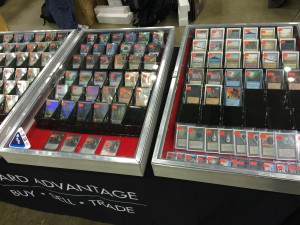 ProTrader: Magic doesn't have to be expensive.

Track your collection's value over time, see which cards moved the most, track wishlists, tradelists and more. Sign up at MTGPrice.com - it's free!
ADVERTISEMENT:
Please follow and like us: