Hello, I'm Aaron Dettmann, and I'll be writing finance articles mostly about which cards you should be looking to pick up or trade away. A little about me: I've been playing Magic for a little over ten years, and the past couple of years I've become more and more immersed into the financial side of Magic.
WotC recently announced that Dragon's Maze will contain all ten shocklands from Return to Ravnica and Gatecrash. I'm here to tell you why you should still be trading for and accumulating shocklands from Return to Ravnica.
I've heard a lot of misconceptions about the significance of the shocklands being reprinted in Dragon's Maze. Some have suggested the supply of shocklands will be increasing by 50% (because they're being printed in two sets instead of one), or by 33% (because Dragon's Maze will be drafted in a 1-1-1 format, so will comprise 1/3 of the packs opened). The actual influx of shocklands from Dragon's Maze will actually be much less than either of those percentages. Both theories fail to take into account that all ten shocklands are being reprinted in Dragon's Maze, so that already halves the likelihood of seeing any one shockland compared to RTR or GTC. In addition, in Wizards of the Coast's official announcement, they said that you are half as likely to open any shockland in Dragon's Maze as in RTR or GTC. When you also factor in that a mere one pack of Dragon's Maze is going to be opened during its drafting life compared to the three packs we're used to with RTR and GTC, it becomes clear that the impact of Dragon's Maze on shocklands will be minimal, at best.
Really, how low can these shocklands even go? The fair trade price for Steam Vents is at $8 right now, and both buyers and sellers tend to group these lands together at specific price data points. The dual lands in M13 which have now been reprinted three times are all currently $4 or higher, capping off at over $6 with Sunpetal Grove, and shocklands are much better than the M13 lands.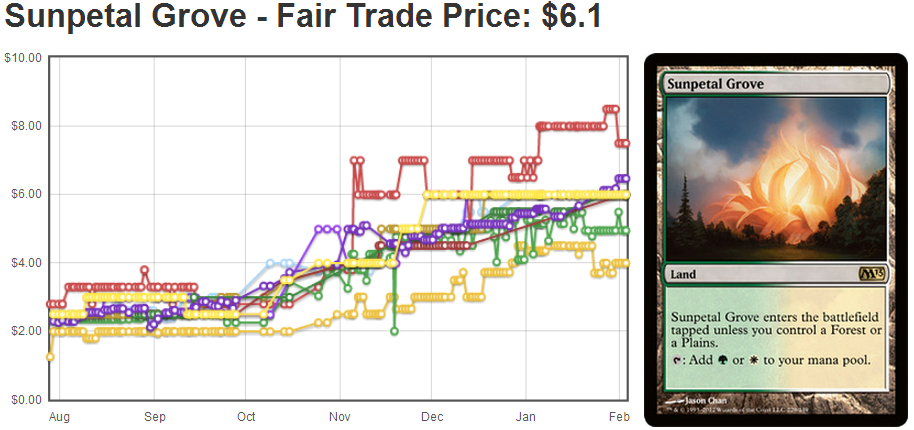 I'd bet that the absolute floor for shocklands is at $5, and even if they happen to reach that price, I highly doubt they'll stay that low for very long. In fact, I could even see the Return to Ravnica lands getting a slight bump in price in the next few months as they stop being opened in drafts; people realize they need them for different Modern decks, and will start looking ahead to decks for Standard. Shocklands at $7-$8 are a low-risk investment; they have very little room to go down, and they could easily double or even triple in price just like the Scars and Innistrad lands did one to two years ago.
Thanks for reading this week's article!