ADVERTISEMENT:
Readers,
I wrote an article where I talked about what I thought, as a person who thinks he understands this format of EDH (you agree because you're reading my article) people were going to play in Teysa Karlov decks. I was mostly right. I mean, I was right right. I didn't say anything I didn't see in multiple decklists online. However, now we have EDHREC data aggregating the data for us and I don't even have to guess half as much as I did before. This is a very good thing for everyone involved. Let's go back over the data now that we have it and see if there is anything else we can coax out. I mean, I do, what, 5 picks? We can find 5 picks I missed, let's be honest. If not, I'll do 3 picks, change the by-line to "Travis Allen" and no one will even notice. This is where you say "SHOTS FIRED." I kid, obviously. He's in our top 3 writers, and if you read his article twice it's like you're getting 6 picks, which is more than I do.
So what makes me want to look at Teysa Karlov rather than the more popular Vannifar?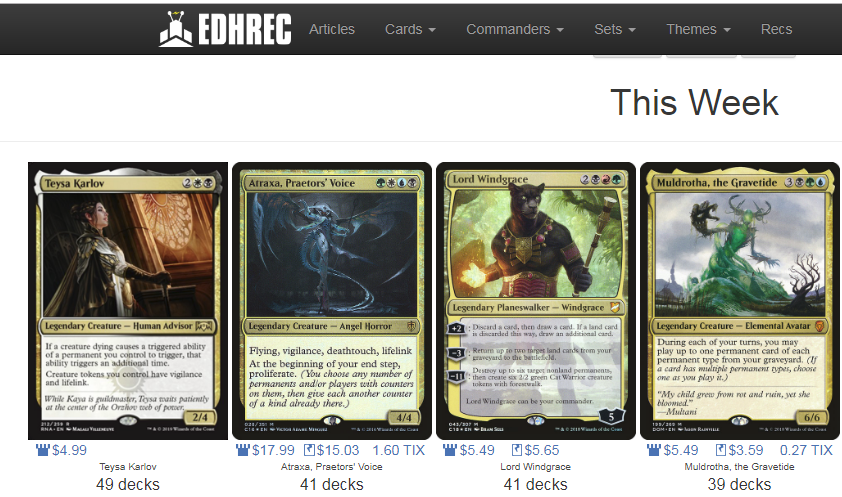 Did no one build Vannifar this week? Of course not. We're just not getting the data in, yet, and Teysa Karlov being more popular than Atraxa and Muldrotha is kind of a big deal. Teysa was the #1 submission this week and 50 decks is plenty of data to look at.
While we're looking at a complete dearth of Vannifar decks in the database, let's address some concerns surrounding using EDHREC as a data source. Yes, I think it's less than ideal that we're not getting every possible deck from every possible database. No I don't think that skews our data. I think incomplete data sets are not ideal, but I think what we're doing is using the database to identify cards we may not have thought of on our own as inclusions and looking at the percentage of decks playing those cards. We can also look at their synergy score to differentiate between Orzhov staples like Mortify and Teysa staples like Requiem Angel. Our data isn't skewed by being incomplete unless we're somehow missing an entire demographic of EDH players and even then, missing their data doesn't mean our conclusions are wrong, just incomplete. Missing something isn't that bad. It's better not to miss things, but it's not a problem if you're hitting other cards. We can't buy everything, so as long as we can identify buying opportunities from the data we have, opportunities we miss aren't a problem. My hit rate for specs went way, way up when I started using EDHREC data, not down, so I feel comfortable making recommendations based on getting a glimpse into what the masses are doing.
ADVERTISEMENT:
If you think 50 decks isn't enough, I would say don't use the 50 decks to rule out something you think is good in the deck, then. Something being missing from a small sample size data set doesn't mean that thing won't be in a larger data set, but it's unlikely something will be over-represented in a smaller set to the extent that the card will be a bad buy, especially since those errors have a mechanism to correct themselves in the form of people seeing the card in the REC list and saying "I guess that goes in the deck" and buying it. More data will continue to trickle in, but until then, we can absolutely learn about how people are building this deck by looking at what we have so far.
What About Synergy, Now?
The rest of this content is only visible to ProTrader members.
To learn how ProTrader can benefit YOU, click here to watch our short video.
ProTrader: Magic doesn't have to be expensive.

Track your collection's value over time, see which cards moved the most, track wishlists, tradelists and more. Sign up at MTGPrice.com - it's free!
ADVERTISEMENT: