Readers!
We are currently in the very awkward period of time between the first few Baldur's Gate cards being spoiled and having enough deck data to start to connect some dots, so I thought I'd share some of my thoughts about how these decks might likely be built in order to see if there is anything we can identify early. That's not my favorite way to spec but we sometimes have a one week break between a set being released and the next set being spoiled and it's fun to take advantage of that brief window in between releases so I don't have time to focus on how the relentless pace of set releases coupled with my employing myself by making content about those releases on four different platforms is beginning to feel like a prison.
The good news, though, is that I am getting pretty decent at this. The bad news is that other people are, too, and anything that's obvious is going to pop before I have a chance to tell you about it. It's way too late to make money on these cards now, but if you had bought them years ago when I said to, you'd have them to sell to people paying outrageous prices for them, so I don't feel that bad. There is plenty of money left to be made, but let's examine the money we can't make anymore unless we find a mispriced copy somewhere.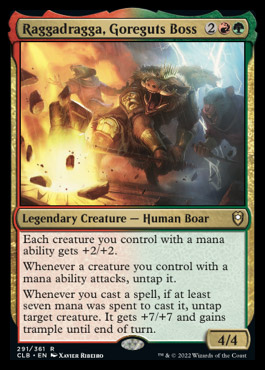 Raggadragga is an obvious pairing for a bunch of mana dorks, but people figured out right away that granting creatures a mana ability is a very easy way to upgrade them with Raggitydraggity and they responded by way overpaying for Citanul Hierophants, a card I have never stopped telling people they should play but no one listens to me because I said it in an article and not a YouTube video.
The rest of this content is only visible to ProTrader members.
ProTrader: Magic doesn't have to be expensive.