ADVERTISEMENT:
We've had one weekend of Hour of Devastation being legal for Standard, and there are some cards at surprising prices. I want to go over a few with you today and see what these trajectories tell us.
Something to note that's a bit different about this set, as opposed to most other sets that have come out in the past few years: This set was regarded to be a little clunky when it was first revealed to the world, a bit underpowered as compared to what was already legal for us to play in Standard.
This led to some impressively low pre-order prices, and starting out that low has put more cards than usual on an upward trajectory.
On to the biggest gainer of the set so far, a card no one predicted would be selling for $4-$5 on eBay a week after release…
ADVERTISEMENT:
The rest of this content is only visible to ProTrader members.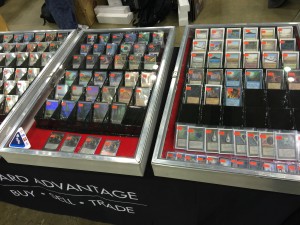 ProTrader: Magic doesn't have to be expensive.

Cliff has been writing about Magic in some format or another for six years now, a terrifying length of time. He has two kids, a full-time job, and an endless sense of humor about the fact that these pieces of cardboard keep being worth money! His goal is always to buy low and sell high, and is an avid user of Cardsphere. Follow him on Twitter @wordofcommander or tune in every Friday here on MTGPrice.
Track your collection's value over time, see which cards moved the most, track wishlists, tradelists and more. Sign up at MTGPrice.com - it's free!
ADVERTISEMENT:
Please follow and like us: