ADVERTISEMENT:
The unbannings were Monday and lots of people have churned through lots of cards as a result. Liliana of the Veil has shot up, but Dreadbore/Hero's Downfall haven't yet. I like Dreadbore a lot, and it's in the process of climbing pretty hard.
You're welcome.
There's something else that I've been noticing, though, and that some people have been mentioning briefly. We keep getting distracted by new spoilers or art or unbannings, but here's the reality:
Core Sets are back, releasing Magic 2019 in July of this year. It's been quite a while, all the way back to Magic Origins in 2015. Three years doesn't seem like that long a time, but think about all the changes and especially all the reprints we've been through with the growth of assorted Masters sets.
It's entirely possible that the Core Set is one of the main relief valves in Standard, but what we can't overlook is the possibility that lots of our favorite casual cards or Modern staples might get reprinted.
Let me show you some examples.
The rest of this content is only visible to ProTrader members.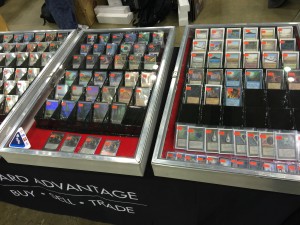 ADVERTISEMENT:
ProTrader: Magic doesn't have to be expensive.

Cliff is an avid Cuber and Commander player, and has a deep love for weird ways to play this game. His current project is a light-up sign for attracting Cubers at GPs, so get his attention @wordofcommander on Twitter if you've got ideas or designs.
Track your collection's value over time, see which cards moved the most, track wishlists, tradelists and more. Sign up at MTGPrice.com - it's free!
ADVERTISEMENT:
Please follow and like us: