ADVERTISEMENT:
Dominaria was one of the best draft sets of all time. I don't think I'll ever have as good a time in Limited as I did when I could draft Dampen Thought in 3x Champions of Kamigawa, and Spider Spawning decks will make me happy no matter the format, but Dominaria was awesome.

It also gave us one of the most expensive cards we've had in Standard for a while: Teferi, Hero of Dominaria and icon of UW control's ideals.

Teferi represents a test of something I've usually been good at: figuring out what price I want to buy at as the price comes down pre-rotation. He's only one of a few cards from the set that I need to think about, though:
The rest of this content is only visible to ProTrader members.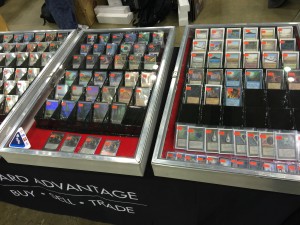 ProTrader: Magic doesn't have to be expensive.
Cliff ( @WordOfCommander ) has been writing for MTGPrice for five years now, and is an eager Commander player, Draft enthusiast, and Cube fanatic. A high school science teacher by day, he's also the official substitute teacher of the MTG Fast Finance podcast. If you're ever at a GP and you see a giant flashing 'CUBE DRAFT' sign, go over, say hi, and be ready to draft.
Track your collection's value over time, see which cards moved the most, track wishlists, tradelists and more. Sign up at MTGPrice.com - it's free!
ADVERTISEMENT:
Please follow and like us: