ADVERTISEMENT:
By: Travis Allen
@wizardbumpin
---
Don't miss this week's installment of the MTG Fast Finance podcast, an on-topic, no-nonsense tour through the week's most important changes in the Magic economy.
---
If you weren't at a computer last night an hour before Midnight EST, you missed a moment in Magic history. Watching eight players crack a bunch of unsearched Beta boosters was pretty dang cool, and aside from GenCon in a month or two, is unlikely to ever be repeated again. Wizards slept on the 20th anniversary, but they produced something quite cool for the 25th at least.
Of course what's amusing about all of this is how excited the Wizards employees were, chief among them Aaron Forsythe. When they flipped Time Vault onto the table — a card that I'm assuming is unplayable in draft, or probably close to it — everyone cheered, and it was repeatedly referred to as "a big pull," or something to that effect. Essentially that it's one of the best cards they opened. But if it's terrible in draft, why be excited to open it? Obviously you and I know the answer — it's valuable. The director of R&D essentially admitting as much on camera, without using those words exactly, was probably just as fun as seeing it opened.

ADVERTISEMENT:
The rest of this content is only visible to ProTrader members.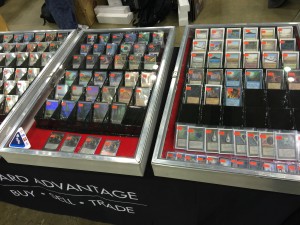 ADVERTISEMENT:
ProTrader: Magic doesn't have to be expensive.

Track your collection's value over time, see which cards moved the most, track wishlists, tradelists and more. Sign up at MTGPrice.com - it's free!
ADVERTISEMENT:
Please follow and like us: