Today we're going to talk about one of the best tools of the value seeker: the trade binder.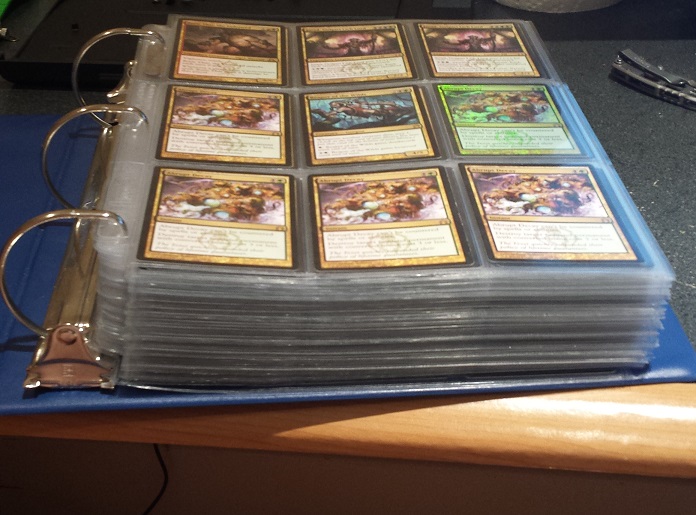 Most people that read this article series – or any financial article series really – will have a trade binder. It's the most common way for the event-attending mage to leverage their knowledge and tactics. Within the last 9 months I came to realize just how important actually having an available binder with decent cards is, and I want to share that experience with all of you.
For years now I've had a trade binder or two ready and available. I carried them with me to most Magic events, and did a great job of growing my collection with just incidental trading wherever I could.
This past March, three factors led to the near-total dissolution of my binders. The first was that I had acquired a few collections, and I had moved a major quantity of cards out of my trade binder and into a box that was exclusively for sale online. (If you're curious about why I would do that, refer to the linked article.) This removal of many high value cards from my trade binder drastically reduced my potency at trade tables.
The second factor was that I had just signed onto a six-month job contract in March, and subsequently was flying out of state every Monday through Friday. The inability to attend any Magic event during the week – including FNM – meant that the number of opportunities I had to trade decreased significantly.
The third was my Return to Ravnica (RtR) holdings. Because I was going to be out of state so often, I would not get to play much Magic over the summer. I quickly traded all of my good Innistrad block cards such as Huntmasters, Bonfires, etc. into undervalued RtR cards such as Jace, Architect of Thought (who was under $10 at one point.) It did not take long before I had a big ol' pile of RtR cards that I knew would go up after Theros, but in the short term I had little left that anyone actually wanted.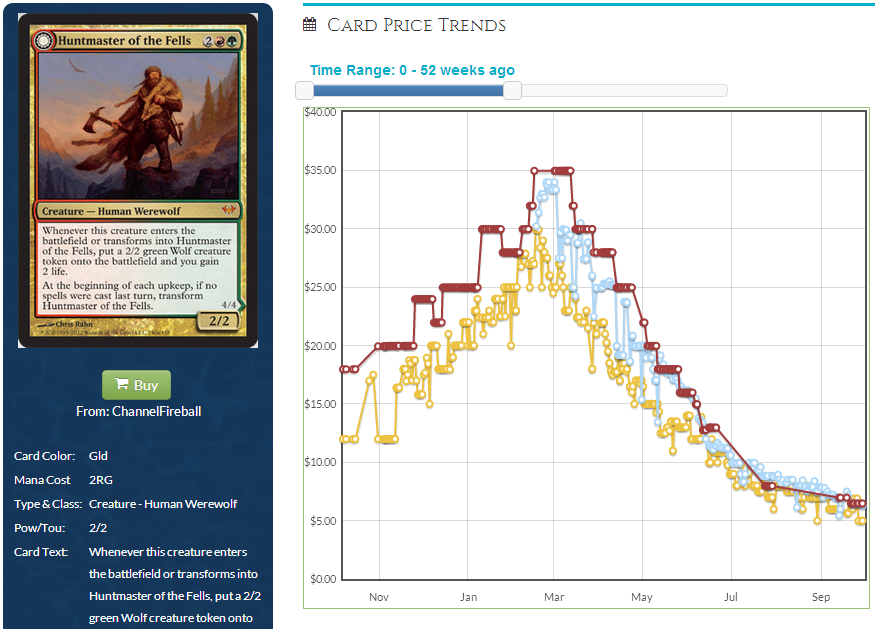 The culmination of these factors was that I had few cards worth trading, and fewer events still at which to trade them away.
What I found occurring was that when I did manage to land early enough Friday afternoon to make it to FNM or the odd Saturday afternoon draft, I would be regaled with great trades of fellow binder grinders such as the effervescent Joe Shea of the Slam Dunklers podcast, whom some of you in the Northeast may recognize from prior GP and SCG events by the late-nineties Dr. Seuss Cat-in-the-Hat.
I would invariably find myself slightly jealous that peers would stumble upon these great trades with people that valued their Force of Will at $30 or your Praetor's Grasp at $3. I would bemoan my lack of bad luck and inability to find these soft trades that do wonders for increasing your Magic net worth. Months prior I had been able to profit similarly, but now I just could not get a good trade to save my life.
The truth of the matter was not that Joe or anyone else was particularly luckier than I was, or that I was necessarily a worse trader. Rather, it was more an effect of availability.
We never stray too far from the concept of opportunity cost when discussing Magic finance, and I think that's really a central idea of what I'm discussing today. To use what I assume is a sports metaphor, "you miss 100% of the shots you don't take." The reason I was not finding great trades was not because I was asking the wrong people or that others had gotten there first. It was because I did not have anything to offer them that would allow for these interactions.
Consider Rakdos's Return. I currently have a playset or two sitting in a plastic sleeve at home, waiting for them to jump. I picked them up between $2-$4 each, and I'm holding out for $10, or $15 if I'm lucky. If they hit $8 or $9 by December, not unreasonable numbers, I will have "made" about $4 to $7 on each copy. That's a pretty solid profit margin on an individual card.
There is a real cost to having that card socked away in a drawer for months however. A playset of that card at my house is $20 not in my binder. It's $20 that I don't have the opportunity to trade to someone. You never know what random player is going to have a miscut Daze in their binder and is dying for Rakdos's Returns.
If there's a guy with an Avacyn in his binder that he values at $10 (currently $16), and he gives you $6 on your Rakdos's Returns (currently $5.75), then you can easily get his Avacyn for your two Rakdos's Returns. At that point, you have essentially traded your Returns at $8 apiece – which is what you were waiting for them to be anyways, and you did it as early as months ahead of schedule. This may sound like a dream scenario, but if you trade with any regularity, you see trades like this all the time. I am constantly finding people with outdated price models, and it is easy to exploit that if you know your data and act quickly. (As in, offer trades before they whip out their smartphone.)
Remember – a card in your binder is not a card you have already traded away. It's a card you might trade. This is an important distinction. Just because you like a card for short or medium-term gain, it does not mean you need to pull it aside and sit on it until you get there. By leaving it in your binder, you are increasing your number of potential trades and trade partners.
You may even find trade partners you would not have otherwise by virtue of having more cards available. Someone not in the mood may turn down your trade request. But if his buddy is looking through your binder and sees a card he knows his friend wants, there's a good chance he'll tell him. That's a great way to be one of the only people to see that individual's trade binder that day.
You do not need to put every copy of a card you have into your binder either. I have quite a few Deathrite Shamans, but I only put two into my binder. I was not keen on trading them at their retail price of ~$13, but you never know. Lo and behold, at a release event this Saturday, someone flipping through my binder saw them and asked "Are these for trade? They're like $20, right?" That conversation worked out well for me.
Remember too that you are not required to slavishly adhere to any particular prices, regardless of what someone else's phone says. If an individual wants to give you $5 on your Rakdos's Returns, even if that number is fair, you are not obligated to accept it. Simply inform the other party that you understand that is the fair market price, but you are not ready to trade them away at that rate. 95% of people will accept that and move on. Those individuals that really want the card may be willing to give you more on them if they really need them, at which point you're getting the value out of your cards that you wanted to in the first place.
Before you dump every card you own into sleeves, there are certainly some cards that are not worth putting in a trade binder. Back in July I would not have included my Jace, Architect of Thoughts for the sole reason that I would have gotten tired of telling people I didn't want to ship them for $14 apiece. I also would not bother with Exquisite Blood, because there will be so few interested in that card as it is, you may as well save your back the extra weight and let them appreciate in dusty storage. Make sure you don't overload your binder either. Nobody wants your Cho-Arrim Bruiser.
The next time you sit down at FNM and open your binder, imagine that 10% of your cards have an animated line tracing an arc to a random individual in the room. Those lines are potential trades that have a chance to be very profitable for you. The less cards in your binder (or if you don't have one at all), the less of those lines will appear. The more of those connections you can see, the better you'll do that day.
I missed a solid six months of good trading to learn this lesson. I hope all of you can learn something from it.
The latest hot news: