ADVERTISEMENT:
By: Travis Allen
@wizardbumpin
---
Don't miss this week's installment of the MTG Fast Finance podcast, an on-topic, no-nonsense tour through the week's most important changes in the Magic economy.
---
GP (MF) Memphis was this weekend. You wouldn't really know by checking DailyMTG; they got rid of the coverage section it seems. The 'Events' header is still there, but not the coverage subheader. I'm sure if you went looking for all the old coverages they're in there somewhere, but importantly, if you land on the site, you'd mostly have no idea that a large event occurred this weekend. In order to get the deets on the decklists (and winner), I had to check CFB's site. Which, by the way, also isn't really set up to display this sort of information. The GP coverage is in with the articles, and already pushed below the fold by Monday morning's crop. Which is all a shame, really, since the top lists had some great variety. Sure there was a Nexus build, but there was also Mono-Blue Tempo, Gruul Midrange, Rakdos Midrange, Sultai Midrange…ok, maybe it was fairly midrange heavy. Still, a lot less people are going to know what happened at each GP. Not only is that a bummer, it means a lot less people are going to know when a cool card shows up and performs well. Which then means that even if it's a good spec, it still might not go anywhere, because the data may not be there for people to look at and realize they should be sleeving copies. Maybe.
The rest of this content is only visible to ProTrader members.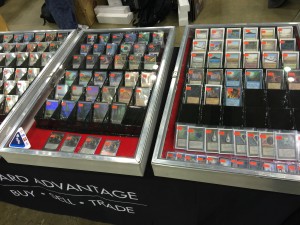 ProTrader: Magic doesn't have to be expensive.
---
Travis Allen has been playing Magic: The Gathering since 1994, mostly in upstate New York. Ever since his first FNM he's been trying to make playing Magic cheaper, and he first brought his perspective to MTGPrice in 2012. You can find his articles there weekly, as well as on the podcast MTG Fast Finance.
---
Track your collection's value over time, see which cards moved the most, track wishlists, tradelists and more. Sign up at MTGPrice.com - it's free!
ADVERTISEMENT:
Please follow and like us: