ADVERTISEMENT:
By: Travis Allen
@wizardbumpin
---
Don't miss this week's installment of the MTG Fast Finance podcast, an on-topic, no-nonsense tour through the week's most important changes in the Magic economy. And if you enjoy playing Magic, make sure to visit https://scry.land to find PPTQs, SCG Opens, and more events on an interactive map with worldwide coverage. Find Magic near you today.
---
I'd love to use this past weekend's results to dive into what a Jace-laden Modern looks like but alas, we'll have to wait one more week. Wizards made the (wise) decision not to apply the B&R changes to the format a week before both a GP and SCG Open. It's easy to be annoyed about that on our end, as an audience clamoring to see how this plays out, but when you consider how many people had already spent weeks preparing for those events, it wouldn't have been terribly polite to upend the entire format five days before they showed up on site. It's fine; it's just one more week.
There was a Modern Challenge that fired this weekend with the new list in place, so I ran through that, along with what I've been seeing on Twitter and in various articles. Jace was clearly a strong, but not overpowering card in the Challenge, although that comes with a big asterisk. For one, Jace is currently the most expensive card on MODO. One wonders how many people would have liked to use him but were simply priced out. Additionally, looking at the other decks that did well, it's not exactly heartening. Burn, Tron, and Dredge were many of the non-Jace lists. How's that for a gauntlet?
ADVERTISEMENT:
The rest of this content is only visible to ProTrader members.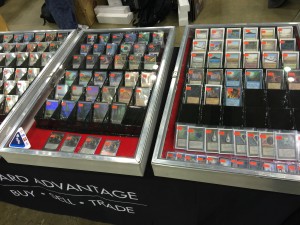 ADVERTISEMENT:
ProTrader: Magic doesn't have to be expensive.

Track your collection's value over time, see which cards moved the most, track wishlists, tradelists and more. Sign up at MTGPrice.com - it's free!
ADVERTISEMENT:
Please follow and like us: