ADVERTISEMENT:
By: Travis Allen
@wizardbumpin
---
Don't miss this week's installment of the MTG Fast Finance podcast, an on-topic, no-nonsense tour through the week's most important changes in the Magic economy. And watch this YouTube channel to keep up to date with Cartel Aristocrats, a fun and informative webcast with several other finance personalities!
---
Aether Revolt's official release weekend brought us the first SCG Open of the new Standard format, and it came out…cats blazing? The crazy cat lady combo that we all feared, that is Saheeli Rai and Felidar Guardian, showed up but didn't dominate. It had a reasonable showing, with three in the top eight, but all lost in the quarterfinals. The top three decks of the event were various flavors of GB aggro, with a GW build rounding out the top four that's likely to become hybridized with GB in the future. Looking through the top 64 and conversion rates, GB Aggro and Saheeli are two of the pillars, with Mardu Vehicles, GW Tokens, and a smattering of other strategies rounding things out.
Key cards in GB began spiking Saturday morning, and as of today, Walking Ballista is up well over $10. Verdurous Gearhulk doubled, and Rishkar, Peema Renegade is in the $5 range. The GB well is already pretty dry with these jumps, but remember that the first weekend of Standard is often not the same metagame as the Pro Tour.

ADVERTISEMENT:
The rest of this content is only visible to ProTrader members.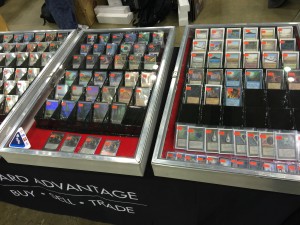 ProTrader: Magic doesn't have to be expensive.

Track your collection's value over time, see which cards moved the most, track wishlists, tradelists and more. Sign up at MTGPrice.com - it's free!
ADVERTISEMENT:
Please follow and like us: