The Modern Showcase Qualifier this weekend featured two Goblin Charbelcher ("Belcher") decks in the top 8 from users victorjcoll1 and ZYX_Jerry. While Showcase Qualifiers are smaller, relatively high-stake events, in which the winner earns a spot in the Champions Showcase with its prize pool of $70,000 and a Pro Tour (Season 1) or World Championship (Season 2–3) invitation. A complete metagame breakdown can be found here. While Belcher decks pop up from time to time, it was very interesting to see not one but two in the top 8 for a premium MTGO tournament. This article takes a deep dive into the key cards of this deck that are run in multiple formats, which you may want to consider picking up sooner rather than later.
Below is the 7th place version of the Belcher deck from MTGO User victorjcoll1.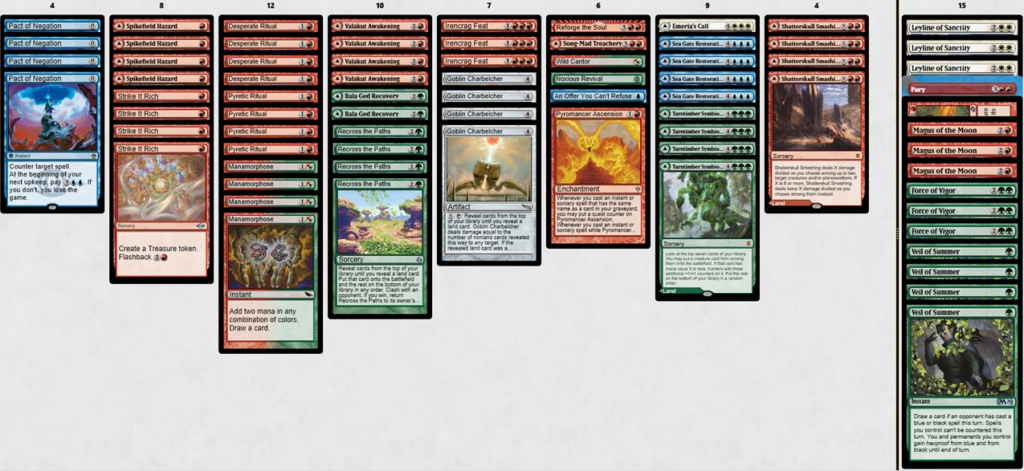 Goblin Charbelcher decks have had their ups and downs over the last year. Despite having success, many thought they would fade after the printing of the ultimate fair land destruction spell, Boseiju, Who Endures, which is a two-mana stone rain against Belcher. Critics of this deck were correct that Boseiju would see a large amount of play. It is currently the 5th most popular land in the Modern format, being included in 37% of decks, typically with two copies. But those critics apparently incorrectly assumed that Boseiju, or its predecessors like Cleansing Wildfire or Field of Ruin, would be enough to keep this highly unfair deck down.
Many cards in the Belcher come and go but are not essential to the strategy, or are too narrow and are only good in Belcher decks to be trustworthy (I'm looking at you Irencrag). But there are several cards in this archetype that have cross-format appeal and deserve a much closer investigation.
Pact of Negation (Non-Foil)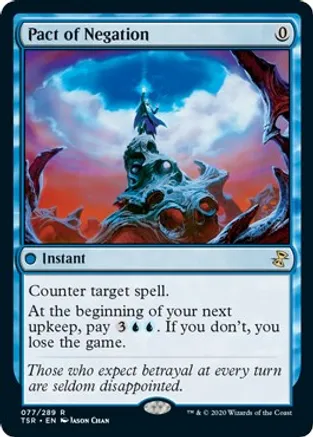 Current Price: $10
Potential Price: $20 in 18 months
Confidence: 8/10
Disclosure: I own 33 copies.
Pact of Negation is a key card in several combo decks. Its purpose is obvious, allowing you to win the game during the turn it's played, or alternatively, in the late game it's an expensive awkward counter that is typically only used against a top threat. For decks like Belcher, it allows you to push through an opponent's hate to combo off and win the game with very little downside!
In Modern Pact of Negation also plays an important role in Ad Nauseam, Storm, and Neobrand. All are very unfair combo decks that lean into what Pact of Negation does best. In Commander, Pact of Negation does extremely well too. It's included in 74,500 decks on EDHRec.com, which is about 10% of all blue decks!
Another reason I like Pact of Negation is because of its strong price history. The A25 version also fell to around $10 about a year after its reprinting, but then proceeded to climb to $40 before it was announced in Timespiral Remastered (TSR), combined with being in "The List" for a while. It's hard to believe, but TSR was released in March 2021, nearly a year and a half ago. While supply is still fairly deep, Pact's price has been holding steady thus far, and in my opinion, it's only a matter of time until Pact of Negation begins to climb again!
Valakut Awakening (Foil Extended Art)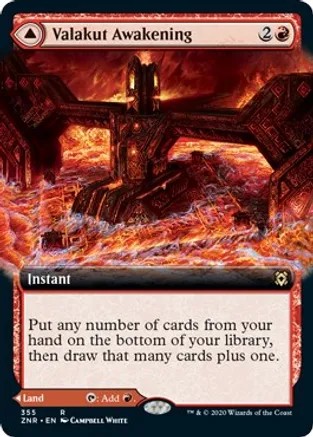 Current Price: $10
Potential Price: $20 in 18 months
Confidence: 8/10
Disclosure: I own 40 copies.
For the low cost of coming into play tapped, Valakut Awakening is able to selectively cycle away your dead cards and land in exchange for fresh new cards. At instant speed no less and it replaces itself! It is no surprise to see this card seeing competitive play, but typically decks run one or two copies as a backup plan like Omnath or Living End. But here, Belcher is running a full four copies! Love to see it. It has also recently been seeing Pioneer play in Jund Transmogrify and other Indomitable Creativity shells.
On top of seeing competitive play, Valakut Awakening is in 67,000 decks on EDHRec.com. This significant amount of commander play, combined with the Modern and Pioneer, is why I selected the premium version of this card. It's unlikely that a better card filter card will be printed anytime soon that accomplishes the same flexibility as Valakut Awakening with such few downsides. Assuming a lack of premium reprint, all versions of this card should continue to climb.
Mythic Zendikar Rising Lands
A lot has been written about the Mythic Zendikar Rising lands since their release and this deck provides one more example why you should own a reasonable number of these lands. Some have missed their best entry points, but not all. They are essential for strategies like Belcher but are also role players in countless other decks and are strong EDH cards too.
Watch List: An Offer You Can't Refuse (Promo Pack: Streets of New Capenna)
Current Price: $8
You may have noticed this sneaky little card is included as one copy in this Belcher list. An Offer You Can't Refuse in many situations emulates a one-mana negate. For now, Belcher is one of the only consistently strong decks that include it. But at least one other fringe deck, Song of Creation storm, runs a full playset. While I'm not sold yet on An Offer You Can't Refuse becoming extremely prevalent in competitive circles, I do think it's worth keeping an eye on to see how it's being incorporated in decks going forward. I could easily see this card becoming more mainstream, juicing demand for this card.
Turning to EDH, this card is in an astounding 35,000 decks on EDHRec.com, which is extremely high for a set that released in April. To put that into perspective Swan Song is in 145,000 decks. At this rate, An Offer You Can't Refuse is on track to be a mega staple in Commander.
Another question that is outstanding on this card is when will be peak supply? This version comes out of Promo Pack from Streets of New Capenna. It's unclear to me whether we are currently in peak supply or if a solid amount of new inventory is coming to the market soon.
For now I'm keeping an eye on it, but don't be surprised if you see it as a future pick.
Oko (@OkoAssassin) has been writing for MTGPrice since 2020 with a focus on competitive play and Magic Online. In his personal life Oko is a lawyer, father, ice-hockey player, runner, and PC gamer.