Readers!
This week I didn't want to flog the dead horse that is the latest commander/modern mishmash reprint set because the cards that are going to rebound are obvious to you if you're reading this article. I think one of the best-kept secret of mtg financiers is that you will immediately look amazing at it after about 4 weeks of effort compared to someone who doesn't pay attention at all. Most of making good mtg finance calls is just paying attention, and if you're paying attention to my articles, that's probably paying attention enough. This article isn't me teaching you to pay attention, this article is me being paid to pay attention for you, something you're capable of. I'm absolutely fine with that arrangement, it is my preferred method of laboring under capitalism. If you're fine with me being fine with it, let's talk about what you already know a bit more.
Since all parties involved accept the basic premise of the first paragraph, we can all agree that we can basically dispense of another article where I tell you more cards from Double Double Toil and Trouble Masters. I talked about the ones I strongly believe in last week and we can always revisit the topic next week when prices are sure to have stabilized a bit more and the picture of what's a nice pickup at its bottom is a bit clearer. I'll pay attention to that for you. I was going to belabor the point a little for the sake of the content but I owe you better than that. I needed a backup article idea and James Chilcott told me "Keep it simple. Tell me 5 cards you think are underplayed" which, I don't feels like a cheat…somehow? Thematically? It just seems like such a dry topic to drop in your laps, I thought I'd type a few paragraphs to lull you into a false sense of security and then spring a really basic topic on you with no pizzazz and then
5 Cards I Think Are Underplayed
It's not the same as the title of the article because I didn't want people to see the number 5 in the title of the article because then this really looks like I farmed this job out to someone at buzzfeed. You know what? This is a good article topic, I'm going to have fun researching this and presenting my findings to you. I'm going to stop apologizing for this being the article, but I kind of blew a lot of the word count space I would have needed to introduce these topics a little better so we're really going to have to get into it very quickly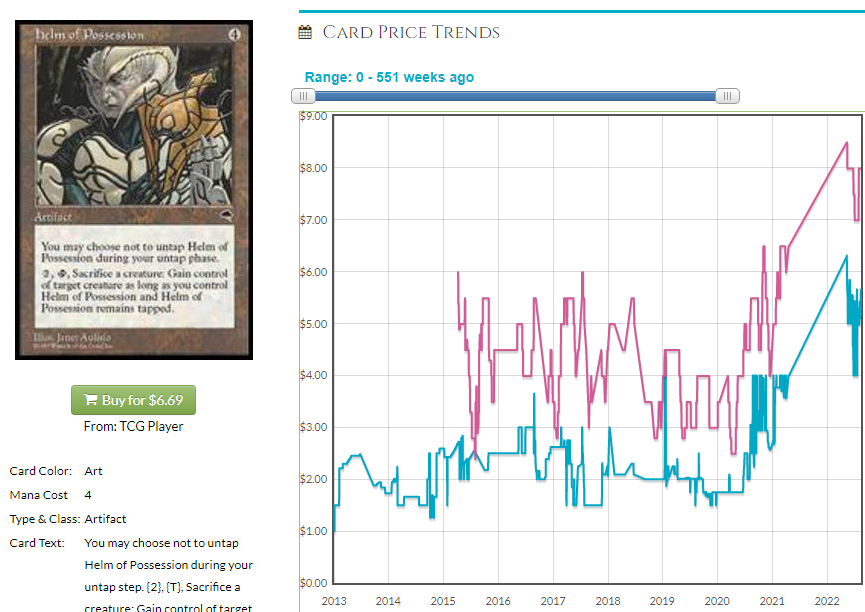 OK, can we move on? No, you're probably right, and the very least I should address what is the obvious implication of my bias regarding this card. I think this card should be in every EDH deck. Without exception. That's probably a little hyperbolic-sounding, so I will tone it down and say that every deck should play this card with exceptions. I can't think of any, but maybe you like not having the best way ever to take care of a problematic commander. The price started going up in 2021 and it will probably sound ridiculous if I take any credit for that, right? I'm not that much of an egomaniac but, like, the dates line up, that's all I'm saying. I think this is a buy under $10 forever. It's not on the Reserved List but the last time they really talked about it for a reprint that is going to come out anytime soon would have been like 2 years ago when this was like $3.60 on TCG Player. I think we're good to cash in buying these under $10. I really don't see a reprint coming anytime soon and if they're not really nimble enough to respond to an increase caused by us buying. This feels like a slam dunk and I would honestly bring this card up every week in this article if I didn't think you'd all get sick of that.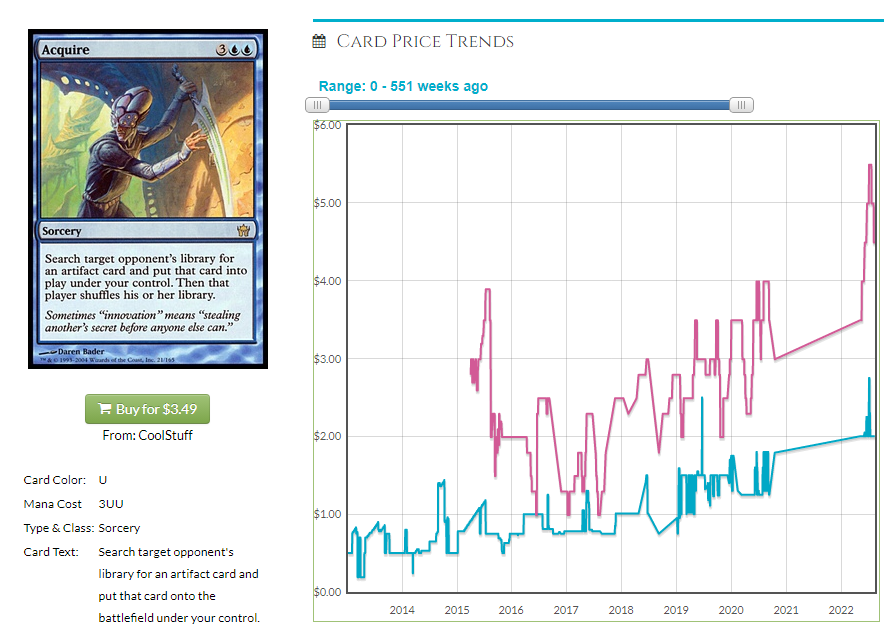 Acquire absolutely RIPS as a Magic card but something very important happened in 2020 and it caused people to not really play cards that searched other peoples' decks because everyone was playing on webcam and being germaphobic in person. I think there is pent up demand for Acquire that will actualize when play in person returns in full. Barring another reprint or media insert, these are a buy under $5.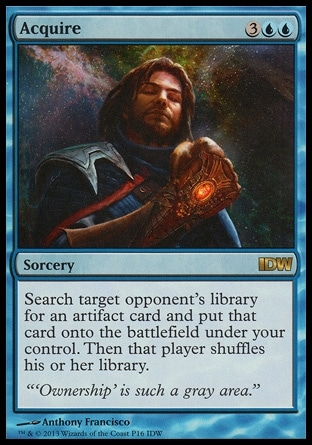 This version is exceedingly rare for some reason, I guess because people stopped picking up the comic book when it was like Arrest, Feat of Blood and like, Castigate back to back months. I was in it for the early Faithless Looting and High Tide but a lot of people dropped the book making these concentrate in the hands of dealers. When those copies sell out, the card will basically disappear and command a premium. I like this version under $10, $10 may be pushing it a bit. It's around $6 or $7 on TCG Player right now, I like that number quite a bit.
MANNNN I wish I had calling this sooner. It basically bottomed out at $1 for the superior Urza's Saga printing but not you'll be lucky to get these under $5 on TCG Player. It's a shame because I really believed this card would rebound but I was too busy watching Tiger King and playing Animal Crossing to go back for it. I like this under $5 for the record. It shrugged off its reprinting, and by the way, reprints like that have a way of creating demand that will put pressure on existing stock, also, because some people literally didn't know the card existed because it's been that long since this set came out. Imagine you started playing a year ago! You wouldn't be able to keep up with current releases, let alone go back to Urza's Block. EDHREC ranking on this keeps slipping year to year but it will come back, and when it shows up in the high synergy cards of a sacrifice commander, you'll be glad you HODL'd.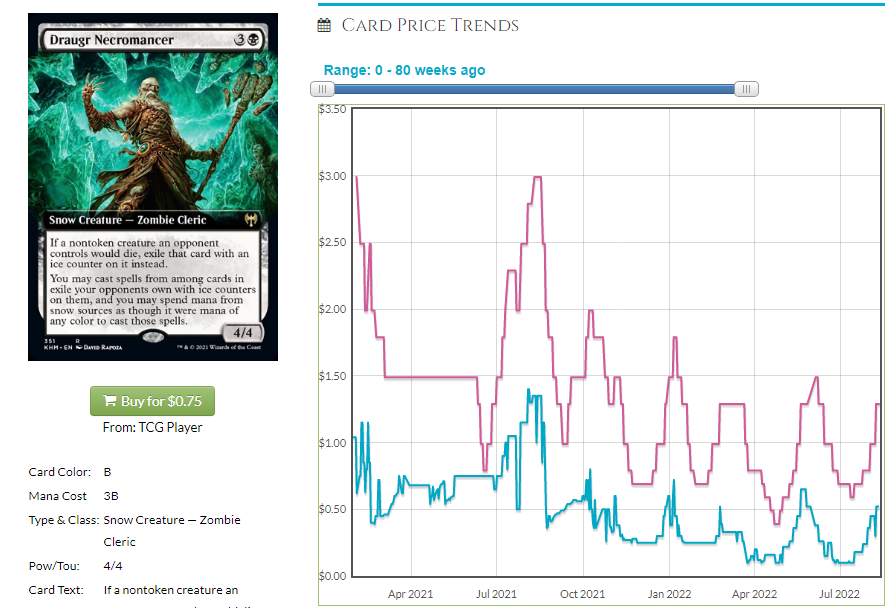 I don't expect any of you to know this, but I write an EDH column on Coolstuff Inc. and I will, no joke, add Snow-Covered Lands to my decks literally just to play this and then at that point, why not Sunstone? And Glacial Crevasses? Might as well jam an Extraplanar Lens in there. I run Extraplanar Lens in 2 color decks, it doesn't even got that well whenever I draw it, I don't care, snow lands, BABY! Look how pretty and how cheap this pathologically playable card is. Fill your shopping card and this is going to be $3 again.
This whole entire article is positively RIFE with my bias, so why stop now? I am biased because I run a lot of of landfall. However, this is a Rhystic Study that banks the cards for a few turns then turns into a beater, or you literally go troll mode and hit them with The Omenkeel and steal their lands. It is so funny to steal people's lands in EDH, they get so upset. Especially on webcam. I write the name of the person I stole the land from on the infinitoken to mock their pain. This is 2 kinds of card in one and I saw literally 2 articles today (fine, I wrote one of them, but I still SAW it, I had to see it to write it) talking about what a boring card Rhystic Study is. This is a more fun Rhystic Study, and it doesn't cost $30 for a common masquerading as a rare.
I am glad we decided to do the article this way this week. I have some more opinions and I'd like to discuss them with the Pro Traders in the Pro Trader Discord, so if you're not signed up for Pro Trader yet, it might be a good idea. My article was late this week and our loyal Pro Traders deserve some compensatory picks from me and I really hope they're non-obvious since I feel like I accidentally hyped them up a bit. Thanks for reading, everyone. Until next time!