Readers!
I'm on a new "Keep it simple, stupid" kick and one benefit of that is you don't miss something obvious. To me, it seems obvious that Slivers are coming. If not in Dominaria United, then soon. Ideally not in a precon because lately people aren't adding too many cards to the precons. If we could get Slivers in a main set, that would be pretty ideal and it seems like they are signaling pretty hard.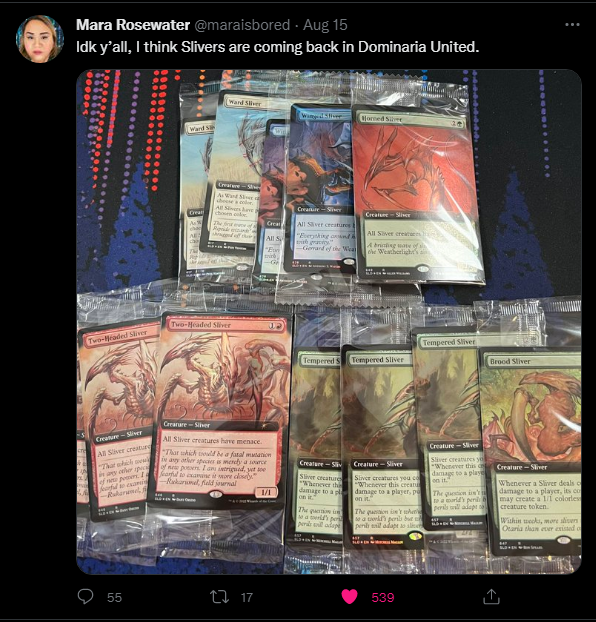 Are Slivers NECESSARILY coming back in Dominaria United? The good news is that it doesn't matter. It doesn't matter for several reasons. The first is that, whether or not this is hinting at anything, Slivers will eventually get done again so these won't be missed specs, they will be longer-term specs. You'll get dinged with a reprint or two, you might start to calculate the opportunity cost of having money tied up in long-term specs, but the day will come when you cheer my name for pointing out the obvious. I guess perhaps the second reason it's fine is that the worst case scenario is that you're right too early. Also, consider that this is a strong signal that others are reading which means we could see all of the Slivers stuff tick up just on principle. I like when stuff becomes a self-fulfilling prophecy because you get to strut around like Nostradamus with a pocket full of shrimp money from being good at guessing when I'm right.
If we are in some sort of quantum experiment where observation changes outcome, it makes sense that finance really can be that easy sometimes, where a few dozen people tweeting about getting a bunch of Slivers in their Secret Lairs that I still don't have can make people think "Slivers." Am I capitalizing on an effect of those Slivers being sent out or am I helping to originate a panic? Good question, but if you buy right now it won't matter since anyone I convince to buy with this article will buy enough to drive the price up, so you actually can't lose here.
So say Slivers do come and they come in the next year and other people want to build Slivers decks. You'd like me to tell you what I think you should buy and show my work. I'm into it, let's knock this out before wherever you buy shrimp closes.
The rest of this content is only visible to ProTrader members.
ProTrader: Magic doesn't have to be expensive.