ADVERTISEMENT:
Readers,
I have a different article (that still would have been late, sorry) half-written because Las Vegas required a lot of post-con recovery time and I didn't really get it. The good thing is, since my article was late, I was privvy to a card being spoiled and decided to audible into writing about it. Some of the cards are disappearing so it's best we think about these picks, stat before it's too late. Sometimes EDH prices move slowly and sometimes they're obvious and obvious means people who don't know anything about EDH are going to buy them. I bet a lot of these panic picks don't pan out so sell as fast as possible but if you can get some of these for cheap, you almost certainly profit even if the cards do what they usually do and plateau halfway between the pre- and post-spike price.
I think there is still a little bit of time if you are a Pro Trader and get in on this stuff now and I think some of the other stuff will need a big nudge and will only get there if the deck materializes.
My "EDH Guy" Analysis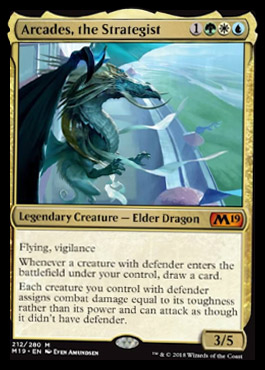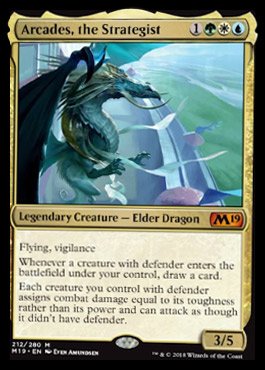 This deck is going to suck. Have you ever played a deck where you can't really do much if your commander is dead? Well, literally 2 minutes ago, Jim had the same thought.


You are incentivized to run really bad cards and they're only useful if your general is out. Drawing cards is cool but I draw a lot of cards with my Enchantress deck and that deck eats other decks' dust like it's its job. If Arcades is out, congratulations, you're now allowed to win an EDH game the slowest and stupidest way possible, by attacking with creatures. Big, stupid creatures, most of whom have no useful abilities because they were designed to have a good casting cost to power and toughness ratio and a lot of their abilities trigger when they block.
What this deck has going for it is that it's fast. Arcades comes down early and if he dies, it's only 6 to resurrect him and Alpha Strike early. Unfortunately, you're not killing anyone so you're just going to beat fair decks.  You're going to beat basically tribal decks unless those tribes have some sort of synergy, in which case you're boned. You do have a mostly full grip and an incredibly good rate on your creatures. a 5/5 flying dragon costs like 6 mana whereas a 0/5 flying wall costs like 2.  Wall of Blossoms and Wall of Omens, normally playable cards, are doubly good. Wall of Junk and Quicksilver Wall suddenly are draw machines. The good news is that I bet this deck gets built a lot because it's obvious and whether or not it gets played at all is irrelevant. This is splashy and where there is a splash, there are ripples and we're all about ripples here. So let's look at the ripples and ignore whether this deck has any long-term chops. You don't write Emergency Articles for decks with long-term chops, anyway.
The rest of this content is only visible to ProTrader members.
ProTrader: Magic doesn't have to be expensive.

Track your collection's value over time, see which cards moved the most, track wishlists, tradelists and more. Sign up at MTGPrice.com - it's free!
ADVERTISEMENT:
Please follow and like us: