lith Rite
Readers! My attempt to game the headline analyzer algorithm are yielding some interesting results – this time I did a bit worse, 72%. I guess it's better to make specific promises – "making 40k" than it is to tell people how to do things. Fair enough. The headline analyzer doesn't think you want to be taught how to fish, it thinks you want fish spoonfed to you. I'm not going to do that, readers. It's not because I respect your intelligence too much, far from it, I'm just not inclined to try and feed anyone fish with a spoon. I'm going to forkfeed these picks to you. That said, there isn't a ton more data now than there was last week, and the EDHREC backend has gotten a little more complicated so we only have data from one deck. Let's beat it to death and see if anything else comes rolling out of the corpse. Actually, no, I changed my mind mid-paragraph and rather than just erase that and write what I'm actually going to do, I'm going to leave all of it which will have the effect of showing you how my thought process works and also emphasize that this other thing is so important that I don't want to risk forgetting about it. They made Necrotic Ooze a commander.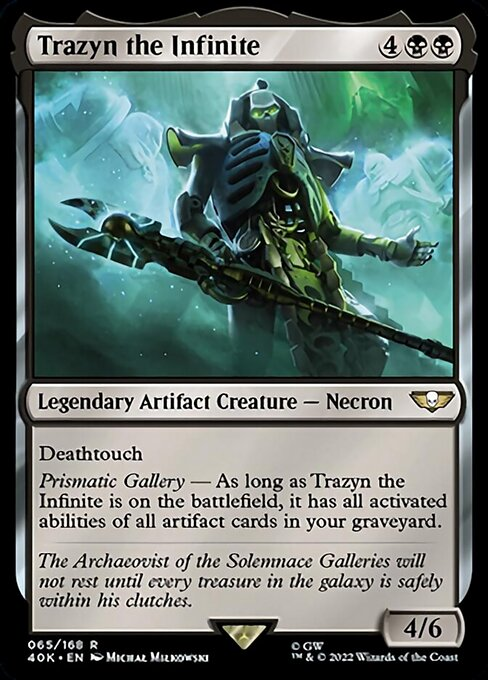 It doesn't have the activated abilities of all creatures, but having the activated abilities of all Artifact Creatures is enough because you don't need any creatures that aren't artifacts.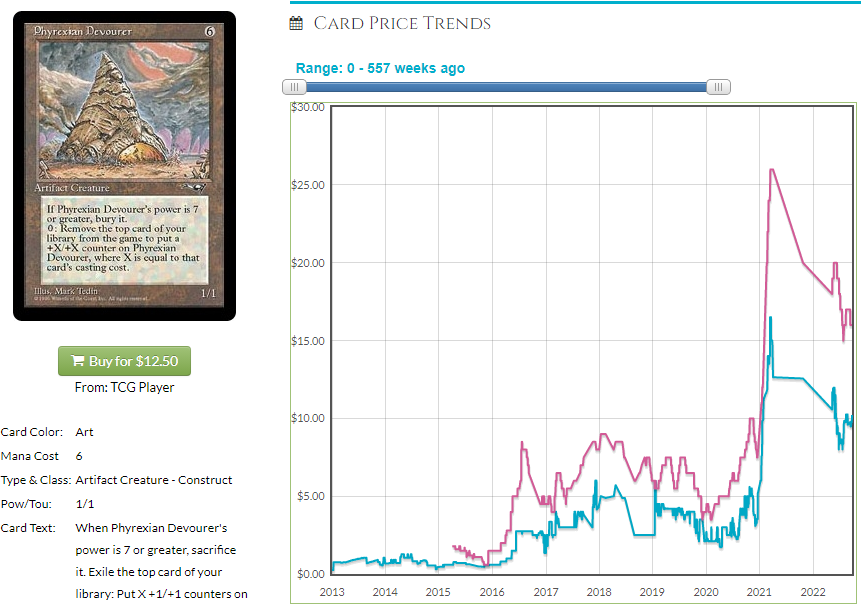 I know I sound like a broken record here, but Phyrexian Devourer is very good with Necrotic Ooze effects and they're going to come back into focus soon. Notice the Old Stickfingers bumps I warned about? The price has been cut in half, but since we have an even better Necrotic Ooze commander now, I figured why not just make a lot of money when this hits $30 again? Second spike, baby. Making money on this card is so much fun and I've done it so often I should send the Alliances design lead a gift basket. One of those edible arrangements or something. Something classy with a bunch of pineapple and shit. People love being thanked with a bunch of pineapple and honeydew melon but they don't want to pay $45 plus delivery fees to get like 4 chocolate covered strawberries to be served to them at room temperature in front of all of their work colleagues. That's where I'll come in. Did I make you a bunch of money with this card in 2021? I bet I did. Is it absolutely going to happen again? Don't answer here, that was a rhetorical question since this is an article and not a conversation. Let your chocolate covered pineapple wedges on skewers do the talking.
The rest of this content is only visible to ProTrader members.
ProTrader: Magic doesn't have to be expensive.