Readers!
Occasionally, I like to take a trip back through Magic's history and look at old sets and see if there is anything we can learn. Released all the way back in December 2022, a set called Jumpstart 2022 came out, and while reviews were positive, the set was quickly abandoned by players and collectors later in the week when Starter Commander was released and the Dominaria Remastered spoiler season kicked off. What went wrong? Was the initial hype unfounded? Why did most people only play one Jumpstart prerelease event or fewer? Today we're going to take a look at Jumpstart 2022 because no one knows what's in that set and see if there is anything we can learn for the next time a set comes out (Friday).
If you remember back to December 2022, Jumpstart had a very popular commander named Kibo, Uktabi Prince. If you can't remember all the way back 3 sets ago, that's OK. Not many people remember this, but there were actually 14 total Legendary creatures in Jumpstart – a sane and rational amount of Legendary creatures. It was a risky gamble and WotC, to their credit, learned their lesson and haven't had a set with fewer than 50 Legendary creatures come out since. With only 14 Legendary creatures, did such a small (lol there are like 900 cards in this set and Ben Bleiweiss tweeted about it today but I deactivated my account so you'll have to take my word for it) set impact the format?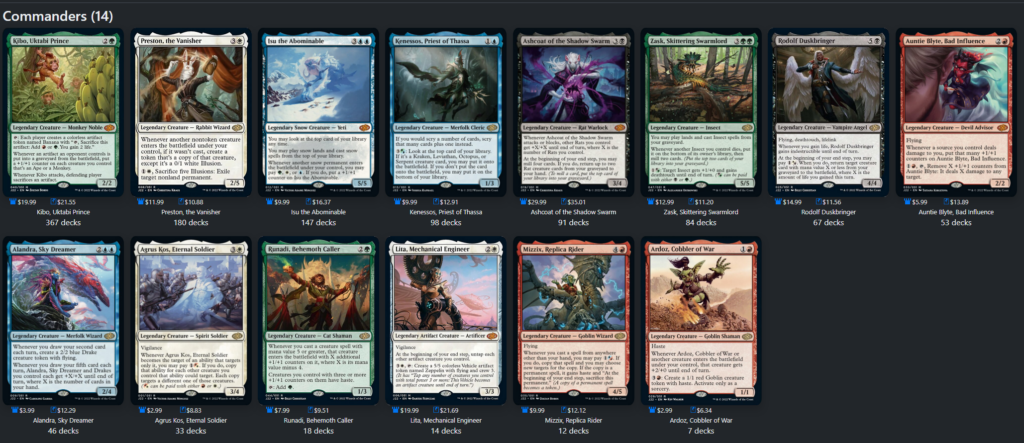 As it would turn out, the impact of the set never truly materialized in the window between its release and the release of the next set and no commander got even 400 decks built around them in that period. The likelihood that builders would return to the set after this many products have come out in the interim seems unlikely, leaving me to believe that Kibo will remain the most popular commander. I think, however, there is some merit to discussing some of the other commanders because it's very likely commanders with identical abilities will be printed in the next year due to the law of averages and we can apply these lessons to that product.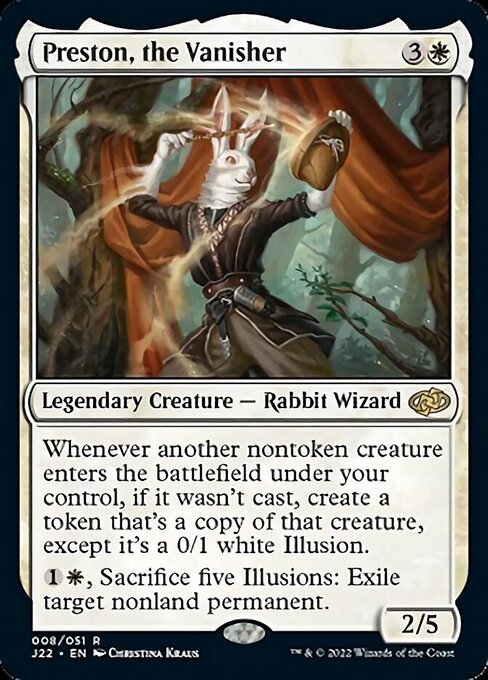 Get it? He's a rabbit and his name is presto and he's a magician and he pulls stuff out of his hat! That might not sound that funny to you, but when you realize that they only had a few weeks to work on this 819 (literally) card set, it's amazing that anything this flavorful made it into the set.
The rest of this content is only visible to ProTrader members.
ProTrader: Magic doesn't have to be expensive.