ADVERTISEMENT:
If you're like me and you're always looking for an excuse to reference Duran Duran tunes from the 80s, you'll love the title to this article. If you're like also me and love Magic cards that are new and are about to evolve their own brand new archetypes, or at least make people think they're going to. I can delve more into the Simic later because I think it will matter but I think there's a ton of hype surrounding a certain card that was spoiled today (Monday) and I think whether or not the deck amounts to anything, there is a ton of hype. The card, of course, not just because it's the only commander spoiled so far this week but also because it's the only Azorius card spoiled so far, is this bundle of joy.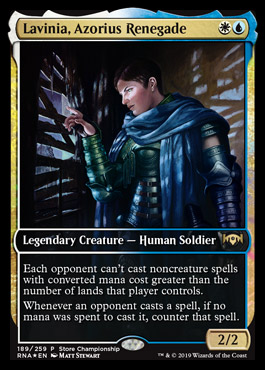 Blue Gaddock Teeg, as she likes to be called, is about to make life pretty miserable. If you just leave her on the battlefield, she's going to shut down Etali, Intet, Narset, Maelstrom Wanderer and a host of decks that use mana rocks to ramp. If you play with Armageddon and other white Land Destruction, you'll make it so they can't recover quickly enough to catch you. If you go even farther, well, you can make sure you're the only one who plays a game of Magic and IO think that's pretty nifty. Let's take a look at all the ways we can do that.
The rest of this content is only visible to ProTrader members.
ProTrader: Magic doesn't have to be expensive.

Track your collection's value over time, see which cards moved the most, track wishlists, tradelists and more. Sign up at MTGPrice.com - it's free!
ADVERTISEMENT:
Please follow and like us: