By: Jason Alt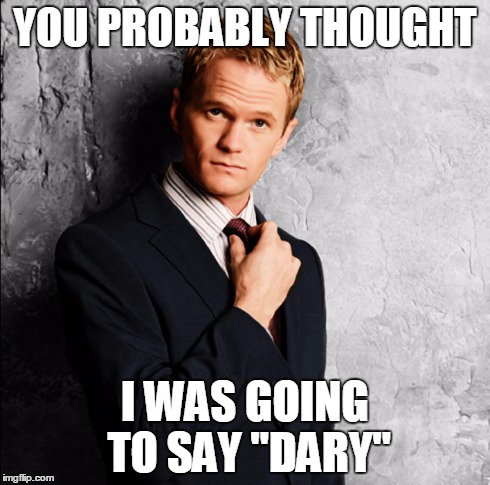 Yes, I want to talk about legendary creatures. As is our custom here in this column, I want to look at EDH-specific cards and their financial futures. EDH impact is unique and has a few quirks and legendary creatures are obviously going to be highly impacted by EDH.
But to what extent? And how do we differentiate the impact of EDH from the impact of other formats? Understanding this effect is going to help us know what to do in the future when we see cards that look like they'll be EDH-only cards. Believe me, they're easy to spot. Legendary creatures with unique abilities look amazing when a set is being spoiled. People mentally build around them right off the bat and make plans to acquire the cards as soon as possible when the set comes out. People can't wait to build around that hot new commander. So how do we know when to preorder or target during the first week and how do we know when to, well…
Wait for it?
Some sets just look… you know. Just ridiculous. M15 was a set like that, Dragons of Tarkir was another. Sometimes they clearly want to let EDH players know they're aware we exist and they want to pander to us. If you look at M15, there are a ton of cards that look really saucy for EDH.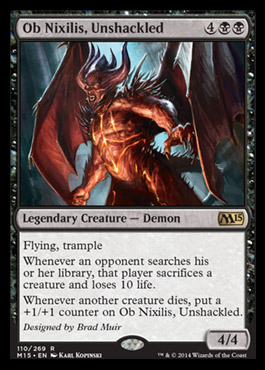 You kiddin' me?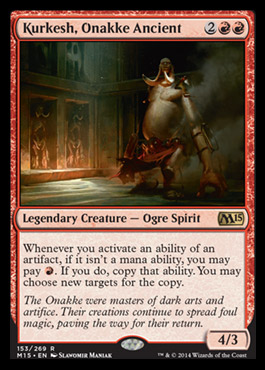 Wow. Daretti says hello.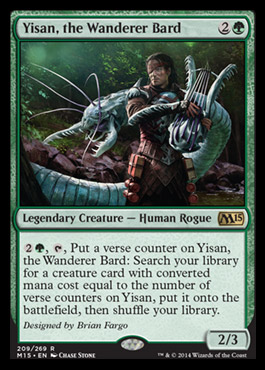 This cycle is nuts!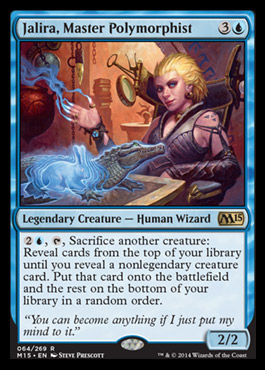 I love to Polymorph!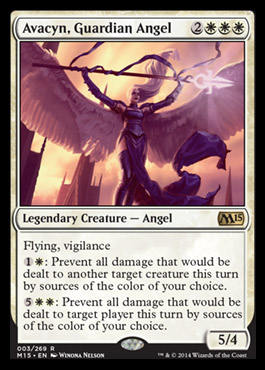 They can't all be gems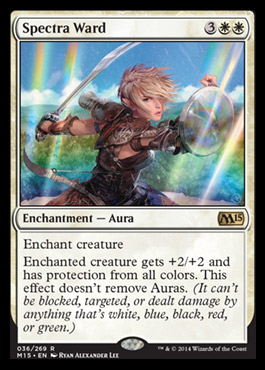 Bruna, anyone?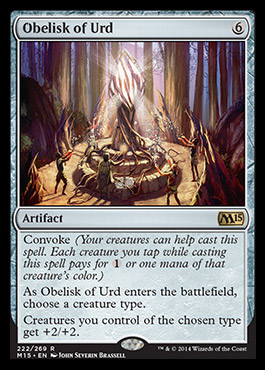 Hnnnnnnng.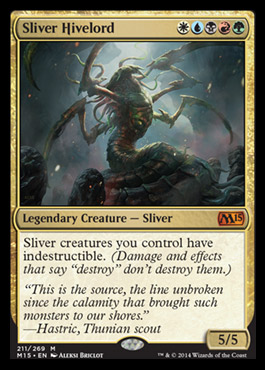 Seriously?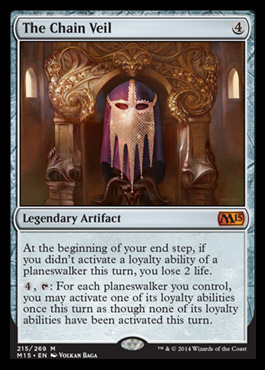 YES.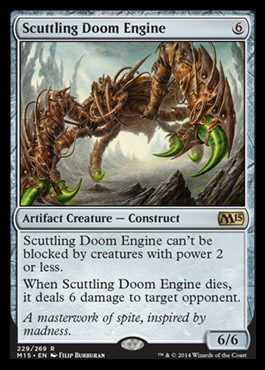 They know Goblin Welder is a card, right?
Look at all these sweet EDH cards! This set is stacked. Stacked, I tells ya!
So When Did I Go In For Cash On This Stuff?
I mean, not yet. It was a relatively recent set, but let's look at the price graphs on some of these cards now that we're past peak supply.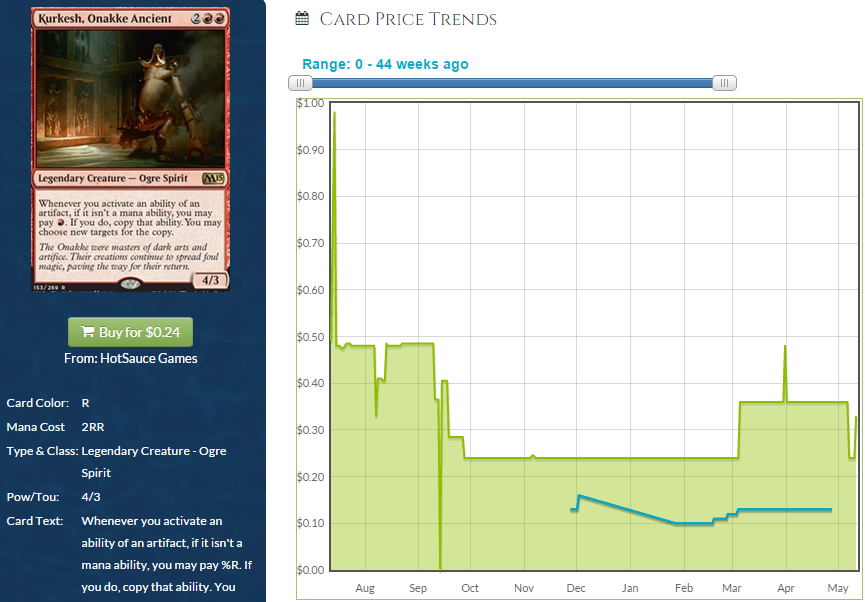 Remember when we had high hopes and thought this card would maintain a price of an entire dollar? The hubris. The hubris.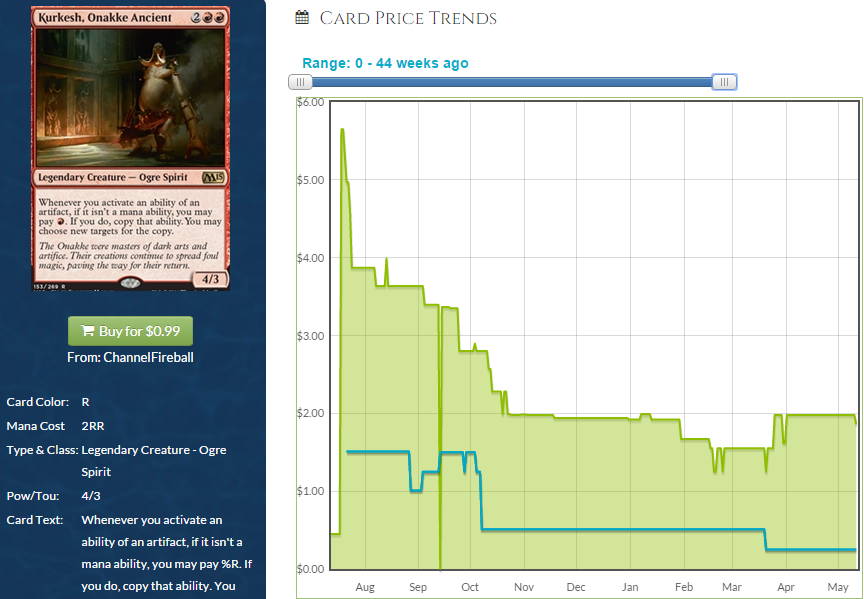 The foil isn't exactly blowing my mind, either. Look at the buylist price… it's going down. Dealers get less and less confident in this card the farther we get from the release.
Kurkesh isn't exactly a staple, though, is he? How about a card that people are excited to use as a commander?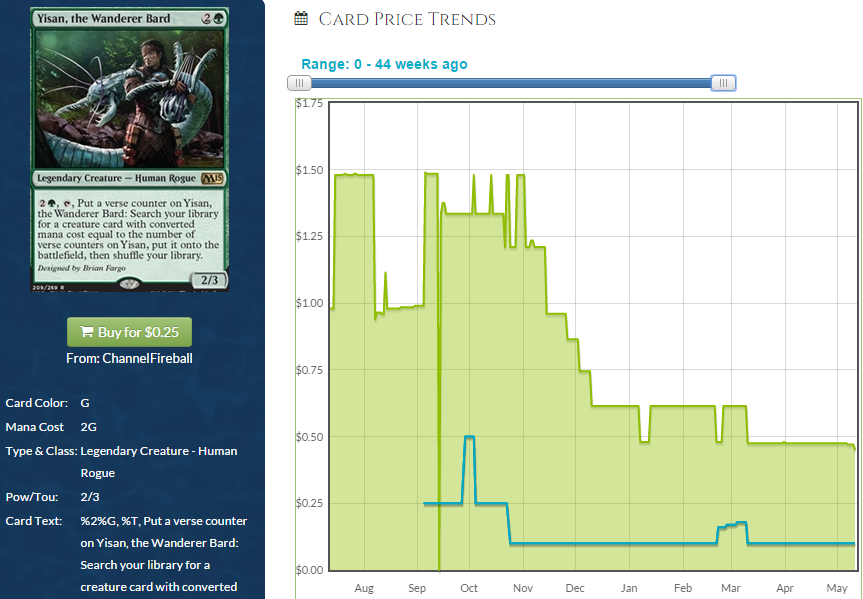 Yisan is a better card that's not in much better shape. Huh. Clearly things would be better if these cards were mythic rares rather than regular rares—that much is obvious. Are there any EDH-focused non-mythics in M15 that are better price-wise that we can compare these to? Yep.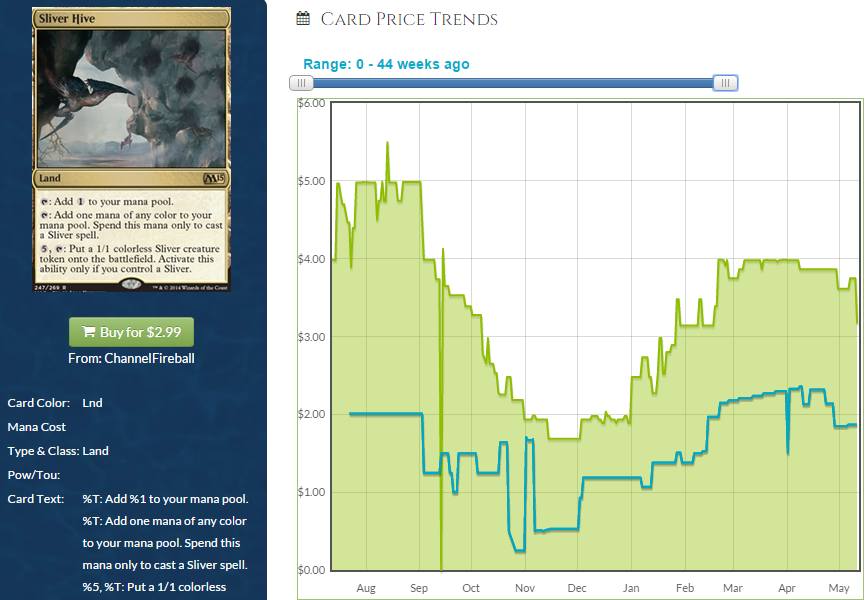 What's going on here? While Sliver Hive is colorless and can therefore technically go in any color deck, it's also pretty narrow. It goes in sliver decks and really nowhere else. You can't even use it as an Urza's Factory since you need to have a sliver out to power it. One factor? This card is obvious to everyone that it will be a solid pickup. You don't need to know anything about how to build a slivers deck to know that this goes in it. Just read it.
The same person who can look at Crucible of the Spirit Dragon and say, "Dragon players're gonna love thems a big old bunch of this card," (they didn't) can correctly surmise that Sliver Hive is a solid pickup. Everyone is going to be all-in on speculating here because it's so juicy.
Another factor is that this is EDH-strong but not EDH-specific. This means it can go in four-of formats as well. Casual players will snap these up a set at a time to jam in their sliver decks. There was even talk of a sliver deck in Standard. It never materialized, which is too bad, since if it didn't happen when M15 came out, it will likely never happen. That's a shame. Still, there was a lot of attention given to this card.
What about some other cards that may be closer to Sliver Hive than they are to Kurkesh?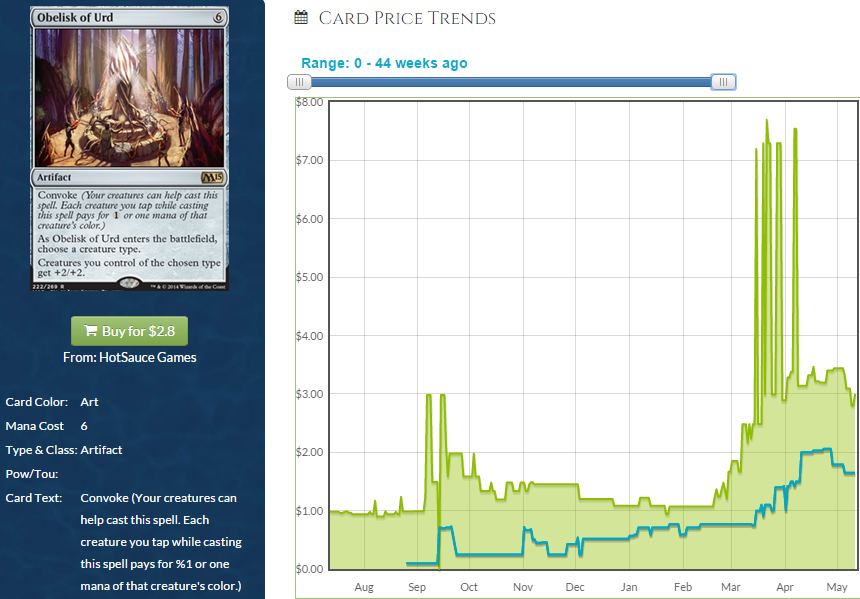 Someone is really trying to make something happen here. Artificial spikes notwithstanding, there is real, organic demand here obscured by some mild dickery.  This is a card that will end up in casual as well as EDH decks, and can be jammed as more than just a one-of. A picture is starting to develop here.
Applicability
If a card has any cross-format applicability with a casual format other than EDH as well as with EDH, we've seen there is a mild bump. If there is applicability with a competitive format, there is a larger bump, but all that really serves to do is obscure our data. However, it is still worth exploring a bit.
Tasigur is a very good EDH commander.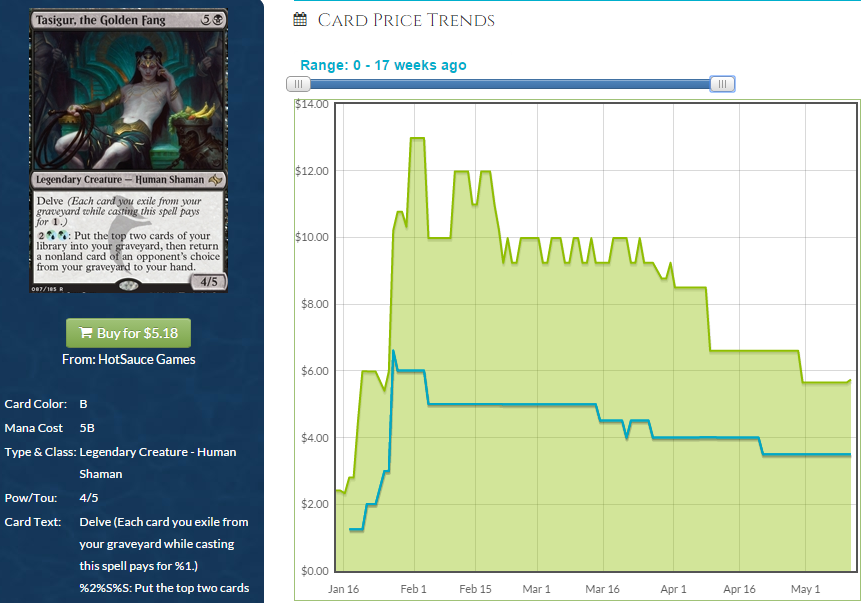 However, he's also a very good card in formats like Modern and Standard and this new format where people play using their hands to try and prevent their opponents from throwing a ball through a metal ring and—nope, no, that's definitely basketball I was thinking of, and this card sucks in basketball. He'd get picked after me and I show up to play pickup hoops wearing jean shorts and a Rush T-shirt. Still, he's good at just about everything that doesn't require a 30-inch vertical.
Can we try and parse out how much of his peak price and hell, even his current plateaud price is due to EDH alone? I have an idea.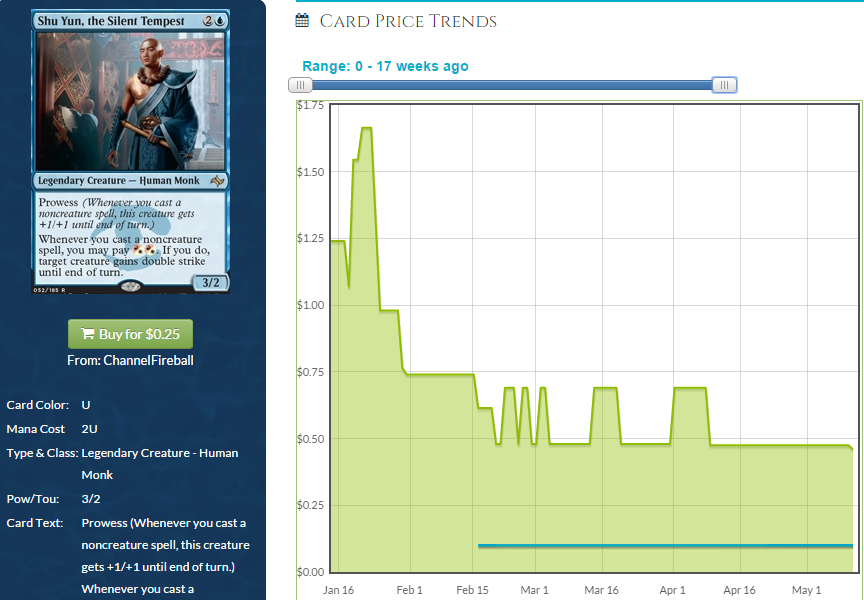 Subtract from Tasigur's current price of roughly $6 Shu Yun's current price of about one-half of one dollar and you start to see what's going on. Shu Yun is pretty good in EDH himself and he is a Tiny Leader to boot. Even Tasigur can't say he's a Tiny Leader (an effect I won't even speculate about because I don't fully understand how Tiny Leaders affects prices because I am part of the group known as "everyone"), so Shu Yun has some things going for him that Tasigur does not. EDH has kept this above bulk while Tasigur enjoyed a brief stint at $10.
And Shu Yun is certainly above bulk. He's nearly worth 50 percent more than Dragonscale General. Thanks for the boost, EDH!
Let's work on coming to a conclusion or two before we look at some more factors.
What we are seeing here is that non-mythic legendary creatures that are basically EDH-only cards in the post-mythic era are really suffering. They're having a hard time gaining any traction despite being really cool cards and despite EDH growing at a phenomenal rate and Wizards supporting the format directly by printing cards with that format in mind and including those cards not only in regular sets but also in the special supplementary product they have created just for that format. Wizards is doing a lot to support EDH.
Why are the cards suffering? Simple. EDH would have to be growing at a rate that is four times the rate that Standard is growing, basically. I realize that's a gross oversimplification, but looking at it qualitatively rather than quantitatively, it's not far from the truth. EDH just doesn't consume cardboard the way Standard does. Unfortunately for EDH speculators, Standard is where non-Magic players usually join. FNM is at the front of the funnel and our format is a tributary. EDH is overwhelming for someone who has never played Magic before, anyway. So large growth has to occur on the Standard side before it gets to the EDH side, and that growth will exacerbate the problem we're having with non-mythic, EDH-specific cards being worth essentially bulk as players bust packs at an unprecedented rate trying to get the cards they need for FNM.
Things are stacked against cards like Kurkesh. It's narrow. It's mono-colored, meaning it goes in just red decks. Not only that, it can't go in all red decks since it's very specific to artifact decks given its ability. It was from a recent set. It's non-mythic in the post-mythic era. People bought a lot of M15: more than any core set ever. By the time you get all the way down the list to "Kurkesh is very good at what it does" it doesn't matter anymore. The balance is weighted so heavily against the card that it scarcely matters.
Other Formats Matter. Sometimes
So far we've only looked at non-mythic rares. I did that deliberately, because being mythic is a huge boost to a card's potential. Not only that, other format applicability is going to profoundly affect mythics compared to non-mythic rares. If you have a card that has some competitive applicability, say in Modern where it was featured in a Woo brew, that would be huge for the card's price potential. Man, what if the card were a phenomenal EDH general, too? Like… bannably good. What if a card were playable in Modern, was mythic, and was such a good commander that people complain about the card warping their local metagame?
How much would a killer card like that go for? $5? $10? Even if most of the play it saw was in EDH, a smattering of cross-format applicability is bound to make the card expensive. Can you think of any cards like that?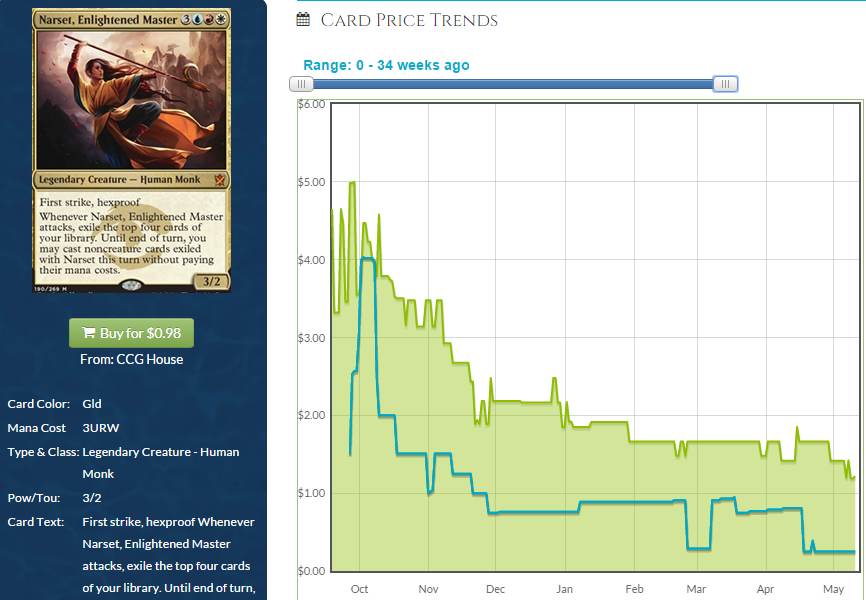 Mother$&%#@!
A dollar. A dollar and change, but still a damn dollar. It's trending down in price as we pass peak saturation of supply. Dealers aren't very excited, either, and you can see the demand from dealers (the blue line. I haven't mentioned that the blue line is buylist price for like… the entire time I've written for this site. I really hope most of you got that from context) actually diverging from the retail price. That augurs poorly, usually.
When was the best time to sell Narset? Right the hell away, it turns out. When is the best time to buy? Not yet, that's when.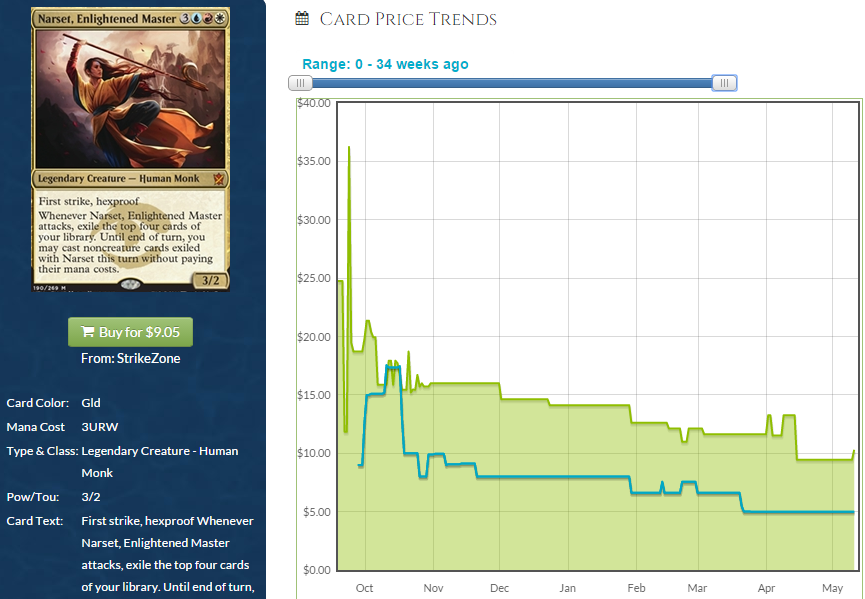 Even the foil isn't wowing me right now, although we're looking at a healthy 10-times multiplier, which all but confirms that the EDH community is very, very aware of Narset.
So what do we do if most legendary creatures that are EDH-only won't have the advantages Narset has like being mythic, featured in a Woo brew, and being a once-in-a-block busted commander like Nekusar or Rafiq?
What do we do if an EDH-focused legendary creature card with a lot of advantages isn't getting there and worse ones certainly won't?
Wait For It
That wasn't just a pun in the title. I think when a legendary creature comes out, you're almost always going to have to wait if it's an EDH card. Sometimes a very long time.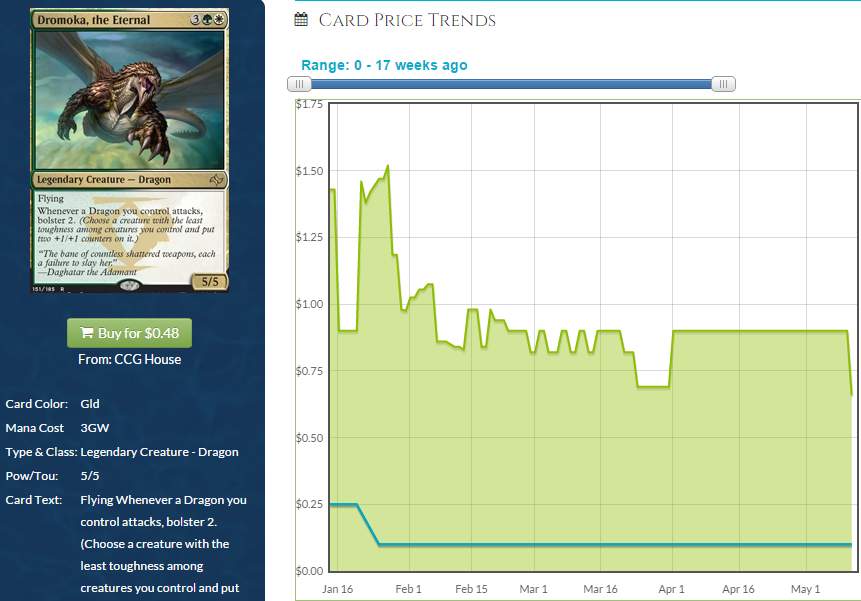 Too soon.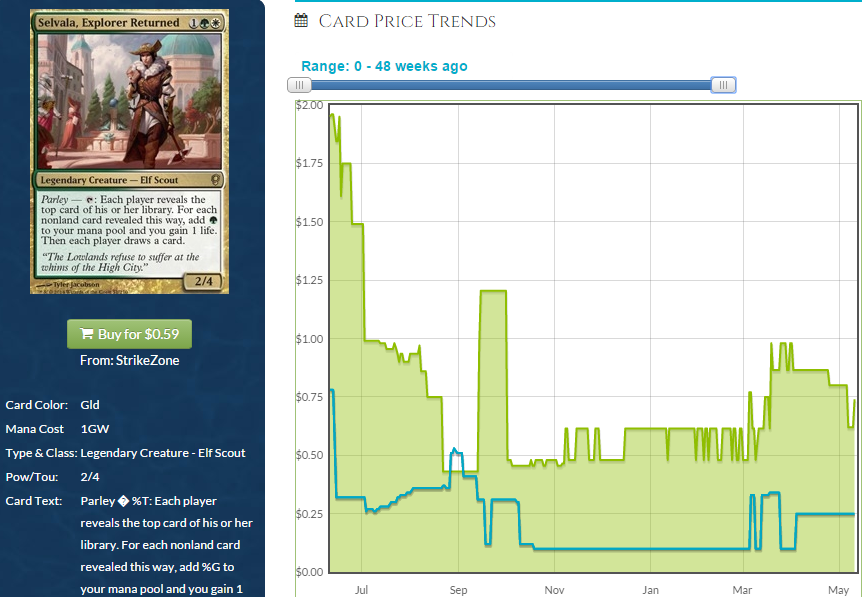 No, not yet.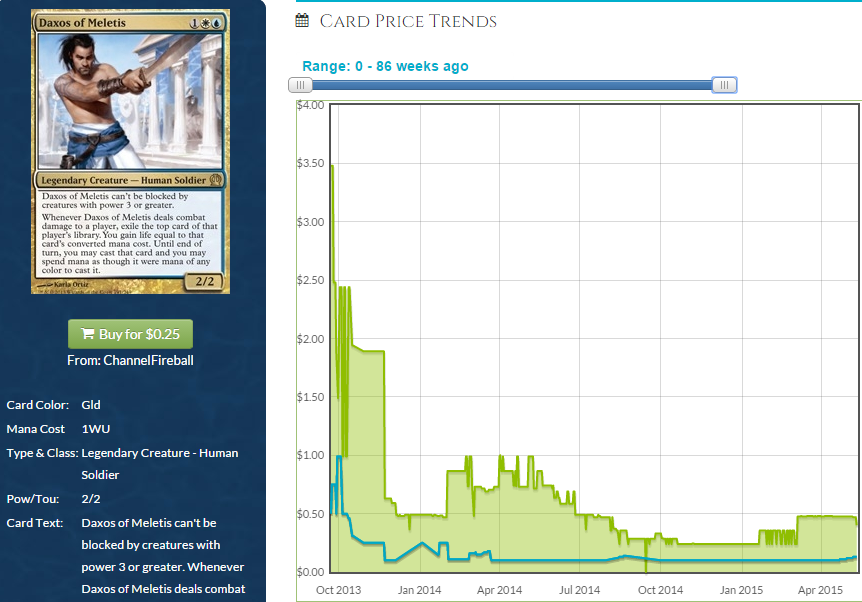 Not yet.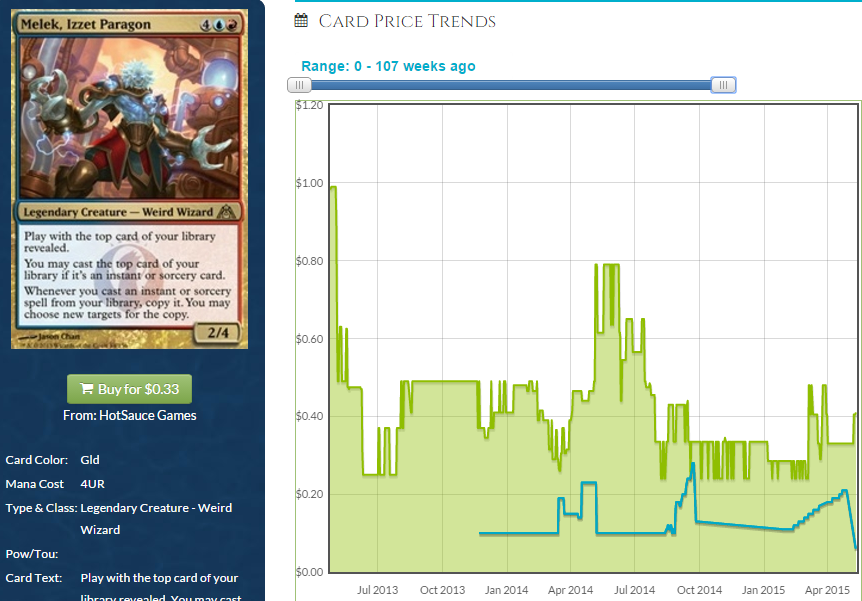 Eh, look at that spread getting BIGGER. Yuck.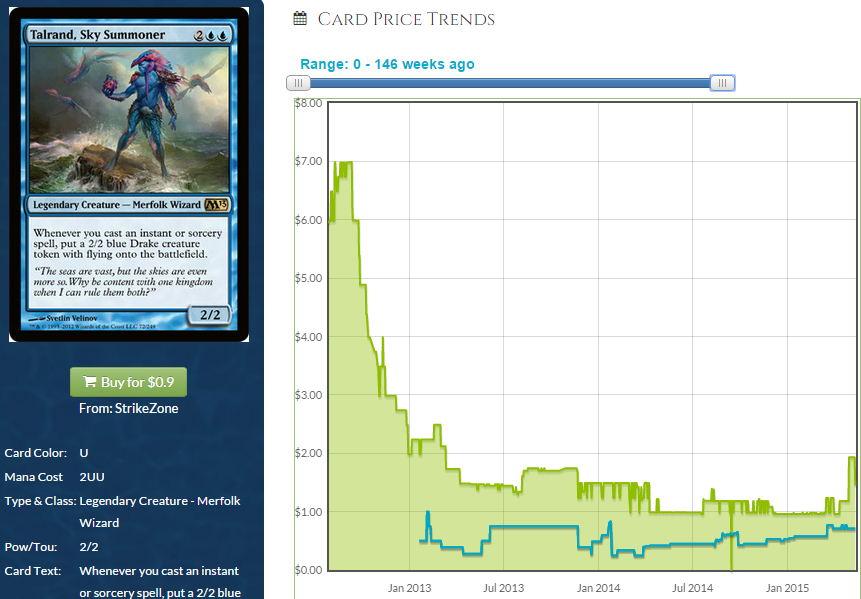 Think we may be onto something…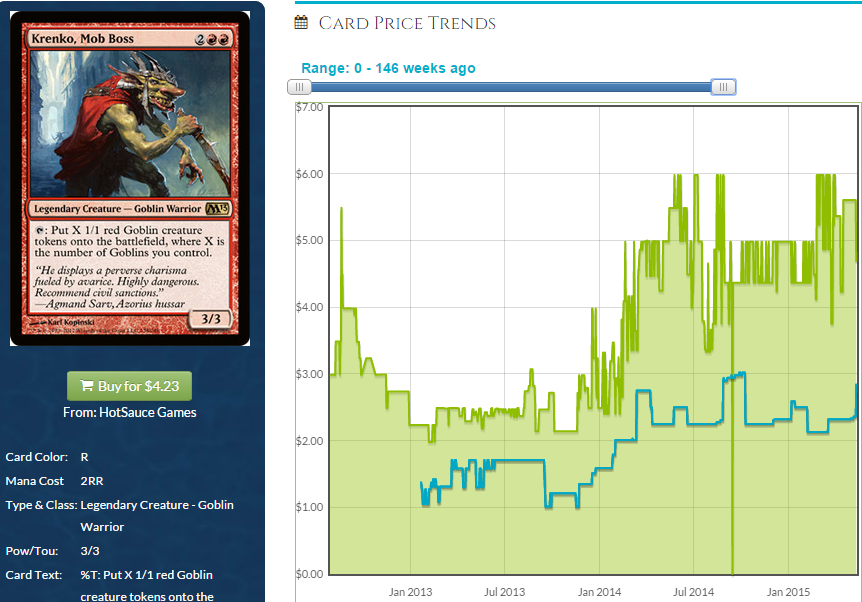 Woah. Look at that growth. People who bought at rotation and sat on these did okay. EDH obviously loves this guy and he's a sweet commander, but goblins players use him, too. What's our multiplier look like?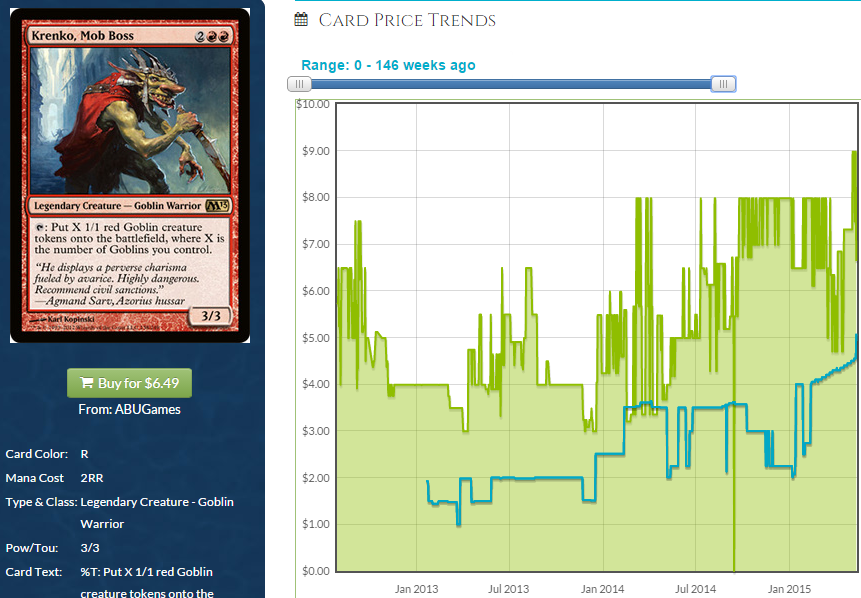 Only double?! So we're just beginning to see the real growth. The foil is about to diverge from the non-foil and dealers seem to agree.
So How Do We Hit the Next Krenko?
The next Krenko is going to be a powerful general with a cool ability. Relevant tribal affiliation never hurts. The card will be mostly overlooked by competitive players.
Krenko hit its lowest point a year after its release, when it rotated out of Standard. This is about what we expect. He's a sicko commander, and when Purphoros was spoiled in late August 2013, we saw some price movement in Krenko's price. Growth has been nice and organic. Buying at rotation was the best time to guarantee we'd buy at the cheapest he'd ever be. Lots of Spikes dump their cards at rotation and we want to be there with our wallets out. Buy at the blue line, not the green one if you can.
You will wait a few years. Magic 2013 was released in July of 2012. It's not yet July of 2015. The next Krenko could get spoiled in Battle for Zendikar and we'd have a long wait.
What Do We Not Want to Do?
Don't preorder like 90 percent of the time.
Sure, maybe you could have gotten a cheap(er) Dragonlord Dromoka, but it wasn't EDH that made that price go up and you're better off just waiting for EDH-only stuff to tank. People will be impatient initially and pay whatever price and then they will wait until they get around to building the deck.
Legendary creatures look really sexy on spoiler sheets, but I think I've made the case that they are a trap almost all of the time and the play is to sit on them. We'll figure out what the next Krenko is together, and as soon as we identify that card, well, we'll know what to do. We'll wait for it.
[/hide]