Maybe the title could have been "Gods as Generals," because that's what we're going to talk about this week.
I feel like all of you are teaching me more than I am teaching you, which is edifying for me to say the least. Last week, my article had been up for 24 hours with zero comments, causing me to wonder whether anyone at all had read it. "That's silly," I thought to myself. "I bought my mother ProTrader access so she could read my articles and print them out and put them on the refrigerator so every time she went to get out some OJ she could be reminded that her favorite son was a writer and that spending $60,000 on a chemistry degree wasn't a waste of money but rather a sound investment in a bright future." I put a comment about how no comments meant no one was saying anything negative, and I got a lot of comments after that. Some of them were even about the article and not about the fact that it was behind the ProTrader paywall! Some of them.
And the ones that weren't whining from poor people (it's $5, guys. You make more than $5 a month if you get in a month late on a mediocre spec tip) were very insightful. I would have eventually gotten around to tackling the Theros block gods as spec targets in a future article. In fact, I'm such a professional, it's likely I would have gotten around to it before rotation.  Possibly before every other financier wrote their articles about what to dump and pick up at rotation. This isn't my first rodeo. Also, I'm not so bad at this that I think the upcoming set rotation is a rodeo.  That said, there are a few cards that, come rotation, I will be… bullish… about.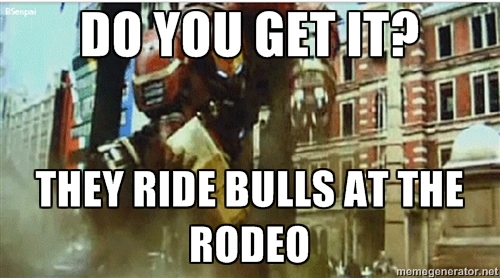 Let's talk about EVERY THEROS GOD and how I feel about their current prices, because the gods are sicko EDH cards, after all. Let's start with the monocolored ones and get as far as we can today.
Erebos, God of the Dead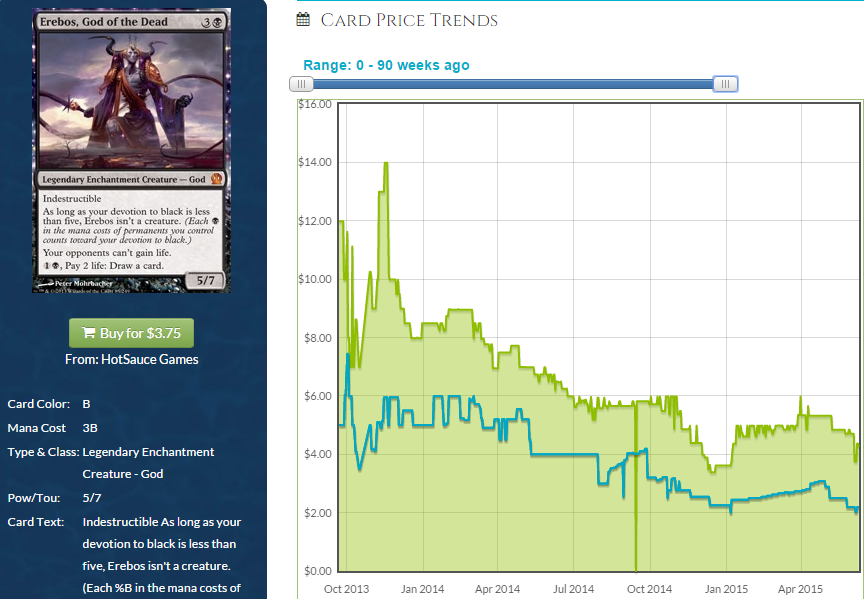 This guy is falling off as we pass peak supply and Standard players realize they don't give a wet fart about a Greed that can attack for five. That's cool! While I don't necessarily know I want this guy as my general, I have found quite a few decklists that feature him, including one I featured in an article. Erebos is also pretty dandy as part of the 99. He's a damn Greed on feet, remember? In a deck lousy with black enchantments like Painful Quandary, No Mercy, and Polluted Bonds, this guy is dope.
I actually don't think he's done plummeting, though, and I think he could be around $3 at rotation. I would say I am like a 3/5 when it comes to how excited I am about picking this guy up at $3.
---
Before we move on, let's talk about something I should have introduced at the very top but didn't think about until now. Gods strike me vaguely like the planeswalkers did, but back in Lorwyn. Remember when there were only five planeswalkers? They were all money. They continued to be money approximately forever. Like, until the exact second that I said, "I feel pretty good about targeting any planeswalker that isn't named Tibalt that's under $5," and then WOTC went, "Really, douchebag?" and printed approximately infinity RTR Jaces until they were $3 (and yet the price of Remand remained relatively undisturbed, go figure) and now people are emailing me saying, "Hey, you said planeswalkers under $5 were good so I spent my kid's college fund on Duel Deck Vraska! Keep up the good articles," and it makes me want to see which make and model of pistol has the tastiest barrel. Planeswalkers are the new hydras, readers. But I guess that's okay since gods are the new planeswalkers.
It seems like they always will be, too, right? Gods are way harder to reprint in another block. They are legendary as hell and they need to be enchantment creatures with devotion. What are the odds we get both mechanics back if we revisit this plane in like five or ten years? Even if we do come back sooner than that, we will have made a ton of money on gods before then and won't care. I feel good about a lot of them. Durdles will want to treat the gods like Pokémon and catch 'em all, and since most of them don't suck in EDH, they're pretty solid. So I guess I'll give each god we discuss today a score out of five about how bullish I am about them at rotation.
I don't know why I'm sort of asking you. This is my column, I can do anything I want. I could grade them on a scale from fart noise to confetti and you couldn't do a thing about it.
---
Anyway, let's get back to Erebos and look at his foil price.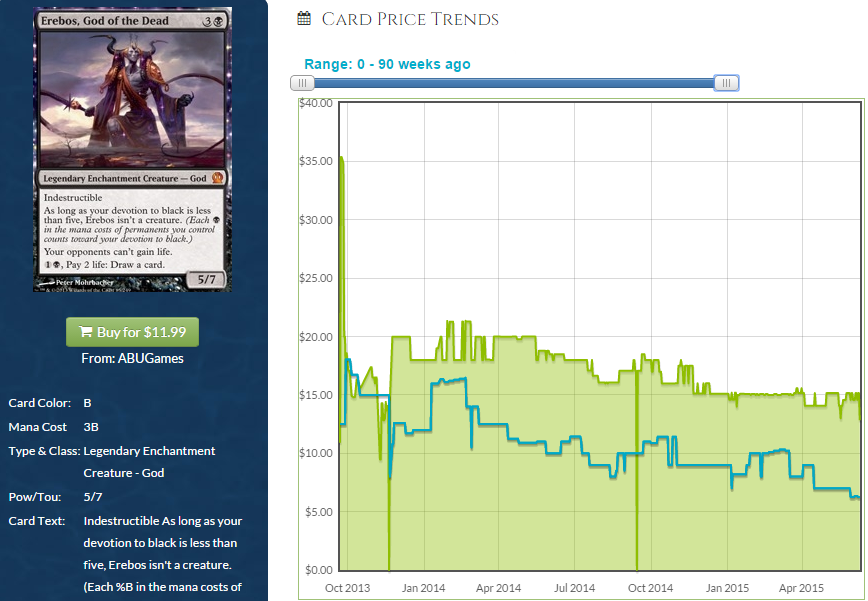 That's a graph only a mother could love. I am really loving this price/spread overlay view because it shows what two different "markets" are thinking. Players are thinking, "Yeah, $15ish foil seems fine," and dealers are thinking, "Get that out of my face." The price is tailing off a bit and it's lagging behind the dealer buy price, which is tailing off precipitously. Dealers are not buying these before rotation and you shouldn't either, not even the foils.
Since Erebos is useful as a general as well as in the 99, I do think the foils are pretty good. This seems like this could be a $20ish card in a few years. Why not? It's a foil mythic that sees EDH play both as a commander and as a role-player in decks that aren't necessarily multiplayer. Basically every new player who bought the Eternal Bargain deck and saw a Greed in it will drool over Erebos (or has already, hence the initial demand) and I don't expect anything to make Erebos obsolete in his role as "best Greed variant ever." If you wouldn't play a 5/7 for four mana, or a Greed, or an "opponents can't gain life" enchantment, perhaps you'd play all three. This card is fine, and if the foil dips below $10, I may crank my enthusiasm for the foil up to 4/5. Yeah. Ballsy. I am not going to give half measurements like "4.5/5" because at that point, you're saying "9/10 but do some math, readers," and I'm not about that life. A rating of 4/5 seems okay for a foil god like Erebos at around $8, a number that seems almost absurd because you're approaching non-foil Garruk Wildspeaker money at that point and gods can be your generals, which is even cooler.
Heliod, God of the Sun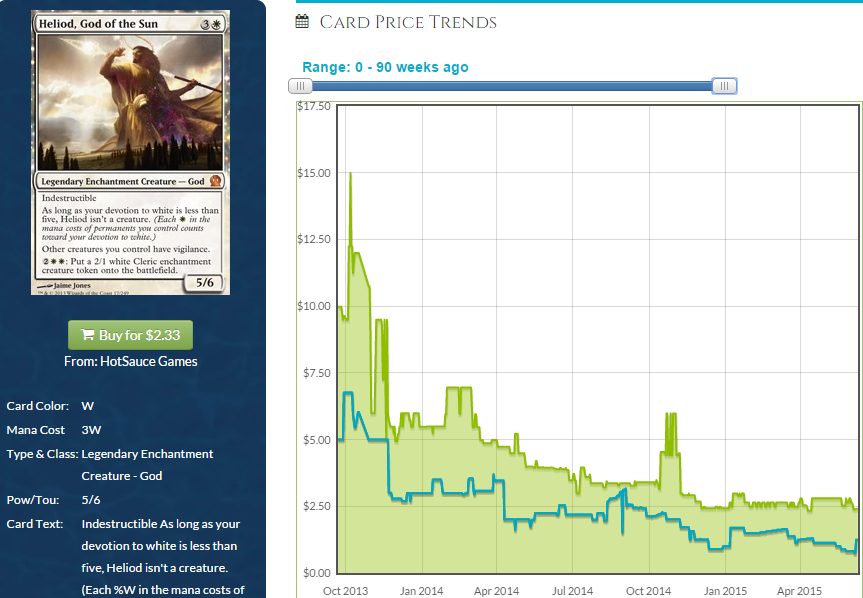 Wow, the market price is like, whatever, but the dealer price is showing fascinating behavior. It appears that Heliod, by virtue of being mana-hungry and durdly, made dealers hit a minimum "shits given" threshold and it looks like players were right there with them. The TCGplayer price is relatively flat, and that could be due to a lack of sales as much as it could be due to price equilibrium establishing itself. I feel like there is a pretty sweet narrative going on here and I bet it took place at a lot of PTQ and GP booths.
Dealer: "Those are the cards I want."

Player: "What about Heliod?"

Dealer: "Yes, what about Heliod? What about him indeed?"

Player: "What will you give me? I paid $8 for this guy, give me something."

Dealer: "I am not the least bit interested."

Player: "Come on, man! I need money for [spray paint or drugs or diapers or whatever the hell kids these days are buying].

Dealer: "I will give you one whole dollar."

Player: "… yeah, fine."
As a dealer, you can't really pass up a chance at a card that's likely $5 to $6 in a few years if someone is coming off of it for $1, even if it is Heliod and no one is that jazzed about him. After a while, the conversation took a turn.
Player: "Got a Heliod with your name on it."

Dealer: "I will give you seventy-five cents."

Player: "I wouldn't fart in your mouth for seventy-five cents."

Dealer: "Okay, a dollar. Damn."
When dealers could no longer get them for $0.75, they bumped the price back up to a "still insulting" $1. I think this is just about the minimum buy price at rotation. If  any god goes below $1, or hell, goes below $2 and wasn't dirt cheap already, that's probably a decent snag. If you can pay at rotation what dealers are paying now, congrats, you're thinking like a dealer. They know there is upside at $1. I'm like a 5/5 at $1 or less on these at rotation, which is handy because I don't see rotation making the price go up.
Personally, I want to build an entire Heliod deck. Serra's Sanctum is just yearning to tap for a million mana and fart out a ton of 2/1 clerics. Can you imagine Sphere of Safety if you have two dozen enchantment clerics out? Norn's Annex, Ghostly Prison, hell, Test of Endurance for all the life you gain when you spit out a ton of clerics with Suture Priest in play. You can build pillow fort and use Heliod to give you all the enchantments you'll ever need. This is a non-traditional general and mono-white tends to feel bad in EDH, so I expect the foil to be reasonable right now.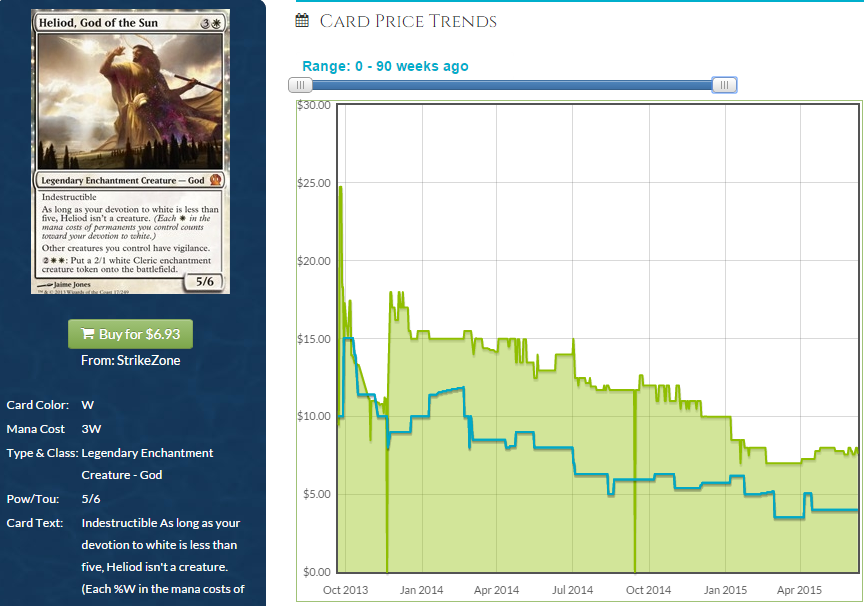 While dealers had to raise their buy prices a bit to keep the supply steady, no one seems to pay the foil much mind. I imagine it dips even more at rotation. I think if the foil hits $5, I'm in, but I'm like a 2/5 on the foil here. Foils have higher upside, but they do have some "new card smell" tax built in when they first rotate. This isn't a super exciting EDH god for people who aren't lunatics like me, so I am not going that deep. Obviously, under $5 is absurd for a foil mythic god as you approach its current non-foil buy price. At $1 for the foils, I would spend enough money to make the price go up by sheer virtue of how many I bought. At its current price, I'm a 1/5. I imagine this dips at rotation since none of its price is predicated on Standard or Modern or… being played by anyone at all, really. Sure, maybe I'll revolutionize 75% EDH with my clericgasm deck, but this is probably just the weakest of the cycle and his price won't recover until people forgive him for shiv-ing Elspeth in the McRibs.
It's fair to say that I have talked too much at this point and I'm not going to make it to the ten multicolored gods. I was told to keep my articles "around 2,000 words" and I'm going to hit that before we finish this paragraph. Could I cut some preamble or my dealer skit? Yes, maybe. I could also cut your face. Cut you bad. Cut you so bad, your mama would cry. You want your mom to cry? Okay, then. How about I vastly exceed my word count mandate, upset my editor, give you some bonus content, and see if I can't squeeze the rest of the gods in next week? I didn't expect to find this much to talk about when I conceived of the topic, but discovering things that bear discussion is always fun for me and gives me the enthusiasm to barrel through. Three more gods to go—don't get squeemish on me now. This next one should be easy.
Nylea, God of the Hunt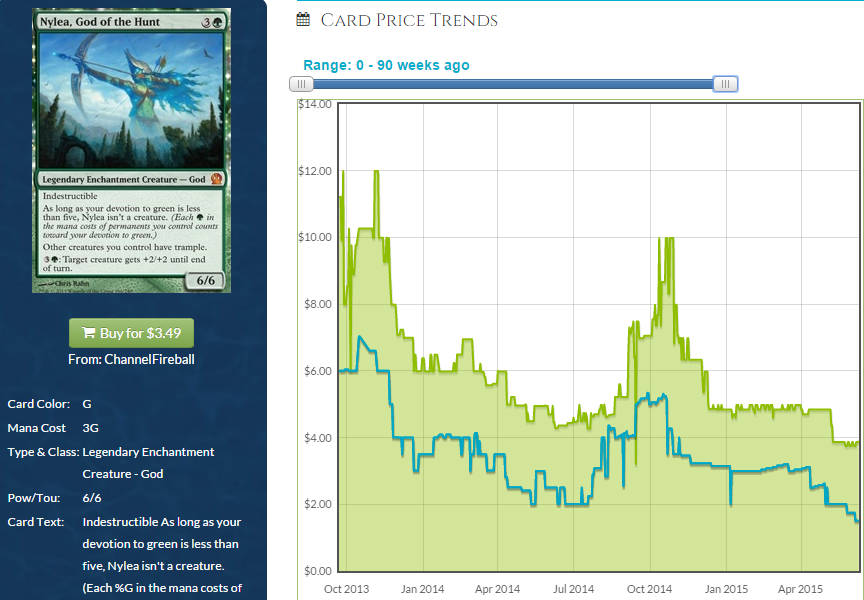 I figured we'd see stronger behavior from this card, as it's played in a (fringe) devotion deck in Modern and isn't a terrible EDH card. I actually kind of like this in decks like Omnath if you need a mana sink or a win condition. Giving Omnath trample is non-trivial and if Omnath dies, dumping the mana into an alpha strike at one or many players is worth doing. The Modern devotion deck is silly but functional. It seems like that modicum of non-casual play gave the card a multiplier over the price of Heliod, but the dealer behavior is even less encouraging. Dealers want to pay the exact same $1 for Nylea that they're paying for Heliod and it seems like players, enchanted (pardon the pun) by dargons and knuckleblades and commands, are letting go of the gods.
You don't want Nylea as your general. At all. Ever. That limits the upside of this card quite a bit. The Modern play only appears to tack a buck or two onto the price and dealers don't seem all that convinced they need to pay competitively to get these. Their total lack of enthusiasm for this card is contagious. I like these at about a 1/5 unless they are like a buck at rotation. Could this get back to its current price in a few years? I think maybe it could. I think you are safe paying what dealers are paying right before rotation if people are dumping. Still, the slight rise in Heliod's buy price shows that players are reluctant to take an insulting number on a god, and paying more than "an insult" may be a liability. I'd be careful here.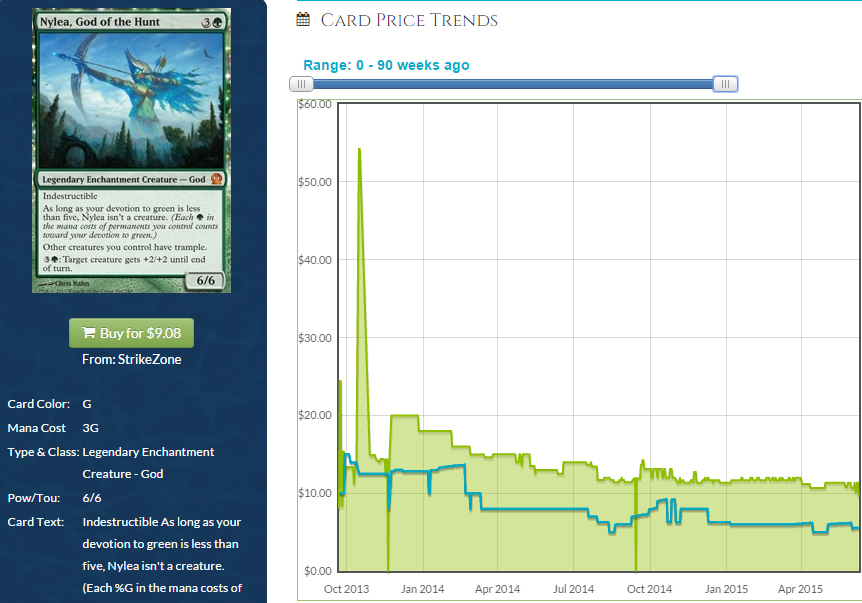 Ugh. $10ish? Why? Modern? It's not EDH doing this. Dealers are paying just about 50 percent of this card's value on the button and their price is roughly descending along with the retail price in a curious way. They are reluctant to stop paying real numbers on this card, but who's buying? This has been a $10 foil for like an entire year and it's puzzling. I'm sure this dips at rotation because it can't hold its current price, but unless the bottom falls out entirely, I'm not bullish on the foil. Still, if this hits $5ish, I will feel very differently. This is seeing no Constructed play outside of that fringe Modern deck and it's only okay in EDH, and that has kept the price from fluctuating much. That said, Erebos's foil hasn't tailed off much, and maybe that reflects dealers' reluctance to rock the boat and TCGplayer sellers' reluctance to race to the bottom.
Curiously, there are a lot of foils available on TCGplayer. Even with competition amongst dealers, these aren't really moving a ton. But with foils, people who want them for EDH will buy immediately or wait quite a long time. Rotation could be what the patient players are waiting for. Still, with a lot of loose copies that need to get soaked up before the price will increase along with tepid demand compared to better gods, I'd need to see the foil hit $4 or $5 before I even give this a 2/5, which is so odd considering Nylea has more non-EDH utility than Erebos or Heliod. Still, who's foiling their fringe Modern deck that has Primeval Titan in it? Curious goings-on here, to be sure.
Purphoros, God of the Forge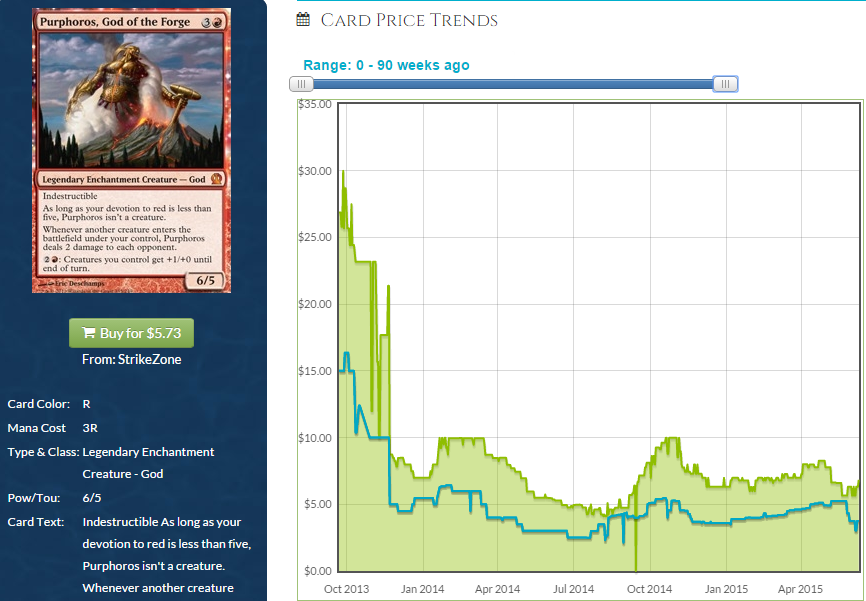 This is demonstrating some odd behavior. The spread became virtually non-existent very recently, then dealers backed way off. Let them. This is the money god.
Out of all of the original five, Purphoros is the best in EDH. At his current price, I give him a 3/5. If he hits $3, my score opinion will change to, "What score do I give him out of 5 at $3? His power and toughness."
Purphoros is nutty. He's unfair in Prossh decks. As a commander, he's equally nutty, allowing you to KO people with a single tap of a Krenko. He's bannably good in EDH and he may be the best god of the 15. Let that sink in. He can be had for twice the cost of Heliod, a god that failed to garner a following to such an extent that his buy price fell to below a dollar. This is the guy to watch, this is the guy to pounce on, and this guy alone is the one that had me wrack my brain for reprint scenarios. How do we get blown out here? FTV Gods? Commander's Arsenal? I don't see it. Commander's Arsenal, by the way, is basically the only way we will ever see a foil reprint. What's the foil doing?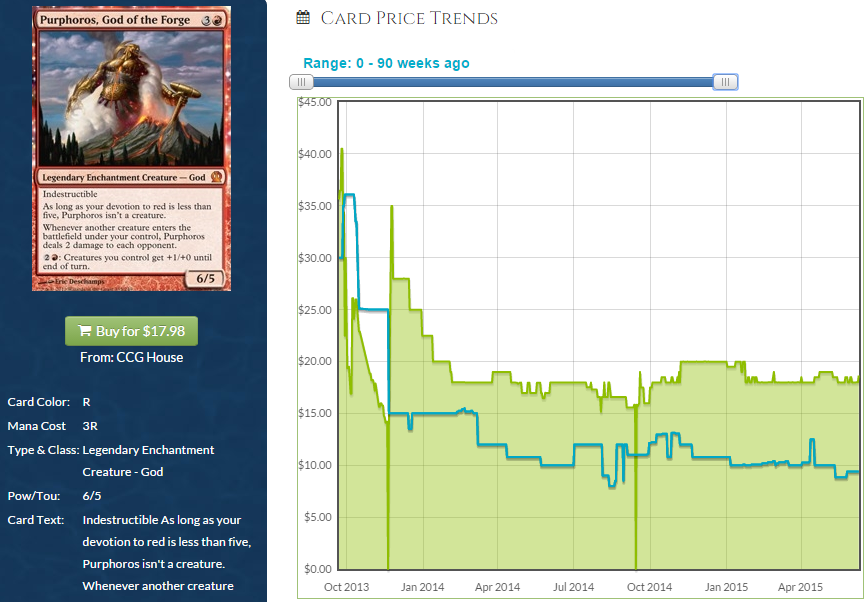 Yes…yesss. Plummet, buy price. Drag the retail price down along with you. Good. GOOOOOD.
I am bullish at below $15 here, honestly. That said, with essentially none of this price predicated on Standard play, I have no idea how much the foil will go down at rotation, if at all. Still, any discount you get is good. If you can buy these for cash from players at rotation, go ham. I am in for X of these at $12 or below. This is a $20 minimum foil in a few years, barring a catastrophe like a reprint, but the foil seems safe from that fate.
This card is bugnutty in EDH and I'm very excited about the prospect of the price going down. If the price doesn't move at rotation, I'd leave it alone. The price is probably currently too low, but I don't know if there is a ton of upside. I'd give this a 2/5 for the foil at its current price just because it feels so… correct right now. Could this be $50 in a few years? Sure, but is EDH that much of a driving force? We'd need something in a four-of format to boost prices that much, so let's take a hard look at this price and wait for rotation.
Thassa, God of the Sea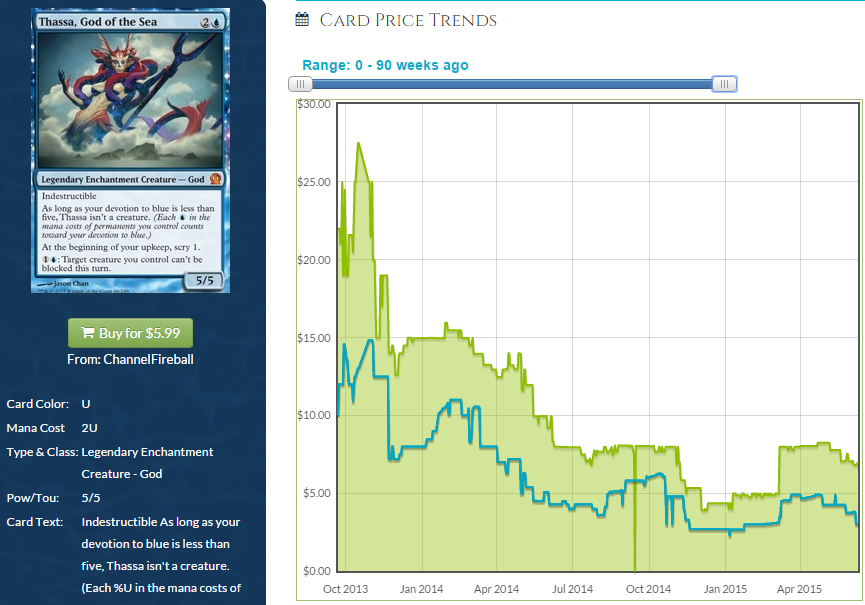 This is what a price predicated on four-of formats looks like. It's actually basically as sad as the others, honestly. Gods have been all but abandoned in Standard in favor of multi-color decks that worry less about permanents and devotion and worry more about KOing faces. Mono-Blue Devotion rocketed this plucky god to superstardom, but these days the former star is closer to Marky Mark in the second half of Boogie Nights than she is to Marky Mark in the first half of Boogie Nights. I think this card has the farthest to fall, which is handy because it has the most reason to. Price memory is propping this up to a large extent, even though it sees only a modicum of play in Modern and its days in Standard are basically over.
This is pretty good in EDH, actually, but I feel like it's underplayed. The scry is non-trivial and making a creature unblockable is sweet. I can see Thassa making all kinds of creatures connect: Thada Adel, Daxos, or basically any general. It's underplayed in EDH and that may continue, as it's also pretty much useless as a general.
Its current price has me hesitant, but with dealer confidence plummeting, I feel like the retail price could be $3 or less at rotation, and with its Modern playability and EDH potential, I'm a 3/5 or 4/5 at that price point. Dealers are paying that now, but they want to pay less, clearly. If you look at dealer buy price a few weeks before the fall set is released and target that as a retail price, you are probably going to be okay at rotation. If you can pay a couple bucks less and get copies from players, even better.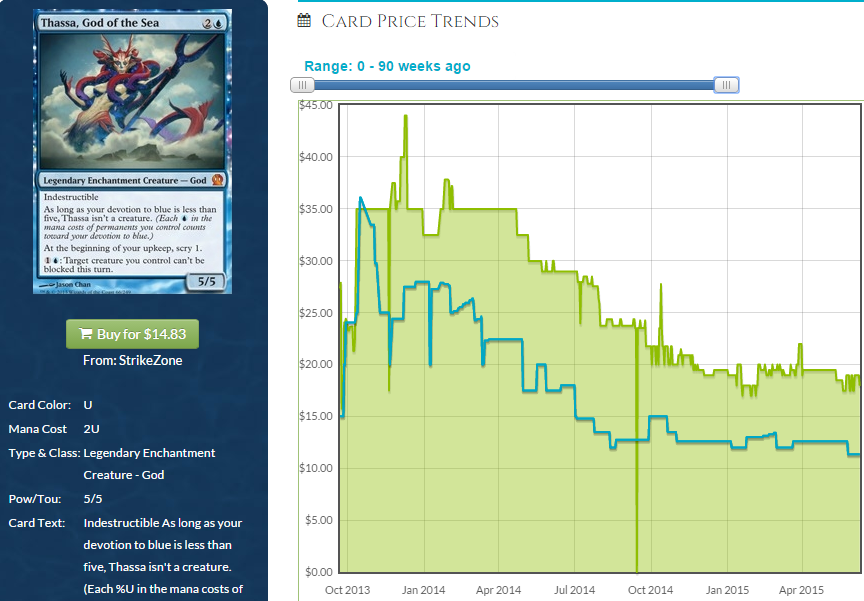 I don't like the foil price at all, and I'm not sure what's doing it. Price memory? Even the dealers aren't that eager to pay less than they are right now and that seems really dumb. I don't know if this is going to dip enough at rotation for me to care about it and I'm super bearish on it unless it cuts more than half of the current price. With the current value predicated mostly on price memory and Modern playability, the picture is very muddy. I'm calling this basically a 1/5 unless it gets so cheap that you don't need my advice about whether to buy it. Corbin wants to foil out his Modern Merfolk deck—maybe he's propping the price up. I'm just so meh about this foil.
There you have it. This was way longer than I was supposed to make it, but I wasn't about to make this sub-series take a month or write about fewer than five gods today.
Keep giving me feedback in the comments section, because even if I come up with a good idea, I'll write about what you want me to write about, unless your idea is terrible. In that case, I'll send Corbin or Travis a text making fun of you, but I won't do it publicly because I'm trying to work on being more "approachable" and "managing my brand" and "not getting any more death threats." So keep the comments coming. Thanks for reading, nerds.
---