Holy.
Crap.
Bannings are tricky things. A ban in Standard is different than one in Modern or Legacy, both in terms of tone and player response. "Older" formats inherently carry the risk of bannings as a check against unforeseen interactions between new and old cards (this is the essential crux of the Golgari Grave-Troll re-banning, new cards like Cathartic Reunion just made Dredge "too good"). It's possible that this is because formats like Modern are created with some bans already in place, so some of the bloom is off the rose from the get go. Standard, however, is a much more volatile situation. Standard is sold in part as a balanced environment, and bannings, even intended to preserve the greater good, are considered in part a failure.
BRIEF COMPARATIVE ASIDE: The immediate aftermath of a Standard ban kinda feels like when an interim head coach takes over a football team. Yes things are different with Umezawa's Jitte gone, but nobody thinks that Dan Campbell is really going to stick around. Then again, the Jags hired Doug Marrone, so who knows?
My guess is that bannings in Standard ultimately take some of the romanticism away- players (bad ones) assume that THEY will find the missing piece of the puzzle and vanquish the scourge of whatever deck they keep losing to at FNM and then some how win a Pro Tour. I want to get to the meat of these particular bans (the Standard ones, mostly), but I will say that the addition of a second B&R announcement is an early check against Saheeli Combo disguised as a good idea. I don't know how the Magic population writ large will respond to the idea of a more policed format philosophy, but I do think it will help prevent player bleeding in the event of a broken format.
Emrakul, the Promised End: This is quite possibly my favorite ban- Emrakul was the de facto top of the format in terms of size and effect, and it warped card choices and game plans towards it. Killing Emrakul (or rather, imprisoning her on the moon) opens up endgame opportunities for cards like Ulamog, Kozilek, or new cards like Herald of Anguish. More importantly, decks that were homogonized in certain forms can now branch out and specialize- Green Black doesn't NEED to be Delirium anymore, if they find a finisher better than Traverse for the next best thing to Emrakul, although that's still an option. That trickles down to mean that early game plans don't have to be the "self-mill while trying to stay alive" tactics that they were before. I don't know if there is a clear best winner in this situation, but there are several smaller ones.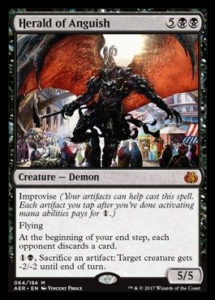 Smuggler's Copter: Actually, this might be my favorite ban. Copter had the same deck-building effect as Emrakul, but on the exact opposite archetypes. There will continue to be decks that want to include a mix of Vehicles and creatures, but I don't expect there to be a 1-for-1 replacement (not even the impressive-looking Heart of Kiran).
Golgari Grave-Troll: Dredge is tough to balance, and GGT is just way too good to exist in Modern. Early impact has been a spike on Golgari Thug, although that card doesn't have the potential to close out games like Troll does. The only Dredge cards that should be allowed in Modern are Life From the Loam and Moldervine Cloak, as they are the ones I like best.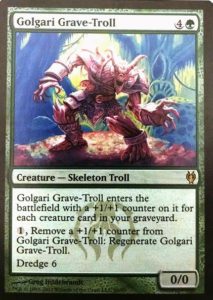 Reflector Mage: The UW decks have a lot of congestion, and so losing Reflector Mage makes the construction of those decks more streamlined. That's to a degree the opposite effect that the other bans are expected to have, but it also eliminates some of the weird issues that Reflector Mage had on the formats it was in (namely, Eldrazi Displacer). I think UW is still a deck after losing Mage and Copter, but I don't think it's a major player.
Gitaxian Probe: I can't pretend to know everything about how this impacts Modern, but I definitely get that it's a big deal. I'm going to pass on this as there's way too much contextual determination on what replaces it where, and I'm not sure that there is much financial upside given that most of the replacements are things like Serum Visions and Sleight of Hand. Combo decks get some degree worse, although mostly because they can't have a Peek before attempting to go off.
To close, here are my favorite cards ahead of this weekend's prerelease!
Yahenni's Expertise: I think there is a real possibility that the next few months are dominated in part by Liliana, the Last Hope. That's not to say that there won't be other decks (we know Saheeli Combo will be a possibility for at least the first eight weeks), but I do think that Lili could stand to serve as a pillar of the format. In that situation, Yahenni's Expertise seems INSAAAAAANE. Planeswalkers are graded in part on how well they can defend themselves, and having the opportunity to package a Languish in for [1] seems incredible. At $6 I still really like these, but I would rather trade for them than buy them outright.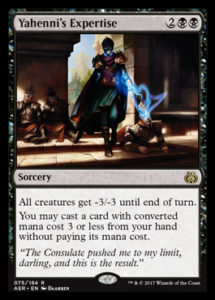 Sram, Senior Edificer: Big IF here, but if Puresteel Paladin Combo is a deck, then this feels like a critical 4x. Definitely a high-risk situation, but Modern has been shaken up considerably. I don't think THIS is the card that sees a tremendous price spike, but I think this is the card that makes the deck work. Key pieces that COULD see an increase include Mox Opal, Monastery Mentor, and Puresteel Paladin itself.
Greenwheel Liberator: I read this a few times to make sure that it counted my Windswept Heaths. It does! Definitely going to try this in Modern with Experiment One and Burning-Tree Emissary. Hidden Herbalists and Narnam Renegade are interesting options also- although these are all pretty narrow.
Lifecrafter's Bestiary (foil): These feel like a sneaky-good pickup, but definitely for the long term. Most of the decks that want this have access to green already, so color identity isn't an issue. Long term hold.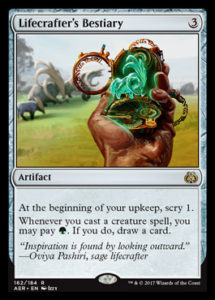 That's all for today, good luck at your prerelease!
Best,
Ross