Today is not going to be about the new (old?) Standard rotation structure. I'll tell you that I like it, though, and I suspect that my LGS's lagging FNM attendance will improve because of it. Today is going to be the start of a new mini-series, and it's focused on the aspect of Magic finance that tends to get overlooked.
Players new and old tend to approach the concept of Magic finance as "how can I make my hobby cheaper or free?", only to realize that most of the conversation in that sphere is between vendors. In honor of Game Day Weekend (and a month of [NEW SET] singles pouring into the market), I'm going to tell you which Standard deck I recommend for the upcoming format. This is for the people who want to play in FNM, PPTQ, and 5k level events but don't have the time, energy, or resources to learn and buy-in to the entire format. These are not going to be "budget" decks, but a key component in my selecting them is that they are cheap enough to give you a good shot at breaking even. I think this first installment does a good job encapsulating a lot of what I want to get across with this series, so let's dive in!
The rest of this content is only visible to ProTrader members.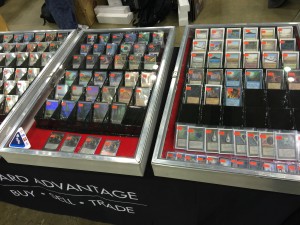 ProTrader: Magic doesn't have to be expensive.