Bolas's Citadel Old Border Promo Foil – $5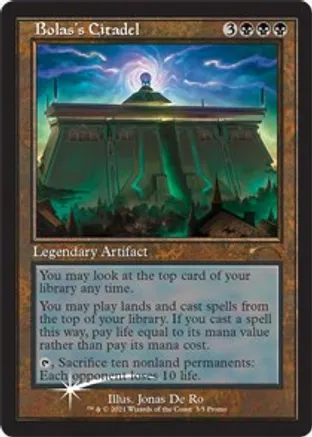 Bolas's Citadel is in 105k decks on EDHREC, and 12% of all black decks, marking it as a super staple of the format. As a WPN wide distribution promo this version of Bolas's Citadel has plenty of copies lingering in the secondary market, which is doing a great job of keeping it's price in check . The old border treatment is very interesting when paired with a colored casting cost artifact and the mystical art of the citadel looks good in the frame. Add in the classic foil WoTC swoosh and you've got a solid version of one of the most powerful black cards in the format.
Double Masters 2×2 Borderless Foil Bounce Lands – $15/set of 10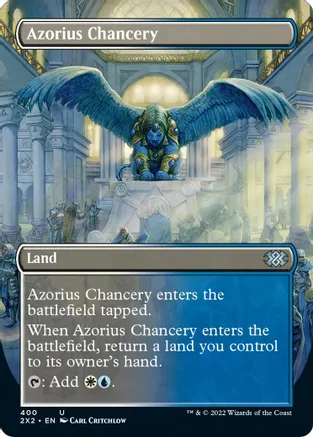 Providing ramp in multi color EDH decks and the ability to trigger Landfall or abuse CIP effects on your lands, the gorgeous new borderless bounce lands from Double Masters 2022 are super cheap at $2 or less per foil copy and a great edition to any Commander collection with full sets running for just $15. 

MSCHF x Secret Lair Swords to Plowshares – $16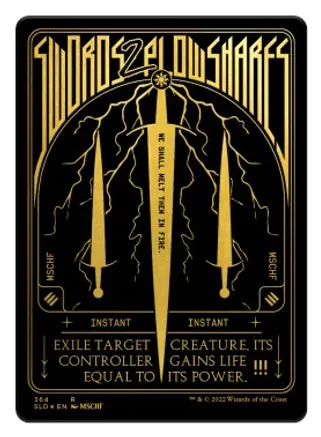 Despite Swords to Plowshares being the 3rd most popular EDH card of the last 2 years according to EDHREC, it hasn't received that many premium versions that really draw the eye. The MSCHF x Secret Lair may push the definition of budget given a 5x multiplier vs. regular copies, but it is very unlikely to catch a reprint and should age well as copies steadily drain out of the resale market. If you're playing white in Commander, you are playing this card, so you'll never be without a place to rock this unique treatment as your deck collection grows.

Arcane Signet Dan Frazier x Secret Lair: $18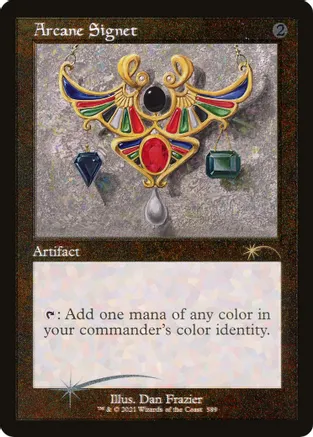 There have been plenty of Arcane Signets printed over the last few years, and there will be plenty more in years to come, but the Dan Frazier x Secret Lair version stands head and shoulders above the rest. During the inventory rush when this drop arrived in vendor hands months ago copies could be had for $10-14, but this retro art style by the artist who handled the P9 Moxen is still a solid deal at $18 for the regular version and even $30 for the foil etched. As the second most played card in the format this will be a coveted collectible for years to come.
Secret Lair Blasphemous Act Borderless: $15




The most played sweeper in Commander is easily Blasphemous Act with the card appearing in 30% of all red decks. By far the coolest version of this perennial red staple is the Secret Lair borderless version featuring a homage to horror exploitation films of the 1970s. With massive eye appeal and ultra low chance of reprint, this sexy sweeper wil draw comments at every table you wipe with it.
Interested in making and saving money while playing and collecting Magic the Gathering? Sign up now for MTGPrice Pro Trader to get all the best in MTGFinance articles, early MTGFastFinance Podcast access, price leading group buys and the best damn Magic community on the planet.