When life gets hectic, sometimes it's better to cut a few corners to produce something, rather than skipping it altogether. Don't let perfect be the enemy of the good, as they say. I'm moving to a new home this week so instead of delivering a comprehensive theme, I'm going to quickly share a few selections I've been watching personally and discuss the reasons behind my interest in each. Without further ado, let's jump in!
Silence (Old Border Foil)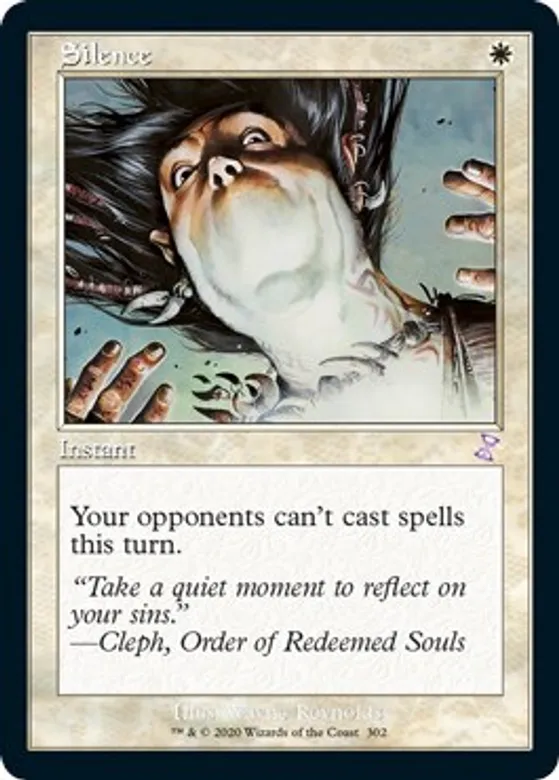 Arbitrage: $30 in EU, $60 in the USA
I didn't realize that Silence was such a widely played EDH card until I sold an old border foil (OBF) from TSR for $60! This price was much more than I was expecting, which got me to evaluate this card more closely. It's in an impressive 50,000 decks on EDHRec.com. Based on this, it should come as no surprise that the OBF version is doing so well!
Fortunately, for those of you with access to the EU markets there are copies of the TSR OBFs still available for around $30 each, which is less than the CardKingdom buylist currently at $42 cash. OBFs have been selling at a modest but steady rate on TCGPlayer.com – so if you're able to source cheap copies – you'll likely have no problem making a quick buck on this card.
Vanishing Verse (Foil Extended Art)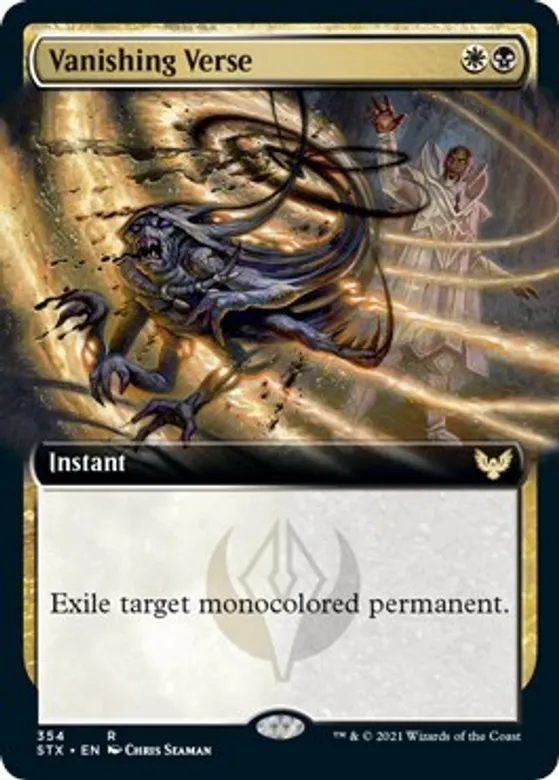 Current Price: $7.50
Potential Price: $18 in 18 months
Confidence: 7/10
Disclosure: N/A
Vanishing Verse is a solid removal spell, but its color requirements make it more challenging to include. Despite this in Pioneer it hits most creatures and several important planeswalkers and has been seeing quite a bit of play. As a result, Vanishing Verse is currently being run in Niv to Light, Esper Control, and Greasefang, among other archetypes. While I normally don't like to spec on removal cards because they historically get replaced with more impactful spells over time – it seems to me that Vanishing Verse should have a few more years in the spotlight before it's overshadowed in Pioneer. In Commander, it's not an all-star but it's in a respectable number of decks on EDHRec.com at 11,275. Being two colors limits its ceiling – but these are still reasonable statistics when combined with its competitive play.
Vanishing Verse could easily be reprinted into a future commander deck due to the low price for the basic version of this card, which is why I would prioritize the Foil Extended Art versions of this card for any long-term speculation. We are roughly 16 months past Strixhaven's release date, so new supply on this set should be relatively limited going forward and only 21 TCGPlayer.com vendors currently have this version in stock.
Prismari Command (Foil Extended Art)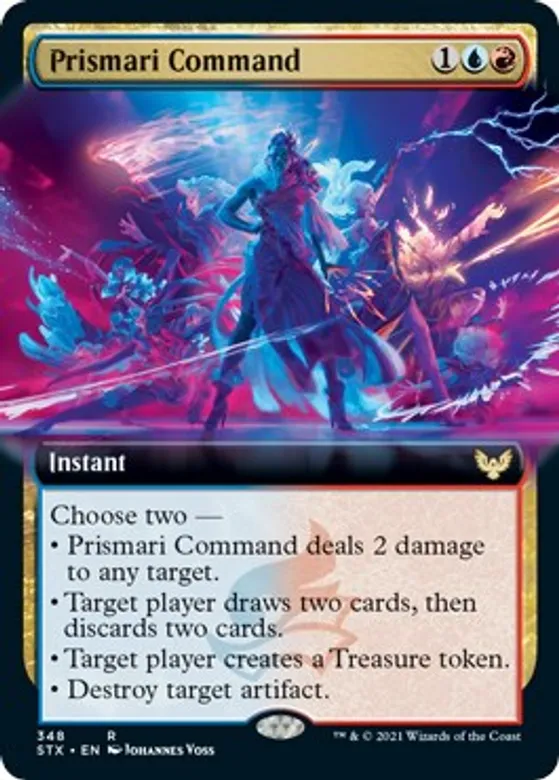 Current Price: $9.50
Potential Price: $20 in 18 months
Confidence: 7/10
Disclosure: N/A
Many of the same points about Vanishing Verse apply to Prismari Command, which is in a similar number of decks on EDHRec.com decks – at 17,819. It also sees competitive play, but instead in Modern which is a larger driver of card prices in general. It typically sees play in archetypes that lean on its ability to either dump cards in the graveyard or to create treasure tokens, with the other two modes providing helpful support and flexibility. Most recently Indomitable Creativity lists have been running three to four copies of Prismari Command consistently. Despite seeing slightly more play in both casual and competitive formats, Prismari Command has more availability on TCGPlayer.com than Vanishing Verse, with around 50 vendors having it in stock, which is surprising. Going forward I think Prismari Command will continue to see reasonable demand that will slowly drain its supply and pressure its price over time.
Oko (@OkoAssassin) has been writing for MTGPrice since 2020 with a focus on competitive play and Magic Online. In his personal life Oko is a lawyer, father, ice-hockey player, runner, and PC gamer.