Scents of the Trade: Part 2
Last week I began writing the first part of this mini-trilogy which focuses on avoiding bad trade habits; my second installment in the series for MTGPrice.com focuses on the market of foil singles. If you're truly hungry, like I am, you'll take the time to sniff out your local market's needs and cater to your peer players, make yourself part of the store, and make yourself well known. Your local market as a whole is comprised from a pool of other players whose needs and wants can vary drastically from each other; so how does one effectively assess the cards that are desirable within their MTG scene? There are a few approaches to doing so that I will further discuss.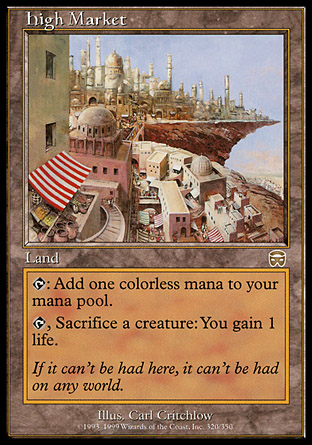 Segmenting your market into different customer bases is quite simple once you understand how to do so. Begin by determining the largest demand within your store, and cater solely to that. This focus can range from promotional cards, to Elder Dragon Highlander (EDH) foils, to format staples for Vintage, Legacy, Modern, and Standard (the most common approach). Whatever the largest demand is at your LGS, find it and use it to your advantage.
A niche that I've strongly profited from lately is the EDH foil market – not many players stock these cards, but just about every other player with an EDH deck wants something that I have in a binder. Foils, in general, are a bad niche to invest in – I would advise weekend traders and players to stray from acquiring a robust binder of foiled cards. Certain cards, however, are extremely profitable when compared to their non foiled counterparts, as well as other foils on the market. Below is a list of foiled EDH cards that I have traded or sold within the past few months, as well as their normal and foil prices, rounded to the nearest dollar, for the sake of contrast.
There are many more foil cards that are heavily sought within the EDH market, and most are safe areas of investment. While money can be made in Modern and Standard foils, profit margins are small and detrimental volatility is high. To briefly illustrate this point, let's examine some of the most sought after cards from the new set, Gatecrash. When Aurelia, the Warleader hit the market nearly 2 months ago on Feb. 1st, the foil price was $49.99 on Starcitygames; today, the cost for a foil Aurelia from SCG is only $34.99 – a loss of 30%. Similarly, when Gideon, Champion of Justice was released on Feb. 1st, the foil cost $69.99 through SCG, but now only costs $21.99 from the same site – a staggering loss of nearly 70%!
Cornering a portion of your local market is difficult without acquisition power; so, if you lack enough capital to obtain a stockpile of niche foil singles, a different approach may be better suited. An easy way to turn your extra cards into money is by simply asking other players what they are looking for. I know this sounds elementary, and it is; but chances are you actually have a card that somebody else wants to buy or trade for, and you have to inquire to find out. In the event that another player is looking for a card you don't own, ask them what they value the card at; then go trade for it, and come back to cash out!
That's all for now, make sure to check back next week for my final installment in this series: why not to trade eternal format staples for standard cards.
Weekly Finance Tip:
[Hang onto your Windbrisk Heights, Rise of the Hobgoblins and Modern Elf cards – I expect all of these to steadily increase by a near 20% within the next month or two]
Until next time,
Zack R. Alvarado
zackalvarado@gmail.com
Twitter: Rh1zzualo
P.S. Franny, this one's for you brooo!