This week I would like to take a look back on cards that I was watching before Born of the Gods was released to see where they are currently in price and what I expect from them moving forward. Before I start, I want to quickly mention that I'm now on Twitter and you can follow me @gildedgoblin.
Mythics
Presale Price in January: $23-25
Current Price: $27.50
Looking at the chart below, we can see that Brimaz started out around $30 retail once Born of the Gods was released (many presales were available on TCGPlayer for far less though, some as low as $23) then within a month of the set release he spiked to $42, and then throughout March and April he has been on a steady decline to current the retail price of $27.50.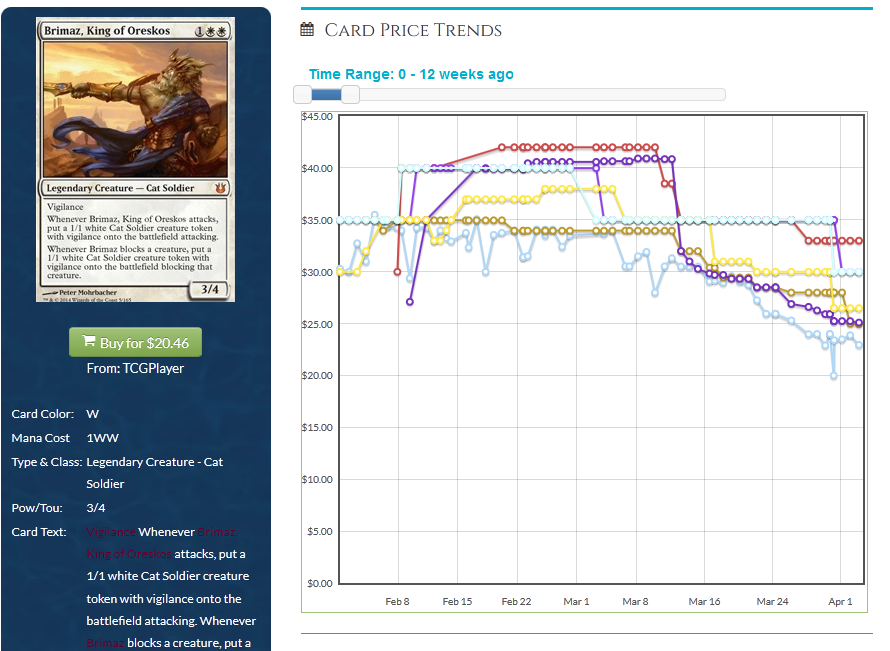 Many would consider him to be the best card in Born of the Gods so why is the price on Brimaz going down? If we browse the statistics on mtgtop8 for Standard cards we can see that he is played in only 4.4% of the current decks that are making Top 8 appearances. Even when he is played, he only averages three copies per deck. Clearly this didn't warrant a $40+ price tag so Brimaz's price has adjusted to reflect this demand.
My advice in January was to passively pick up Brimaz if you knew you wanted to play him but otherwise avoid him because he was a very risky target unless you knew you wanted to trade or sell back into the hype. Brimaz did spike yet it did not take long for him to come crashing down due to the commanding presence of devotion to black and devotion to blue decks that make up 33% of the current metagame. So far Brimaz has played out to my expectations however once Journey into Nyx comes out it could change the game again. Going forward, lookout for Brimaz to perform in any Standard decks throughout the summer and if he does well you should pick up your copies accordingly. If not, then wait until the set rotation because at that point Brimaz will be at his lowest and it will be the perfect time to pick him up. His board presence is very powerful so even if he isn't played in RTR standard I expect he will almost certainly be played in THS Standard.
Presale Price in January: $20
Current Price: $20
I expected Kiora to come crashing down to the single digit range but she has not done this yet. She is barely a presence in Standard, being in only 1% of the current Top 8 metagame, and yet still three months later her price hasn't budged. My guess here is that the price will drop however not enough time has passed yet. Planeswalkers take more time to drop than other types of cards due to the awe factor, and I would say this one in particular has a lot of awe going on since it is the first UG Planeswalker that the game has seen. She is within the "Jace" casting cost range (the first sign of a good planeswalker) though I don't think the abilities and starting loyalty will be enough to send her price soaring. Like Brimaz, wait this one out through Journey into Nyx and if she creates some buzz then try to capitalize on it. Otherwise pick her up in the fall for around $10 since she may see some play in the next Standard cycle.
Presale Prices in January:
Xenagos – $20
Mogis – $11
Phenax – $9
Karametra – $7
Ephara – $7
Current Prices:
Xenagos – $12
Mogis – $9
Phenax – $8.30
Karametra – $4
Ephara – $7.60
Xenagos has certainly dropped the most out of all the gods, going from as high as $25 retail in January to now $12 and less.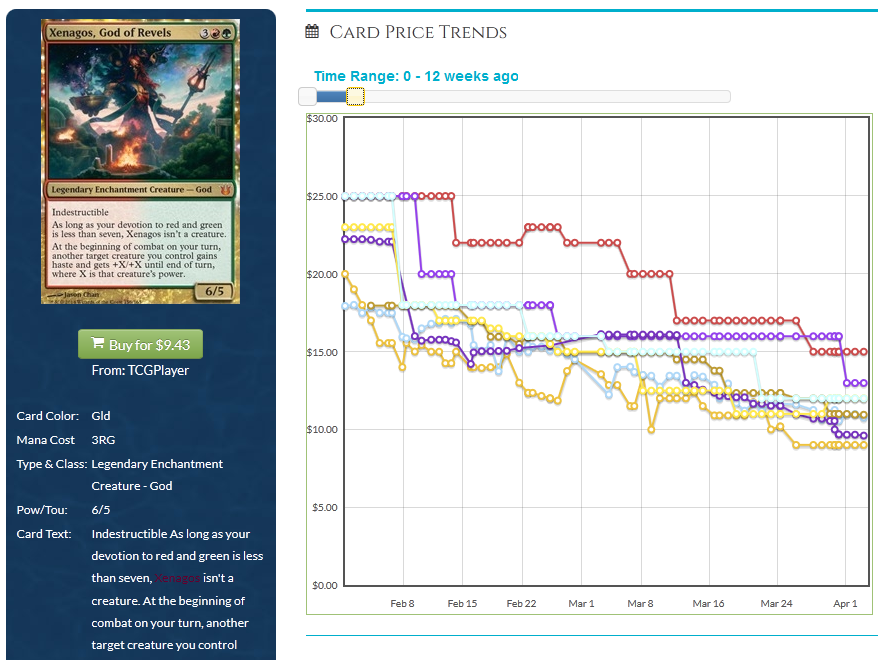 Based on what I said in January now would be the time to start picking up this version of Xenagos if you plan on playing Gruul Monsters or a similar build that will utilize him. He has dropped to that sweet spot of around $12 retail and can be picked up from TCGPlayer for less than $10. Though he is on the expensive side for a god his ability is really powerful and I can see him making a splash in Block constructed and the future THS dominated Standard.
I believe that Ephara has maintained her price because she is the second best god from BNG. She creeped up a bit in price because of the expectation that someone will break her but honestly I think it is going to take a lot to make this happen. Stay away for now until results are present since she could go a little lower. I did say to actively pickup Ephara as I don't think it will drop below $5 and I still believe this yet at the same time I do not think they would trade away easily.
The other three gods have dropped or are continuing to drop slowly as many people realize that they are not a strong force in Standard. I don't think Karametra can go much lower than $4 – if she does, I would be looking to pick up a lot of copies just to hold them for the long term (2+ years) because she is a great casual target. Phenax is a great target for the same reasons. I think as time goes on he will continue to maintain his price or even go up regardless of Standard demand. Mogis is not as weak or linear as Karametra or Phenax, however since he isn't relevant in Standard and doesn't hold a lot of casual appeal I would avoid him unless B/R or B/R/x becomes a thing in Standard. All said I would continue to hold off on these three gods. The Journey into Nyx gods could be really good so I want to wait and see which of the 10 are the best.
Other Mythics
Presale Price in January:
Chromanticore: $2
Current Prices:
Flame-Wreathed Phoenix: $2.50
Chromanticore: $2
Champion of Stray Souls: $1.40
Like I predicted, these mythics haven't moved upwards and are all trending towards $2 and less. Champion of Stray Souls is a great casual long term target, especially foil copies. I would otherwise avoid these mythics.
Rares
(I skipped over bulk cards from the January article unless they have spiked in price since.)
Presale Price in January: $7
Current Price: $2.20
Wow, this rare really dived in price. It went even lower than I predicted it would. I guess Legacy doesn't really do much to drive the price of Standard cards when that card is not Deathrite Shaman. On the plus side, I don't think she can go much lower than $2. Keep an eye out and if it drops even lower than start buying in.
BNG Temples
Presale Price in January (ALL): $4.50
Current Price:
Temple of Enlightenment: $9.45
Temple of Malice: $5.25
Temple of Plenty: $5.25
This is miss for me, at least in terms of retail prices. On TCGPlayer you can find Temple of Malice and Temple of Plenty for less than $4 and Temple of Enlightenment for about $6. Regardless, these lands haven't dropped at all in price and in the case of Temple of Enlightenment have doubled up. 
In retrospect, knowing the U/W control deck existed before the U/W scry land was released should have been a warning sign. I should have foreseen that a scry land that fits into those colors would be in high demand. When you play a control deck you want to play more lands than an aggro or tempo deck because your land drops are really important. Having lands that fix your mana and provide additional bonuses like scrying are really powerful for control decks. I should have noted Temple of Silence and Temple of Deceit, which have stayed near $5 while the other non-Esper Theros scry lands lagged behind. Esper Control and Orzhov control are also decks in Standard, even if seeing Devotion decks all day might make you think otherwise. Temple of Enlightenment not only goes in Esper but also U/W control which helps drive demand. Demand is also driven by the fact that Temple of Enlightenment is in a small set, so there are less copies of them out there.
Going forward, I would expect the scry lands to start trending down in price. I believe they are still in their "spiking" phase. Wait until mid summer to pick them up at this point because that is when they will be at, or near, their lowest prices.
Presale Price in January: $2.50
Current Price: $1.60
Herald is starting to hover near bulk prices so I believe the time to start picking them up is now. I have a feeling that this Demon will see Standard play once Desecration Demon rotates, as he is a very efficiently costed flyer that also has the benefit of bestowing itself onto creature if you draw him later in the game. He is less than $1 on TCGPlayer. I am not sure if he can go any lower. Pick up your copies now before he starts trending upwards in price.
Presale Price in January: $4
Current Price: $9.20
I mentioned Courser briefly in January as I could not find a price for it at the time I wrote the article. When I saw it I thought the card was good for casuals however I missed the mark on how excellently it fit into Standard. This is my biggest miss from Born of the Gods. I'm not sure if the price can rise much more as it doesn't provide ramp but I would keep a close eye on this card moving forward into the next Standard.
Uncommons
None of the uncommons from my article in January have gone above $2 retail yet. Not to say that they won't, however I believe that throughout the summer they will continue to decline in price as Theros block is drafted. Keep picking up extra copies of these until the draft format stops. Then later down the road in the fall and winter you will be able to trade them well as they will be harder to find.
Final Thoughts
While the set's mythics have followed my predicted price trajectory, I did miss Courser of Kruphix and Temple of Enlightenment, which have doubled up in price. For the most part though, unless you are playing Standard you want to stay far away from Born of the Gods for some time. Many of the cards are still propped up in price based on a hunch or predicted success in the metagame. I have a feeling we still haven't seen the lowest prices on many of these cards so unless you are really sure of a pick from this set hold off until the summer to pick it up. Since the Standard season has been moved to the beginning of this year it ended a month ago so keep in mind that later in the year there will be less demand for Standard cards than there was in years past. Sealed Deck season continues until June 1st and then we move on to Modern PTQ season. Keep this in mind as you move forward and hopefully you can get some good Standard deals during Modern season from June 7th through August 24th.