For me, it's my Merfolk.
That's the one thing I'll never sell, unless it becomes a matter of absolute necessity for my family.
I've loved my Merfolk deck ever since I borrowed one to play in my first-ever Legacy tournament at a SCG Open and ended up splitting the finals of the event. From there I decided to build it myself, and these days I sling foil Fish in Modern every chance I get. Sometimes, I even do well enough to have a tournament report to write.
I'll sell my dual lands. I'll sell my binders, my bulk, my box of full-art lands, my Bazaar of Baghdad. Hell, if it came to it, I'd even sell my Mishra's Toy Workshops that I received as a gift. It can all go—everything I treasure in a binder or a box in my office.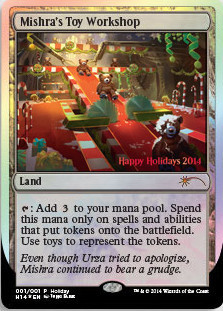 But I'll never sell my Merfolk.
The reason? Because there's plenty of wrong ways to do it but only a few right ways.
To quit.
…
If you're reading this, consider yourself one of the lucky ones. You've never felt what it's like to have to give up the game you love—to watch someone else coldly take what you worked years to build and carelessly dump it into a box. You've never given up a piece of yourself for reasons beyond your control.
Or maybe you have.
I've seen people quit this game for all number of reasons. They can't afford it. They don't have as many friends who play. They need the money. They ragequit after the latest tournament. But by far the most common reason is that they don't have the time, something that encompasses many reasons. Sometimes it's work; sometimes it's a new baby or other family issues.
I've been there myself. When I graduated from college, I began to work as a sportswriter, and that meant lots of Friday-night games and weekend tournaments. Save for a few weeks in the summer, FNM was suddenly not a part of my life anymore.
And that sucked, there's no way around it. I'm nearing a point in my life where career opportunities will allow me to work a schedule more amenable to Magic, and I'm looking forward to getting back in the game. But after college, I took the job I could get, and while I do enjoy it, being so disconnected from Magic still came as a huge shock.
But I didn't quit.
Instead, my experience with quitting comes on the other side: the backend of a dealer booth. I'm the guy sorting your beloved cards into piles of money, though I try my best to not be cold while I'm doing it. Because I buy and sell cards out of an LGS, I have a large number of what you would call "walk-ins." That is, people who have Magic cards to sell but aren't store regulars. They probably Googled "sell Magic cards" and ended up with me.
I hear a lot of stories this way. People sell me cards for any number of reasons, and that's fine. I always strike up a friendly conversation as I'm sorting through cards: Why are you getting out of the game? Why are you selling all your cards? It is both a curse and a blessing that Magic cards are valuable. The same thing that makes it tough to break into the game makes it easy to get out—there's always someone willing to pay you for your cards. But the more people I've worked with, the more I've seen this same story come and go.
"Well, I played Magic ten years ago, and I sold everything when I quit eight years ago. I can't believe how expensive it's gotten since then! Anyway, I got back into over the last year but it's not going to work for [INSERT REASON HERE], so I'm selling my stuff again."
This is a common story: a player who quit and came back later, only to quit again. I've heard a lot of stories from players as they quit, and I've heard a lot of stories from players who have come back. If you want to quit, I would advise against you making a clean break, but if that's what you need to do, here's some advice.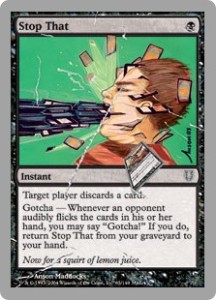 Know What You're Selling
Turning your cards into money is great. You never know what unexpected expenses are going to come up, and unlike a lot of hobbies, Magic is very easy to convert back into cash when you need it, whether that's for an emergency or simply a gift. I was able to sell enough cards to buy an engagement ring for my now-wife, and I'm proud of the fact that I did it with Magic cards.
But remember this: sometimes selling everything isn't the best option. Sell your Standard cards. Sell your Modern cards. Sell your casual cards. Sell your bulk. Maybe even move your nonland Legacy staples if you have them and you don't think you're coming back to the game. Because even if you do, that fancy finisher you have now may be outclassed by something by the time you get back, and that card is now worth less than it was when you quit.
But don't sell your dual lands unless you have to. If you're lucky enough to have any of the Power Nine, don't sell them. These cards have only gone one direction since Magic was created, and while past performance is no guarantee of future returns, it's also completely plausible that these cards will continue to climb. It's a really crappy feeling for those of you who have come back in the last five years only to see the dual lands you sold a decade ago for gas money are often exceeding $200 now. Even if you're out of the game, stashing these away in the back of your closet is simply a prudent financial move.
Take the Time to Do It Right
I see people decide to quit, and they take their stuff, unsorted, to Star City Games or even their local LGS to get rid of it all at once. I've found so many expensives rares in boxes of what I was told was common and uncommon bulk. If you take the time to go through your cards one last time and set these aside, you'll be able to get real buylist values on these rather than losing them in the junk.
It's really easy to dump your cards onto one dealer's table and simply be rid of them all, but it's almost always worth your time to break it down to a few different buyers or to sell your big-ticket items to another player, whether in person or through eBay.
One more thing—the most important thing—don't sell your Merfolk.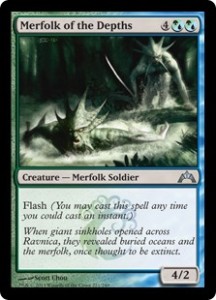 Don't Sell Your Merfolk
As I explained, there's not much that could happen to make me sell my Merfolk. The day might come I have to sell all of my Magic cards. Despite our best plans, life has a funny way of happening, and I don't know what might come up down the road.
But I'll never sell my Merfolk.
This is the single best piece of advice I have. I literally cannot count the times I've talked to someone who's recently come back into the game and has nothing. They have such fond memories of their favorite deck "from back in the day," even though it's probably terrible by today's standards. But it's precisely those memories that brought them back to Magic in the first place, and no matter what they may go on to build or accomplish in their second (or third or more) stint, it won't replace that first love for their own personal Merfolk.
You'll Be Back
No matter how far you distance yourself from the game, it's hard to make it disappear completely. You'll be surfing Facebook or Twitch a few years from now and see it pop up, and you'll get that familiar twinge.
It's only a matter of time until you give in. If you've played this game for any length of time, it's impossible to get away forever. Most players know exactly how many times they've quit and come back, and they wear it like a badge of honor. That's fine, but maybe try not to cost yourself some long-term money in the process.
With that in mind, here's a short list of things you're going to store away in the closet, even if you have to quit for a time.
Binders
Sure, your binder may be empty now after you unload all your rares from it, but when you come back, you're going to need one again. Good ones runs upwards of $20 today, and will probably be even more expensive when you come back. I have a ton of extra binders I've gotten from people selling me collections, and they just rot away in a box in my home. You might as well let them rot away in a box in yours to save yourself some cash down the road.
Lands
This depends on your level of play in the game, but it's worth noting. Sure, maybe you want to sell your expensive Standard or even Modern lands, but if you're a more casual player who isn't worried about the latest tournament decks, maybe just keep back some of the more simple stuff. Khans of Tarkir trilands, for instance, are commonplace to those of us in tournaments, but absolute gold for a new players trying to build casual or EDH decks. That could be you if you decide to return in a few years.
Deckboxes/Sleeves/Dice
Along the same lines, these are something you'll eventually need again, even if you have no use for them now. A pack of sleeves may not seem very important when you're up in the middle of the night with your baby son, but trust me, you're going to wish you had them when that kid is spilling his drink on your cards when you teach him to play years down the road.
What If I'm Wrong?
I've written this article with everything predicated on the belief that you may return to the game someday. If you do, these things can make that transition back in easier.
But maybe that never happens. You leave the game and never look back. You save some of this stuff and it's lost in your garage for years. Maybe you'll dig it up and find out that the cards you saved have appreciated nicely in your absence from the game. Or maybe your now-teenaged kid will find it and make fun of you for being such a nerd. Either way, it's worth it.
Thanks for reading,
Corbin Hosler
@Chosler88 on Twitter