By: Travis Allen
@wizardbumpin
---
Make sure you're listening to MTG Fast Finance with James Chillcott (@mtgcritic) and I! New episodes usually land on Thursdays. We're on iTunes and Twitter @mtgfastfinance.
---
Regardless of your opinion on this weekend's Pro Tour, whether you were rooting for or against the Eldrazi, we should all savor this moment as one in Magic history. It's not often that a deck takes up six of the eight slots in the elimination rounds. Elves did it at Berlin, Flash Hulk did it in Columbus, and Affinity and Tolarian Academy have done similar.  What we've seen here is actually the goal of every single team that shows up to a Pro Tour: break the format so thoroughly that their deck dominates the event. It's only due to a balanced meta and power level that this doesn't happen every time. When a team's best laid plans do come to fruition, it means either Wizards messed up and put cards into a format wildly better than their peers (Affinity, Academy, Eldrazi?) or a list was discovered that totally sidestepped everything everyone else was doing (Elves). You can tell the difference because decks from the former camp end up getting banned, and decks from the latter are beaten back into place by a metagame. Of course, the question that should be on everyone's mind today (rather than already having a completely formed opinion about it) is which type of deck Eldrazi is.
On the one hand, this deck does some fundamentally busted stuff. You've got eight lands that produce two mana (or more!) on turn one. The last deck to generate that much mana that fast was Amulet Bloom. You can kill people on turn two with triple Eldrazi Mimic off an Eye of Ugin on turn one followed by Eldrazi Temple, Simian Spirit Guide, and Reality Smasher, or you can play a long attrition game with Eye of Ugin eventually ensuring that you never run out of gas until one of you is dead. The last deck to kill on turn two and still be capable of playing a long game was…Amulet Bloom.

The rest of this content is only visible to ProTrader members.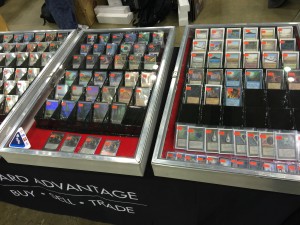 ProTrader: Magic doesn't have to be expensive.