By Guo Heng Chin
Today we will be deviating from our usual Commander foils to take a look at a few undervalued cards in Standard. I know, the price for the majority of Standard cards have already settled and we are at that time of the year again. No, I am not talking about the holiday season, though I very much look forward to it. I am referring to the annual December Standard price trough, when cards from the fall set experience a set-wide drop in price. December is the month when Magic Online redemptions have hit the market for a couple of weeks, and coupled with two months of heavy drafting (well, the fall set was all we had to draft with) creates the first price bottom of the fall set cards.
If you are looking to acquire the Standard pieces you need for your decks and complete your personal playset of Khans of Tarkir cards, now is a good time to do so. However, I would not move in on specs yet as most of the playable rares and mythics still have room to drop. The Khans will rule for another four more months before the Dragons of Tarkir evict them in March 2015.
Well, most of the rares and mythics anyway. Khans of Tarkir Standard proved to be a reasonably diverse metagame. Just as we thought the Abzan and Mardu decks have established their grip on the Standard landscape, a different clan shook the status quo. Sidisi Reanimator, or Whipdisi for those who prefer a more kinky nomenclature, is not a new kid in town. The deck debuted at Pro Tour Khans of Tarkir in the hands of Christian Seibold who missed the cut to top 8 by one win. Seibold then top 8 Grand Prix Stockholm with the same list a few weeks later. The very next week Jund master Willy Edel ravaged through Grand Prix Santiago with Sidisi Reanimator only to have his hot run tragically  ended by manascrew in the top 8. While Sidisi Reanimator possessed a phenomenal matchup against the creature-centric midrange decks, it fell out of favor and was relegated to the depths of tier two, surfacing only occasionally on Magic Online Daily Events.
Hail to the Queen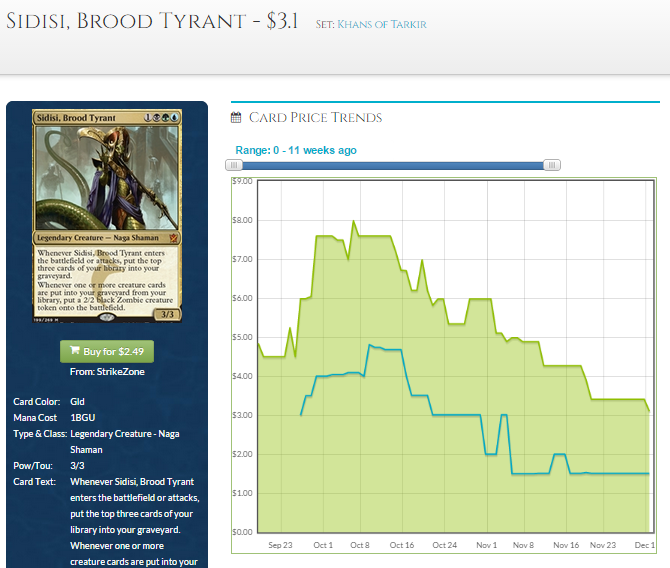 Sidisi, Brood Tyrant came back with a vengeance last weekend, taking down the Star City Games Open in Atlanta and making top 8 of Grand Prix San Antonio. The deck ripped through a field full of Abzan and Mardu midrange decks and turned Standard into Commander games. Sidisi Reanimator is well positioned in the current meta  due to the fact that most creature decks find it difficult to handle a resolved Hornet Queen, let alone multiple recurrences of Hornet Queens with Whip of Erebos.
You can currently buy the Sultai Khan  at $3.10, which is close to bulk mythic. For a mythic that sees play as a four-of in an archetype that is poised to be a tier one deck, $3 feels like the bottom or close to the bottom for Sidisi, Brood Tyrant.
Another reason to be bullish on Sidisi at $3 is the amount of love she has been getting from Commander players. Milling is perpetually popular with the Commander community and Sidisi is the ultimate self-mill commander, who by the way also churns out zombies (tribal fetish alert). Anyone following the Commander scene would have encountered a sheer number of articles written about Sidisi, Brood Tyrant as a commander since she was released. She is also in scoeri's list of top fifty most played Commander (for the previous year). Granted, her position in the list could be down to the buzz of having a new Commander to tinker with, nevertheless it showed the amount of enthusiasm the Commander community have for Sidisi.
I have hopped on the Sidisi bandwagon myself and built a Sidisi deck. If I am not wrong, Sidisi, Brood Tyrant is the first tricolor self-mill commander, and the addition of green to a traditionally blue and black domain opened up a lot of intricate and awesome interactions the deck have access to. The design space for a Sidisi, Brood Tyrant deck is extremely deep, with a plethora of approach to building it (do you want go down the dredge path, or do you want to do a zombie tribal, or a mix of them both, or a Jund-like midrange deck).  Every Sidisi, Brood Tyrant deck exudes its own flavor and I can personally attest that Sidisi, Brood Tyrant is a commander that is both a fun exercise in deck construction and is enjoyable to pilot.
Which brings us back to our original point: Sidisi, Brood Tyrant, a mythic rare that is the engine of a potentially tier one archetype and also a really fun commander to build around, is only $3. I would not go in super deep, but I like the idea of having a few playsets of Sidisi as she is about as low as playable mythics go. If Sidisi Reanimator keeps on posting results, her price would spike. Worse case scenario, if Sidisi Reanimator does not gain widespread adoption (an unlikely outcome in my opinion, seeing how well the deck is positioned against the creature-centric midrange meta Wizards has been not-so-subtly encouraging), Commander demand would drive her price higher than it is now once Khans of Tarkir stops being drafted.
While I am bullish on non-foil copies of Sidisi, I am less so  for foil copies of the Sultai Khan, at least right now. I am confident that foil Sidisi will slowly inch up as with foils of popular commanders, but at $10 she still have room to drop. I would trade for foil copies of Sidisi over the next few months rather than buy them outright. Foil Sidisi is a long-term spec target with the aim of doubling or tripling up within a few years of Khans rotating out.
I have seen a lot of questions regarding the next two cards on the MTGFinance subreddit's Weekly Ask MTGFinance Anything thread. While they are Standard-legal cards, the driver for their price stems from Modern and/or Legacy.
Laying Siege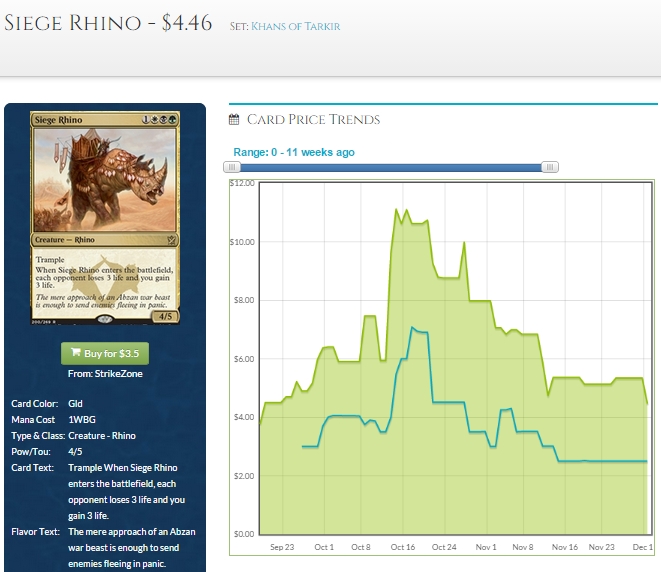 The first card is Siege Rhino. What is the financial potential of non-foil and foil Siege Rhinos right now? Non-foil Siege Rhinos are on their way down as with most Khans of Tarkir cards due to the December price trough. I would not spec on them right now and I would only acquire them for my own use if I need them right now (Hey, I can finally afford to play Abzan). Siege Rhino still have some leeway to drop and it is okay to wait a month or two before moving in. Siege Rhino might also be reprinted in upcoming Clash Packs or Event Decks, ala Courser of Kruphix. Wizards has proven over and over again that they will reprint expensive Standard rares to make them more accessible.
The future of foil Siege Rhino is contentious. Foil Siege Rhino demands a hefty price tag due to the amount of play the card sees in Modern. While everyone was clamoring over the perceived warping power Treasure Cruise asserted on Modern, the first post-Khans Modern Grand Prix in Madrid featured more Siege Rhinos in the top 8 than Treasure Cruises. So did the subsequent Star City Games Premier Invitational Qualifier (but not last weekend's though).
Siege Rhino is the best arsenal Abzan-based decks have against UR Delver and I suspect that played a role in the widespread adoption of Siege Rhino in Modern. If UR Delver were to drop from its current level of dominance, would Abzan and Pod decks still retain their Rhinos? Would Abzan still prefer Siege Rhinos over Dark Confidants in a meta with less Forked Bolt and Lightning Bolt?
Personally, I think those decks would still run a non-zero amount of Siege Rhino. Siege Rhino is the epitome of a value card: it is a Lightning Helix on an undercosted, trampling ⅘ body, exactly the kind of card Abzan and Pod decks love to play.There are not many cards in Modern that trades with Siege Rhino on parity. Regardless of the Delver threat, Siege Rhino is good enough to be included in Modern, I am just not sure if it would still be a four-of in a meta with a different bogeyman.
At $13, foil Siege Rhino has room to grow, but I am not keen on getting foil copies right now. I am inclined to wait and see if Treasure Cruise gets the ban come the Modern Pro Tour early next year.
The second card is Eidolon of the Great Revel. Many Redditors asked whether Eidolon's price right now makes for a good buy-in. Eidolon of the Great Revel is on a downtrend after its double-spike over the summer and can be picked up today for $6.6.
The Other Broken Red Two Drop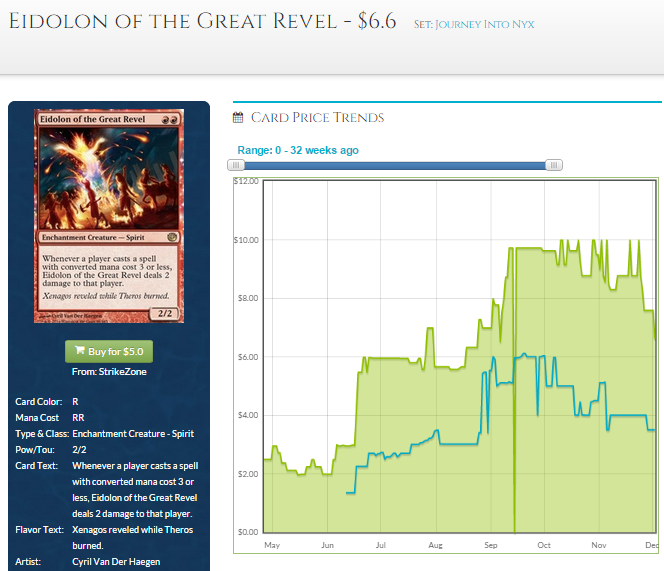 Lets see, Eidolon of the Great Revel is a four-of auto-include in Modern and Legacy Burn and it comes from a small spring set (low supply alert). Eidolon has a slim chance of being reprinted anytime soon with its Nyx-ified border and 'Enchantment Creature' type unique to Theros. Is Eidolon of the Great Revel a good buy right now? You bet. The card has the hallmark of an eternal card poised for appreciation over the years. It is a good time now to secure your own playset and any extra playsets for investment. Modern Masters II is likely to come out next summer and it would instigate another wave of Modern players. Burn is a budget-friendly entry level deck into Modern and those new players would be looking for their Eidolon of the Great Revels. I am not a fan of waiting until rotation to pick Eidolons up; it seems to be a new trend for Modern staples to not buck in price upon rotation. See Snapcaster Mage and shocklands.
How about foil copies? Eternal players like to foil out their decks don't they? I am afraid the cruise has left the port a long time ago for foil Eidolon of the Great Revel. If you did not acquire your copies back in June when it was $7 apiece, it is probably best to stay away from speculating on foil Eidolons. I do not think $30 is the ceiling for a foil Modern and Legacy staple from a small spring set, but I have no idea when foil Eidolons would make the next jump and there is a significant opportunity cost at its current buy-in price.
Speaking of Standard cards with Modern application, the last card we will be looking at in this article is another Modern staple with a surprisingly low price right now. I revved up my competitive Magic engine again two weekends ago after a six-month hiatus from competitive Magic, in anticipation for the upcoming PPTQ season. I decided to start out with Caleb Durward's GR Bees which seemed well positioned against a creature-heavy, midrange-fest of a metagame. And also because I already own most of the cards and I would not have to spend a fortune on getting the cards in real life (for practice) and online (for more practice). When I was purchasing the missing components, I could not believe the price Chord of Calling was going at. I thought the shopkeeper must have got the price for the wrong card!
What Calls?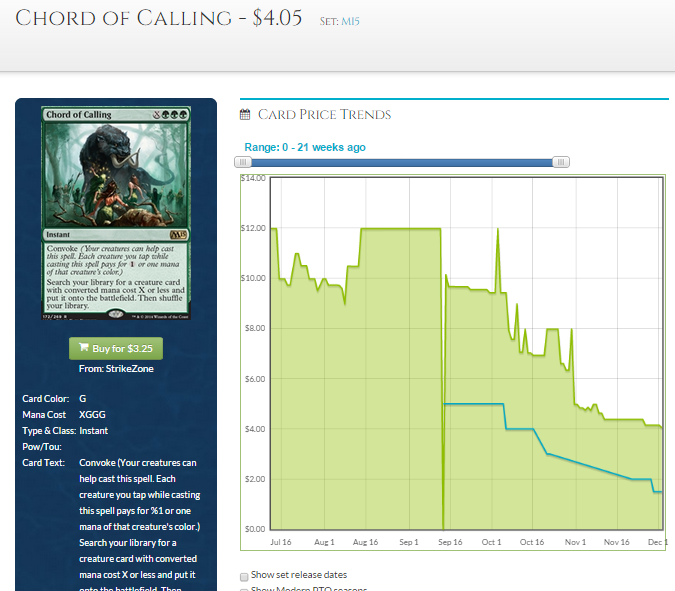 When I took a hiatus from competitive Magic back in June, Chord of Calling was a $40 Modern staple. Now Chord of Calling is just a $4 rare. While Chord of Calling is not as ubiquitous like Eidolon of the Great Revel, it remains an integral piece in Birthing Pod. Chord of Calling may be out of vogue in current Pod lists, but it was not too long ago in Pro Tour Born of the Gods where Jacob Wilson and co.'s Pod list ran three Chord of Calling.
It is a great time to buy into Chord of Calling now. It does not see much Standard play and has fallen out of favor in the current Modern meta, being a bit slow against Delver. Modern's metagame is constantly in flux and Chord of Calling could easily be a $10 card (and that me being conservative with my prediction) before the end of next year, with a much higher long-term value.
---
ADVERTISEMENT: Don't overpay for card sleeves: Save up to 46% off retail prices during the CheapCardSleeves Cyber Monday sale! Enjoy huge discounts on Ultra Pro, KMC, and Dragon Shield sleeves. If you're looking to stock up on card sleeves, now is the time!