This week I'd like to take a look at the most played cards in Modern, how Modern Masters 2015 has affected their prices, and what the future holds for many of these cards – including those which did not get reprinted.
Starting Thoughts – Tarmogoyf and Other Leaders in the Set
Based on my observations from Modern Masters 2013, we're going to be in for another interesting ride this time around as well. Unlike last time, we had up-to-the-minute price tracking at GP Vegas because MTGPrice had authors on the floor keeping track of the event for everyone. This enabled us as a community to see in real time what the dealers were paying for certain cards from the set that weekend. Why is the GP weekend important? Because it shows us which cards the dealers felt were going to be the most important going forward by having their buylists reflect that confidence all at once (due to the massive influx of tons of people opening expensive cards and wanting to offload them).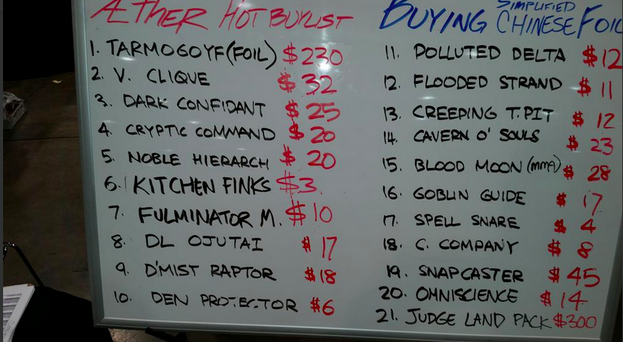 Hey, even Standard cards made the list! Thanks for the snapshot Douglas Johnson.
As Corbin mentioned in his post on June 4th, the dealers had to compete with buylist prices for chase cards like Tarmogoyf because even though only one or two vendors had a high buylist price for the card initially (the $130 and higher range) that meant that everyone else eventually had to raise their buylist prices in order to snag some Tarmogoyfs for themselves.
As they say, history is doomed to repeat itself and Tarmogoyf is no exception. Don't get me wrong. This time the price of card did drop. Going from $220 to $170-$180 is definitely a discount. Yet, is it good enough? I'm sure we're all thinking to ourselves that a 22% discount isn't really that great in this case since the card is still pretty darn close to $200 per copy, which is what sets like MM15 are supposed to remedy. Many players were expecting 'Goyf to fall much harder than this. A lot of us in the mtgfinance community we're pretty solid believers in the idea that 'Goyf might even drop into the double digits, at least for a while. Yet, the card is still as wildly popular and in demand as ever and an entire slew of fresh reprints hasn't really made a large impact in the retail price.
Again, let's go back to the release of Modern Masters 2013. That time, 'Goyf didn't move in price at all. It was $120 before the release and stayed $120 after the release. There are two reasons for this. The first is that 'Goyf was (yet again) printed at mythic rather than rare. I can understand why Wizards printed it at mythic the first time around – they wanted to make sure that they didn't crash the price of the card and create a situation similar to Chronicles. This time around they could have done things differently though. They knew that printing 'Goyf at mythic wasn't going to do anything to its price in the long term. This leads to the second reason that 'Goyf didn't move in price this time and last – the player base increase. Once you get a taste of the 'Goyf, well you just can't have only one. You need a full playset in order to make it work in Modern. Jund just isn't the same without four of them. It also doesn't help that Jund has been doing really well in Modern recently, further exacerbating the demand for Tarmogoyfs in the format.
I think Wizards made a big mistake not printing 'Goyf at rare this time around. They knew what happened last time, knew that players were still going to demand a large amount of 'Goyfs this time, and still decided to keep it at mythic and guaranteeing it an absurdly high price. If it was a rare we wouldn't be seeing the $180+ retail prices but I still think that 'Goyf would be in the low $100s based on the demand we've been seeing in Vegas and beyond. As it is, by the end of the year we all know that 'Goyf is going back to $200 and beyond as time continues. Again players who hoped to pick up 'Goyfs cheap have had those hopes dashed.
Alright, alright, enough about 'Goyf. I'm sure you've heard about him to death at this point and I've said what I have to say on the matter. Let's see some prices on other staples. Also, let's take a look at the data with the previous retail prices and see how much of discount we're getting on singles now.
(All cards in MM 2015 with a buylist price of $1 or more. Bolded all discounts of 35% or less to see which cards were the least affected by reprinting).
OK, so taking a look at the cards that were the least affected by the reprint. So far, the top five are:
Primeval Titan, 5%
Spellskite, 14%
Tarmogoyf, 18%
Bitterblossom, 20%
Mox Opal, 25%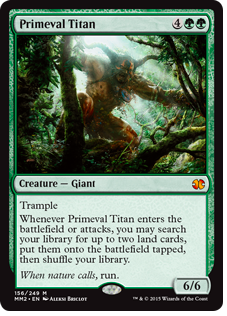 This is pretty interesting to me – who would have thought that Primeval Titan would still be about the same price after the reprint? The only deck it's played in is Amulet Bloom, a deck that was almost destroyed by the banning of its champion Speck if not for the superb finish of Justin Cohen at GP DC. Also, it's banned in Commander! Where is this demand coming from!? Well, my guess is that more people became very interested in Bloom Titan after seeing Justin smash face with it, and this makes me think that other pieces of the deck that haven't been reprinted (and there a few – Azusa, Hive Mind, Summoner's Pact, Gemstone Mine, etc.) will soon be under someone's radar.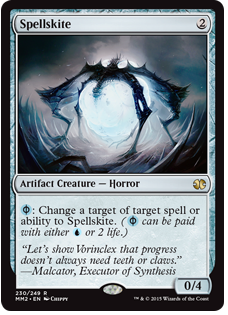 Though I shouldn't be surprised, I'm still pretty confused as to why Spellskite hasn't dropped much in price. The card is mainly sideboard tech, albeit one that is included in basically everyone's sideboard in Modern, but for a reprint to not move the price more than 15% is pretty telling. This means that many more people are trying to pick up Spellskite in order to combat the onslaught of Twin variants and decks that pack tons of spot removal. Due to Phyrexian mana, it truly is an evergreen card that can perform well in every deck / sideboard.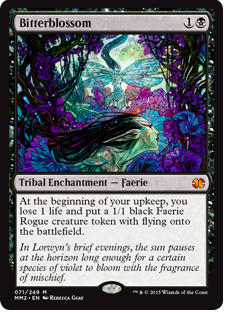 Bitterblossom is yet another interesting case – why drop just 20% when it's only played in Tier 2 strategies Black/White tokens and Faeries? In this case, mythic rare scarcity could be playing a part in the price sustainability. However, the first printing of Bitterblossom was at rare — unlike Primeval Titan, which has always been a mythic. Could this be telling us that players getting into Modern are starting with B/W Tokens (due to the event deck) or Faeries? Here are some other cards from those decks that have started jumping or might jump soon:
Open Discussion – Cards Not in the Set and Their Futures
Already we've seen several cards start climbing up in price due to not being in Modern Masters 2015.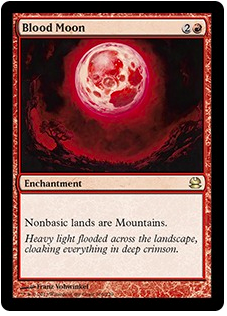 Blood Moon – This card has spiked to $50 due to a buyout, but I'm not sure if it can sustain that price. Blood Moon is great in Modern but only because people are playing greedy, three-color decks that can be hosed by it. Plus, in certain matchups it can be dead. The card was printed in Chronicles, so there are tons of these out there. I think if you want to pick up Blood Moons you will unfortunately have to wait.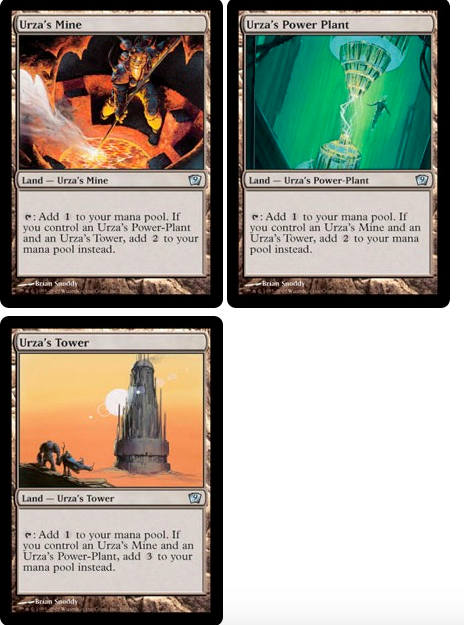 Urza's Mine (and others) – Another buyout on TCGPlayer, this card will increase in price but the $18 I'm seeing it listed at won't stick. However, this buyout will get people to notice that Tron lands were not in MM15 so expect the prices of others to tick up over time as well.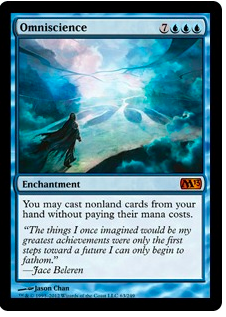 Omniscience – MTGPrice authors from Vegas were tweeting and writing updates about how Omniscience seems to have been bought up by a ton of the vendors and that they were continuing to seek more copies. This is a Modern legal card, however demand here is coming from Legacy (since Omni-Show is currently one of the best decks in the format) and casual/EDH demand. Still though, regular copies are closing in on $35 and foils have broken past $100 due to not being seen in Modern Masters 2015.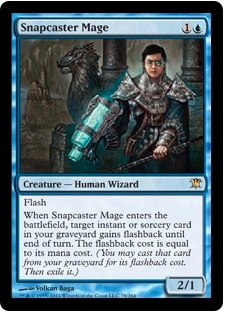 Snapcaster Mage – Everyone's "duh" pick for going up in price since we knew Innistrad wasn't part of the MM15 set, Snapcaster has now broken through $60 and I don't see him stopping there until the next reprint. He is currently one of the most played cards in Modern. Foils have yet to catch up to the regular price, so if that's your thing now would be the time to get in on foil Snapcaster Mages.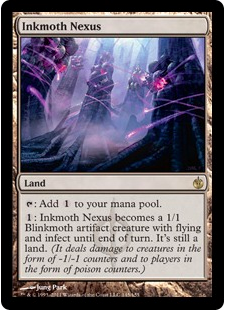 Inkmoth Nexus – Blinkmoth Nexus was given the nod for MM15, which means that cousin Inkmoth was ripe for a price increase. This was probably one of the fastest cards to spike after MM15 was fully spoiled. I expect that Inkmoth will continue to go up since the decrease in price of Mox Opal and Etched Champion means that other parts of the deck will become more expensive over time. Steel Overseer is probably next in line for a price hike.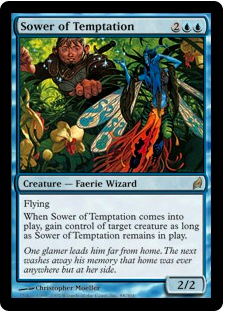 Sower of Temptation – Casual and Modern sideboard demand has driven up the price of Sower to $25, and I can see it continuing to climb since Lorwyn is such a hard-to-find set. Be aware, though: this card is easily reprintable.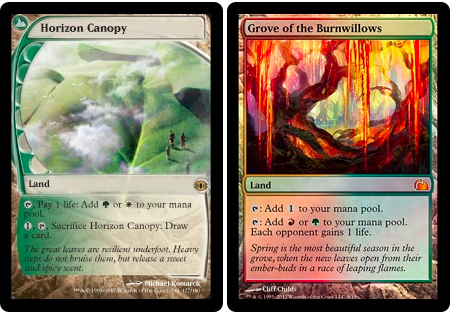 Horizon Canopy and Grove of the Burnwillows – How these lands managed to dodge a reprint, I'll never know, but they did so expect prices to start climbing up to match demand for Tron and Bogles players out there. One theory that Burnwillows didn't get the reprint is because they knew Birthing Pod would be banned, so one of primary drivers for demand is now gone.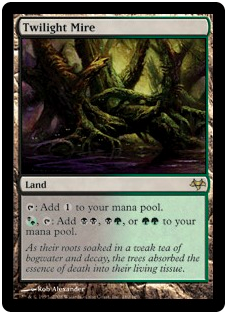 Twilight Mire (and other filter lands) – Though they didn't get a reprint and will continue to creep up, I still advocate avoiding these lands at all cost. Once they get reprinted, they will be hit hard so only get enough copies for your immediate needs and nothing more.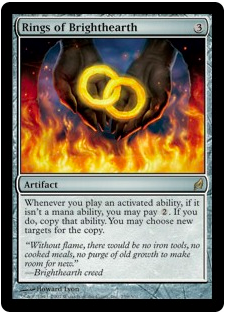 Rings of Brighthearth – With non-foil copies clocking in over $20, this card has infinite casual demand behind it. Again though, like filter lands once the inevitable reprint occurs it will bottom out hard and take forever to recover. Acquire with care.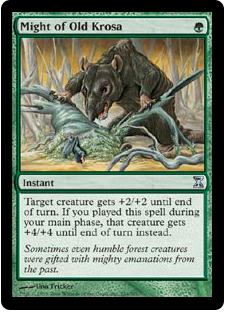 Might of Old Krosa – Due to the reprint dodge, these have hit $9 and I don't see them stopping since Infect is a viable Modern strategy.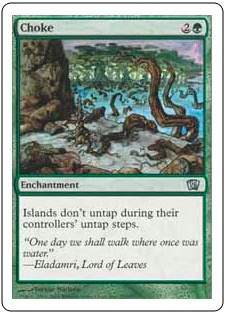 Choke – An amazing sideboard card in Modern and even Legacy, I expect Choke to also creep up over time due to not getting a reprint.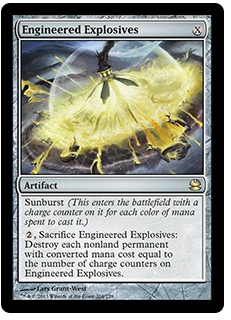 Engineered Explosives – My final card mention is E.E., which according to floor reports was one of the sought after cards by vendors in the Modern Masters three GP weekend. It has been slowly climbing up to $10 but I still think it has legs and will grow more over time.
Too Many Cards, So Little Time
I believe Jason was the first to mention this but it's pretty obvious in retrospect – Wizards can't reprint everything. I'm sure you're starting to get the picture at this point, but the release of Modern Masters 2015 caused just as many (if not more) price hikes as it did discounts for cards. For several Modern staples, the prices are now low enough that getting in on a deck like Splinter Twin or Affinity is starting to look plausible for many folks. However, the parts that weren't reprinted will start rising due to the demand of the other cards and probably make it a wash in the end for those players who pick up singles more slowly than others. That's all for this week, thanks for reading.