By Travis Allen
A few days ago the most recent SCG invitational wrapped up, the winner – my buddy Erik Smith – piloting Jund and UWR in Standard and Legacy respectively. This is a great chance to see how M14 is doing in finding its place in the format. An invitational is the type of event players are definitely going to be testing and brewing new decks for, which is more work than any given SCG open will typically see.
While Jund may have won, the top 8 Standard lists were 8 separate archetypes. That's a lot of diversity, and a lot of potential different M14 cards. After skimming through the lists and doing some quick napkin math though, it looks like fewer than 10 or so unique cards from M14 showed up, and roughly 5% of the top 8 lists were M14. That is a pretty minor impact, given that it is one of eight legal sets, or about 12.5% of the format. Scavenging Ooze may have made a huge impact in the way things play out, but there were only about 10 copies across the top 8. What this tells me is that nobody has figured out exactly how these cards fit in yet, and, more interestingly, a lot of the power in the set is hard to find with so many other cards out there at the moment.
I have a feeling that in September we're going to see a large surge of M14 cards in Standard. There won't be so many other powerful effects and synergies muscling not-quite-good-enough cards out of the way. This will bode very well for the price of several M14 cards. Pay close attention to what cards seem like they're almost playable, because if they are, there's a good chance they will see a solid jump in the fall.
One more thought I had regarding this fall is regarding deck viability. Right now we're working on the assumption that we will see five or ten manlands in Theros. Assuming that is the case, the mana for the new Standard is, quite honestly, going to suck. At least, it will for any deck trying to be aggressive. Imagine a GW beats deck. You get 4 Temple Garden, then uh…4 Stirring Wildwood? That's hardly aggressive. 4 Guildgates? Assuming we do in fact get manlands, Mono Red is probably going to be the only stable aggressive deck. This means lots of midrangey and control lists. Cards that may be a little too slow right now, like Advent of the Wurm, may become a lot stronger if people aren't trying to kill you on turn 3 with Burning-Tree Emissarys.
Stepping back from the fall at the moment, this point in Magic's lifecycle is a very good time to turn our gaze backwards at what will be the older brother of Standard. M14 just became legal and Theros spoilers are on the tongues of young mages everywhere, while Ravnica block languishes as old news. This is good for us though, because cards that will be major players in a new format are typically at their lowest right now. This gives us a lot of potential profit if we can turn our attention away from the exciting new cards for a few minutes.
These are all cards that caught my eye when browsing the set lists. There's a lot of room for a lot of growth in here. At least one of these cards will probably grow by 400-700%, so there's great value in here if you figure out the right card(s). 
Supreme Verdict
Supreme Verdict was the sweeper of choice at the RTR Block Pro Tour, putting 19 copies into the top 8. That is a lot of dead creatures. It's also the best and only really good sweeper in the RTR block. It sees play frequently in Standard, with most decks that want at least one likely wanting four between maindeck and sideboard. At any given Standard event I would guess roughly 5-10% and occasionally more of the decks in the room have this card in their 75. In addition to being a staple in Standard, both Modern and Legacy have proven receptive to its presence, where the can't-be-countered clause has been preferred over the can't-regenerate clause of the O.G. WOG. Terminus was at the exact same price point at this time in that card's life, and shortly after rotation it jumped to $10+. Supreme Verdict was a buy-a-box promo, but that was hardly printed in enough numbers to have a serious impact on quantity.
Jace, Architect of Thought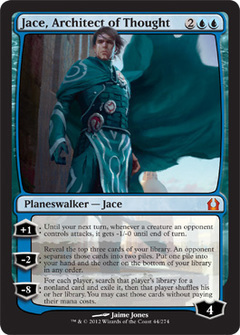 Like Supreme Verdict, this card was all over the Top 8 of the Block Pro Tour. Control mirrors hinged on this card and Sphinx's Revelation, and Jace simultaneously did a great job of blunting aggressive strategies as well. Jace was a defining card of the PT, and there's no reason to expect it to behave any differently after rotation. It bottomed out early this summer around $10, and has started to climb back towards $13. This is only the beginning, though. $20 is almost guaranteed again within the next year, and if it shows up as a 4-of in several Top 8 lists of an early Theros event, $30+ is conceivable. There is basically no possible way to lose when picking this card up sub-$15.
Lotleth Troll
This card is probably the most mispriced card on this list at the moment. It shows up semi-frequently in Standard, providing a semi-evasive (trample is evasion) regenerating threat that enables graveyard shenanigans. Lotleth Troll is in a good tribe, and he (it?) has shown to be playable in both Modern and Legacy as well. This card may take longer to realize his price potential than others, but I have no doubt that he'll be well north of $10 eventually. (Disclaimer: this could take a few years.)
Worldspine Wurm
I'm stating right off the bat that Wurm isn't here because I think he's part of some absurd combo with the new Garruk, so don't dismiss me out of hand. Rather, he's a huge, splashy, powerful creature that EDH and casual players alike are drawn to. Remember that Khalni Hydra is currently $7. He's not going to be lighting up the tournament scene, but he's a very safe bet at $1 in trade.
Armada Wurm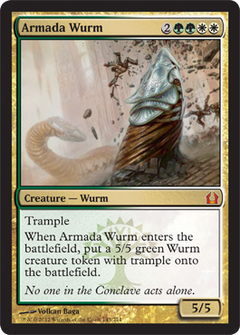 I'm currently seeing copies under $3 on TCG Player, which seems crazy to me. Everyone remembers that this is 10 trampling power for 6 mana, right? Even better, half of the card is a token. That means the potential for token abuse is there, but he's still doesn't get completely blown out by Ratchet Bomb. This card feels like it's right on the cusp to me. It may not happen immediately, but I can't imagine this not becoming a major part of the Standard scene, even temporarily, within the next year.
Gyre Sage
Another member of the dollar-and-change brigade, this seems like it could very easily live at $4-7. If any sort of Simic/BUG evolve/token/hydra list appears, this is probably part of it. I wouldn't go super deep, but I definitely like it at $1-2.
Aurelia's Fury
Remember the hype around this card when it was previewed? It was preselling for well over $20, and has now cratered to sub-$3. There hasn't been a single noteworthy performance of the card since it was released. However, the card is still a Swiss army knife in that there isn't really anything it doesn't do. I don't think we'll get through the next year without this making at least a brief appearance and accompanying spike.
Master Biomancer
Similar to Aurelia's Fury, Master Biomancer was preordering for quite a bit, then did nothing upon release. However it took its sweet time dropping in price, and it only semi-recently made it under $5. The slow descent of this card's value, as well as its current price tag despite no tournament play, is a testament to the demand for it in casual circles. It has the potential to show up in Standard and skyrocket, and even if it doesn't, you'll win in the long term with this casual all-star.
Prime Speaker Zegana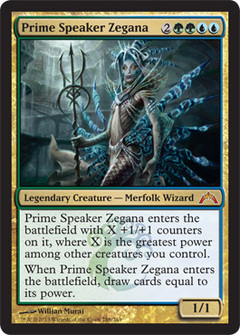 Currently under $3, this may prove to be one of the best card drawing spells post-rotation. Sphinx's Revelation is probably better overall, but a deck with more presence on the battlefield that wants to commit threats while drawing cards is probably going to be more interested in Zegana rather than Revelation. She's a home run in EDH as well, so her floor can't be too much lower. I can't promise she'll get there, but $15+ seems very plausible.
Scion of Vitu-Ghazi
This card's trajectory depends heavily on Advent of the Wurm, and to a lesser extent, Armada Wurm. Remember that Cloudgoat Ranger saw a respectable amount of play in Standard back in the Lorwyn era, and for the decks that would want Scion now, it's better than Cloudgoat would be. Flashing down an Advent at the end of your opponent's turn and then untapping and slamming this guy is a lot of power very fast. It will never be more than a few dollars, but at $.20, you don't have much to lose.
Advent of the Wurm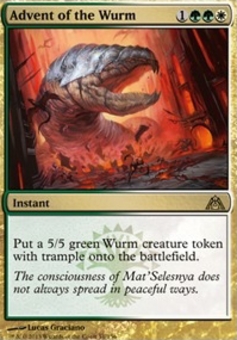 Late in development, this card was a Mythic, and for good reason. A 5/5 trampling flash for four is aggressively costed, and being a token is usually better than not. Currently under/around $4, this guy is slightly riskier. The floor on him is definitely low – under $1. The reason he's at the price he is regardless of seeing no play in Standard is a product of expectations, which are based partially on Advent's status as a 4-of in the PT-winning deck, and based partially on the card's oracle text. I won't lie, I think it's possible to lose on this card. However, I think it's far more likely that this becomes a real contender in Standard, and easily breaks $10.
Plasm Capture
Mana Drain redux, this is currently under $1. This is one of those cards that I think has a reasonable chance of showing up in Standard, but even if it doesn't, you'll still down the road as it appreciates simply for being awesome in EDH/casual circles.
Progenitor Mimic
This, like Master Biomancer, took a slow winding path to sub-$5, and even then only recently sunk that low. I put this in the same camp as Master Biomancer in terms of future value, as well. It's completely capable of becoming awesome in Standard, and even if it doesn't, you'll still do just fine in the long term.
Exava, Rakdos Blood Witch

Every year, a red four-drop skyrockets in price. Hero of Oxid Ridge started the trend, and since then, we've seen Falkenrath Aristocrat and Hellrider do the same. Right now, the best candidates for this are Exava and Ogre Battledriver. Exava was in the intro deck, so she's capped at a few dollars, but so was Wolfir Silverheart, and he hit $9.
Deadbridge Chant
Currently about $2, this has seen a reasonable amount of fringe play in Standard since release. If the format moves more towards midrange and control once Theros releases, as I expect it to, this card's stock only rises. It generates fantastic value in an attrition mirror, and is typically better than just "draw a card" due to it occasionally being a huge mana advantage as well as enabling graveyard shenanigans. It's also an enchantment, which we may be very interested in down the road. This card could easily be $5 or so if not more while in Standard, and even if it goes nowhere this coming season, I think $1.50 or so is probably the floor, so it's quite safe to get in on.