By Travis Allen
As Theros nears, it's almost time for another visit to the Banned and Restricted list. Updates to the Banned and Restricted (B&R) list are responsible for some of the fastest and most severe price changes in Magic finance. It occurs at a very specific time (midnight) on a very specific site (dailymtg) amidst the cacophony of the F5 key being mashed by devoted mages everywhere. The changes have immediate impacts. There's no need to spend time considering how a card influences a metagame; when a card is unbanned it simply skyrockets in price. Whether it will be any good at all or not is completely irrelevant. Midnight at the B&R corral is entirely a "shoot first and ask questions later" scenario.
Today we'll look at reasonable candidates for removal from the list, and the consequences of those cards being unbanned. If I don't reference a card, it's because I don't consider the likelihood of it being unbanned at this time enough to warrant discussion.
One last thing – Jace isn't getting unbanned. Don't ask about it.
Modern
Wild Nacatl – Wizards originally cited a concern that Nacatl reduces diversity by eventually forcing all green-based aggressive strategies to be quite similar. Well, a great deal has changed since then, and the result is that we have basically no green aggro/zoo at this point.
At this point the soup du jour for getting into the red zone is Robots. There's been a little RG Aggro that pops up now and then, but it's a fringe player at best. Wild Nacatl would have the chance to put green-based aggressive decks back on the map again and help temper the significant amount of combo roaming the Modern landscape.
Wild Nacatl will be unique on this list in that she herself will not vary much in price if she is allowed back into Modern. As a common, there isn't much room for growth. The pack foils and promo will see a slight uptick at best. Additionally, looking back at old Zoo lists before she was banned there appears to be very few rares in those lists that aren't still seeing solid play, so none of her old cronies are poised to see a huge upswing if she returns.
As best as I can tell, the biggest winner if Wild Nacatl is unbanned is Domri Rade. He's already showing up in Modern, and Nacatl would cement him as a legitimate contender in the format. Domri is starting to push $25 already, and could easily end up the best Planeswalker in standard. Nacatl pushing him harder in Modern could send him into the $30-$35+ range pretty easily. Unfortunately, as speculators it's tough to put so much capital into a card with a profit margin of around $5. You'll want to own a playset, but I wouldn't go much deeper than that.
Honestly, beyond Domri, I'm not sure what else is a hot pickup if Nacatl is unbanned. I'd love to hear your suggestions in the comments of a card I'm overlooking that isn't already justifying its price tag.
Bitterblossom – I'm no fan of the fae myself, but I recognize that Bitterblossom would unquestionably give rise to a new (old) contender. It's assuredly a riskier choice than Nacatl, and may end up proving to be too much, but given the relative diversity of Modern right now Wizards may be willing to try adding a little spice. Enabling fae would certainly help reign in the combo decks a bit, just as Nacatl would.
Where is the money to be made with a Bitterblossom unbanning? The non-promo itself is already $15-20, so like Domri, even if it rises in price we're unlikely to see our investment even double. Obtaining a playset of these if you're interested in the deck is safe, but hardly lucrative. Vendilion Clique is already obscenely priced, so that's not particularly a good spec target. Our best bet would be a rare that is seeing no play at all right now, but would be a major player in fae.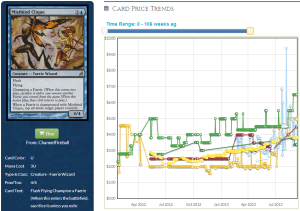 My choice for this role is Mistblind Clique. Due to the champion trigger, she's unplayable without a critical mass of faeries, but in a Bitterblossom deck, champion may as well be advantageous. As a 4/4 Time Walk that gets even sillier with Restoration Angel, a card that faeries would probably want anyways, Mistbind is fertile ground at only $3. What makes this particularly safe is that it's been a long time since we've seen Mistbind do anything in a real format and she's still $3, so that appears to be her real floor for the time being, meaning you can't lose much on an investment. If Bitterblossom gets unbanned, Mistbind could easily break $10, and $20 isn't inconceivable.
Interesting note: good luck finding foils of this card. As of this writing, TCG has 0, SCG has 1 SP JP, ABU has 1 NM and 1 SP, and eBay has 1 JP.
Legacy
Earthcraft – I'm not sure this card actually does anything in Legacy, which makes it a great card to remove from the B&R list. I think we are well beyond the point that a 2-3 card combo that requires a basic land would have any meaningful impact in that format. If it's unbanned it will double or triple in price, but then what? A viable competitive deck will almost undoubtedly fail to materialize, so after an initial jump it will spend months dwindling down. Make sure that if you're holding any when/if this is unbanned, you sell into the hype immediately.
Memory Jar – Many are aware that this card has the honor of being the only one in Magic history to be emergency banned. However, that was in Urza's Legacy, and Tolarian Academy was in the set prior. Yes, Memory Jar draws you 7 cards. It also costs 5 mana. Would it be unbelievably broken? Unlikely. It would certainly be riskier than a card like Earthcraft but that doesn't preclude Wizards from finding out.
Memory Jar itself would be the biggest beneficiary of it being unbanned, easily surpassing $15-$20.
Mind Twist – By the time you're casting this in a way that makes it better than Hymn, it's taking your entire hand to do it. Sure your opponent has no cards left, but neither do you, except for maybe a City of Traitors or a Grim Monolith. And that is the best case scenario. Mind Twist is a relatively safe unban, and most Legacy enthusiasts agree.
The financial impact would be very similar to Earthcraft. We'd see prices severely increase ($8-20), but when it fails to put up results, it will slowly tick down. Again, sell into the hype immediately.
Mind's Desire – This is my favorite card on this list for a few reasons. First of all, the judge promo is phenomenal looking. Second, I simply think the card is cool when viewed through a kitchen table lens. Third, the card is comfortably under $1. If Mind's Desire is unbanned, $15 each seems easy, as any Desire deck would want four. This card is super cheap to get in on, and has a gigantic upside.
Before the comments fill up with people exclaiming this card is buh-roken, consider it relative to Ad Nauseam. Mind's Desire needs 6 mana, 2 of which are blue, and a healthy storm count. Ad Nauseam needs 5 mana, 2 of which are black. The biggest point in Mind's Desire's favor is that a single FoW won't stop it as it will Ad Nauseam. Given the extra work you have to do in order to cast the card however, that doesn't seem unreasonable.
Mystical Tutor – This was banned on considerably dubious grounds due to Reanimator, and that deck is hardly crushing Legacy. We have a good idea of what the format looks like with it back, so it's not a complete unknown in the same way something like Memory Jar would be. The biggest threat with this card is probably Show and Tell. if Mystical Tutor is unbanned, it may be the straw that breaks the camel's back in regards to getting S&T banned.
Around $4-$5, the upside on this is probably about double. Not only was it in FTV, It was uncommon in both Mirage and 6th Edition, which has a very real impact on the quantity available. I would be picking these up in trades for cheap if possible, but I probably wouldn't put much cash directly into them.
Tolarian Academy – One of the most feared lands of all time and the frosty harbinger of combo winter. There is little consideration given to why this is banned; a simple "It's Tolarian Academy" will suffice. However, this article by Carsten Kotter from last year has a great explanation of why the card is probably (mostly) fair. It's certainly a few levels above Earthcraft, but it's entirely possible it isn't a Survival of the Fittest.
Financially? Gaea's Cradle is ~$130. The sky's the limit.
Worldgorger Dragon – Worldgorger sets up an infinite loop with something like Animate Dead, so you get infinite mana and infinite ETB triggers. In order to accomplish this however, you need to get Worldgorger into your graveyard, reanimate it with Animate Dead, and dodge your opponent having counterspells, creature removal, or graveyard removal. At that point, isn't Griselbrand or Jin-Gitaxis just better?
Like Mind's Desire, he's comfortably under $1 which leaves a huge amount of room to grow, regardless of performance. Immediately sell any and all copies into the hype.
---
I mentioned it briefly before, but this article by Carsten is a great look at the Banned and Restricted list. There are a lot of cards on those lists that we just assume are there for a good reason, but haven't truly considered in quite some time. It's a fun read.
Stormbreath Dragon is the real deal. Did you notice that Pat Chapin's article today (premium required) over on SCG had him in nearly every single deck that made red mana?
Nimbus Maze has been confirmed to not be in Theros, so sorry if you wasted $40 on a foil playset like I did.
There was a post on Reddit about Savageborn Hydra being a decent spec target. I definitely agree. While it's not guaranteed he jumps while in Standard, the precedent is there to at least double your money by the time he rotates.