By: Travis Allen
The PTQ season change next year is going to have a direct impact on the pacing of Magic finances. I've discussed this change briefly before, but now we are very close to actually experiencing the new market.
Previously the Standard PTQ season occurred over the summer, around the release of the spring set. This helped keep Standard staple prices from crashing too low in the spring during the lead up to the PTQ season, and also meant that soon-to-rotate staples such as Thragtusk kept their value far, far longer than they normally would without the demand from grinders. 
The new world awaits us on December 7th. On that day the Standard PTQ season begins, and will end on March 9th, 2014. And then…that's it. By March (or really, mid February,) the demand for many Standard staples will completely bottom out, as only GPs and FNMs will exist to drive players to own and acquire Standard cards.
With the prior structure, the promise of the impending PTQ season during the summer meant that players didn't have to feel bad about holding onto senior Standard cards through the first third of the year. Even if you weren't using a card at that moment, you knew it would be relevant again before finally rotating out. In the new schedule, though, this promise of future utility will be gone. Once March 9th rolls around, it will be a free-fall for Ravnica block cards that don't see heavy Modern or Legacy play. However, there is another byproduct of this change – demand will spike much sooner.
By the end of this month players will be gearing up for PTQs, a solid six months ahead of prior years. Because the season starts so close to Christmas I wouldn't be surprised to see the demand stagger a bit until after the first of the year, but once we pass the holiday season, the dreary early winter months will hold nothing but PTQs for the ice mage. Demand will be at its peak in early to mid January, as Santa has come and gone, the end of the PTQ season is not quite on the horizon, and winter-set fervor hasn't yet gripped the community.
What does this mean for the savvy trader? It means don't trade those Advent of the Wurms, Aetherlings, Blind Obediences, or Angel of Serenitys quite yet.  It means now is when you should be acquiring Standard staples as aggressively as possible, and once we hit January, severely reduce your acquisition. (At that point, start grabbing safe Modern powerhouses ahead of that particular PTQ season.) It also means that we have a very clear window of opportunity for cashing out of any stockpiles you may have. This is the time to finally sell all your Ravnica specs that haven't quite panned out for the best value those cards will likely see for years. 
Here's your rule of thumb: If a card from Ravnica block spikes after December 9th, get rid of it and don't look back. Lotleth Troll hit $4? Ship it. Exava reaches $5? Trade them. Advent of the Wurm climbs to $6? To eBay! If you trade Advent at $6 and then it hits $8 two weeks later, you have no reason to feel bad. The alternate universe where you hold out for another $1 and Advent instead crashes to two bucks is never more than a butterfly away.
I personally have a pile of foil Loxodon Smiters I grabbed during SCG's back to school sale, when the price was lower than any other I could find on the internet. They haven't doubled from what I paid like I hoped they would, but the PTQ season will give me my last chance to see a profit, or at worst, recoup some losses. If they haven't jumped by the middle of January, I'll be selling no matter what the price. If I have to lose $1 on each copy, that sucks, but it would be far better than stubbornly holding onto them only to realize I'm out $5 each in July. I've also got a fair bit of Detention Spheres whose intended sale was delayed by the event deck, several playsets of Supreme Verdicts, and some other odds and ends.
What you shouldn't sell is cards already at their floor though. Don't trade away Deadbridge Chants at $1 just because they aren't lighting up the tournament scene. The card can't get any lower, and while the general amount of value in Standard cards will be less post-PTQ season, it won't be completely devoid of the occasional breakout deck jumping a random card by several dollars. Keep in mind too that towards the end of the PTQ season, Born of the Gods will be released, and bring with it new Scrylands, new enablers, and new decks.  
You also don't need to be in a rush to divest from multi-format staples. What I wouldn't be in a rush to ship are cards like Abrupt Decay, Deathrite Shaman, and so forth. These are cards whose value is mostly determined by Modern and Legacy, and while the rotation of Standard will count against them, it won't be long before the interval since their printing will outweigh the loss of that format's demand.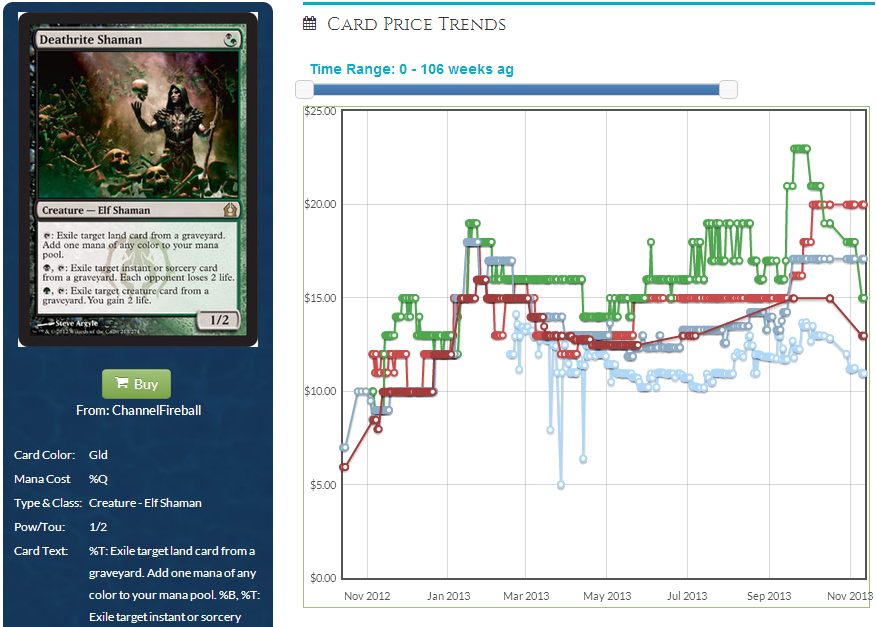 The takeaway from all this is that you absolutely need to be aware of PTQ seasons in order to get the most out of your cards, and to make sure you don't get caught holding the bag. Outing cards from the senior set in the middle of the relevant season is often your best chance to hit cards at what will be their highest peak for years. Take the profits where you can, swallow your pride if you need to sell for a loss, and stay a constructed format ahead of the grinders.
Weekly Roundup:
-I've mostly kept quiet about Commander 2013 and True-Name Nemesis relative to other financial talking heads, and that is because I haven't felt like I've had anything useful to contribute to the conversation. I'm pretty comfortable at this point claiming TNN as a soft hold though. The release date of C13 was November 1st, and in the twelve days since then, he has shown up in the Top 8 of every Legacy and Vintage event I'm aware of. Most knew TNN was legit, but not many expected him to be this good.
The TNN quagmire is that we still don't have a lot of reliable data about the printing of the Commander decks. We know Wizards has no intention of turning this into a Commander's Arsenal, but honestly, I feel like they undershoot demand every single time on non-expansion sealed product. There's also been a lot of swirling rumors about their printing intentions. One day you hear that they're going to print these things until you could use them for shelter, then the next you hear that there's only one more shipment and some guy named Bob who you don't even think plays at your store already preordered and paid for them all.
Mark Rosewater said that Wizards doesn't plan to continue printing individual decks, which is particularly important. It means that even if Target has no copies of the Grixis deck in stock (Mind Seize), the piles of Marath and Oloro they have will prevent them from ordering more. This all adds together for a reasonable conclusion that while supply overall isn't constrained, any particular deck could become tough to find.
That obviously bodes well for TNN. He slipped to about $26 on eBay a week or so ago, but he's since started climbing again, and honestly, I don't see a reason for him to drop yet. Legacy players across the world are realizing this guy is legitimate, and the supply is not going to get significantly larger anytime soon. With Grand Prix DC this coming weekend being Legacy, it's a high-profile event that could see True-Name Nemesis break out even harder. It's hard to say what this guy's possible ceiling is, but if the Grixis deck is shaping up to be as tough to find as it seems, and TNN being even better than we thought, $40 almost seems like a low ballpark. $50? $70? Who knows. He's unprintable in Standard, so when they decide to add more copies to the market, it won't be in a large volume. A judge promo is the most likely path Wizards would take. When he finally does start to fall, there won't be enough copies entering the market to precipitate a rapid loss of value. Descent will be slow. For now, feel free to hold onto copies and ride out the wave.
-Brian Kibler's article this week featured his latest Standard brew which contained 4x Reaper of the Wilds and Lotleth Troll. I'm not on board with buying into Trolls, but you'll recall that I spoke highly of Reaper in my Theros set review. You can definitely find these as throw-ins right now, although I've noticed people were a bit more reluctant to trade these this past weekend than they were around release. I can't recommend dumping cash into…him? but I would be more than comfortable picking up any that I could in trade.
–Nykthos, Shrine to Nyx is hovering around $10. I am a firm buyer at that price. Ok maybe not buy with cash, but definitely trade for. Nykthos has proven itself week after week since the Pro Tour, and it's the type of card you build a deck around. It couldn't really get much lower than $7-8, and the ceiling is definitely over $20, especially with any Modern performance. Cards that get silly with Nykthos: Ral Zarek, Master Biomancer + Master of Waves.