By: Cliff Daigle
Case: Avenger of Zendikar. Maelstrom Pulse
I've spent a lot of time talking about cards in Standard that I feel are going to go up.
As someone who plays a lot more EDH than Standard, I can tell you that there's some cards that have a value that's purely based on their scarcity and age. Cards printed more than a couple of years ago were printed in noticeably smaller quantities. Wizards is stingy with precise numbers, but it's been reported that each of the large fall sets since Zendikar in 2009 through Return to Ravnica in 2013 has been Wizards' best-selling set ever. I can't find that quote for this year, but I'm still looking!
One of the things that we have to be aware of is reprints. With three Limited Grands Prix scheduled for next May, it seems Modern Masters 2 is on the horizon. Some reprints will go up, some will maintain value, and some will go down.
Today, I want to go over some cards that I think would go down in value if printed in Modern Masters 2, a supplementary set (like Conspiracy) or a product like a Duel Deck or Commander.
Two examples of cards that lowered in value:
Avenger of Zendikar: As a mythic from Worldwake, there's not a lot of these around. It was around $12 before being in one of the Commander 2013 decks, which lowered its price down to $6. The Commander version, with the same art and text but a different set symbol, is priced at half of that.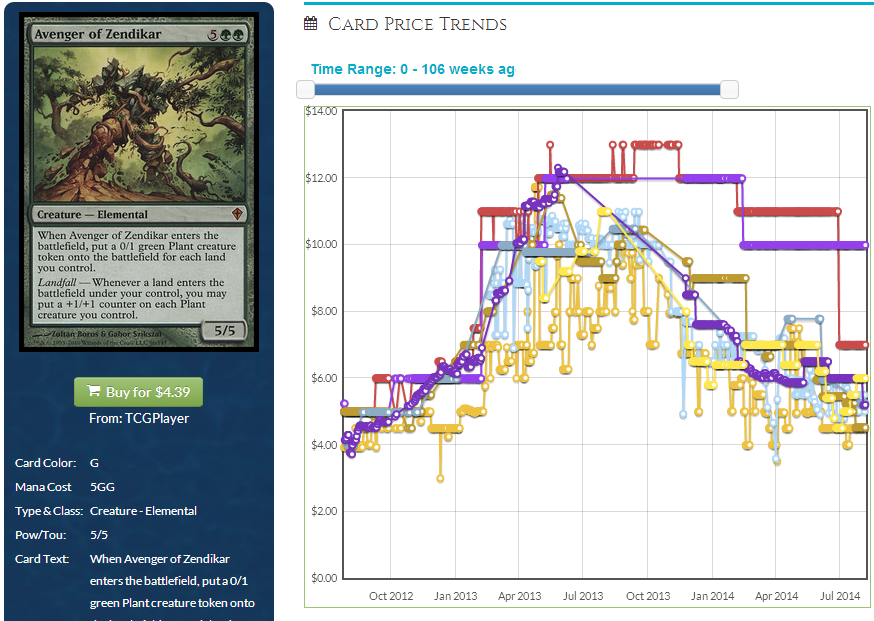 Maelstrom Pulse: This was in the $25 range as a rare from a small third set, and that wasn't affected much by being a Grand Prix foil. When it was put into Modern Masters, the value fell to $10, and it's not seeing as much Modern play since the introduction of Abrupt Decay. That swap for the cheaper mana cost has lowered the price on Pulse just a bit farther.
Spell Pierce: If I could go back in time to 2009, I would buy up all the foils of this card when they could be had for ten cents. The regular wouldn't be a bad investment either. A reprint in MM2 seems quite likely, but the nonfoils won't hold any value. Get out soon.
Splinter Twin: Another likely reprint, as the price has just gone up and up and up and up this past year. It's $20 now, due to the set it was in, a large set with a short run and a high degree of popularity in Modern. Keep the ones you need, get rid of the rest.
Leyline of Sanctity: The new Leyline deck in Legacy has caused a rise in this price and other Leylines, but this is an incredible sideboard card against Storm and Burn, and will see a reprint tank its value. Remember, the playerbase has more than doubled in the four years since it was printed.
Cavern of Souls: The price on this has been creeping steadily upwards since its rotation out of Standard. It's in demand from every format, and is another strong candidate for MM2. Expect the dip in price when it does, and pick up all you need for Cubes and EDH then.
Worldwake man lands: Celestial Colonnade especially, but all of them are worth reprinting in a cycle, either in MM2 or some other set soon.
The Eldrazi: Kozilek, Ulamog, Emrakul, and even It That Betrays. There's always going to be a high demand for huge colorless creatures, and a reprint of these is going to happen soon.
Avacyn, Angel of Hope: She's $30 purely due to casual demand. I will be very surprised if Avacyn or Linvala aren't in the white Commander deck (Can I hope for Serra?) this fall.
Mana Reflection: We love doubling our mana. I played a game of EDH with a mono-Forest deck, with Rofellos on turn 2, this on turn three, and Genesis Wave for 14 on turn four. Good times.
Khalni Hydra: Sure, it can be free if enough stuff is already in play, but this is another that has a high price merely due to scarcity, not Constructed demand.
Maelstrom Archangel: Small set mythic, popular tribe, fun effect. Expect this to get cut by half when it gets another printing.
Sigil of the Empty Throne: This has already seen a minor bump due to the presence of enchantments in Theros making casual enchantment decks better. It got reprinted two years ago, and this is one of the cards where both versions have the same value.
Lord of Extinction: Purely a casual card, and one that would take a huge hit at its second printing. I've got one foil in one EDH deck and I sent all the others packing.