By: Jared Yost
Something I'm interested in seeing is the value of Standard decks over time, especially in light of the combination of the new setup of blocks/sets and the Standard rotation changes made by Wizards. These changes are happening once Khans block fully enters the Standard card pool and the final core set is released, which is much closer than players realize. What this means is that players will have to budget for Standard accordingly, since block rotation will occur every 18 months rather than every 24 months.
In order to track Standard deck values over time, I would like to see the current Standard decks that exist and then recreate this article in the future on a quarterly basis in order to keep on top of trends for existing and new Standard decks. It would be best to see the information on a quarterly basis to coincide with new set releases, where hype is highest and paying attention to the prices is most important.
Also, I hope by doing this that I point out to players which Standard decks are the cheapest competitive decks of the format, and which decks may feature cards hyped from a set release. My theory is that expensive decks now could be driven down in overall price due to the influx of the new set as players draft it and open boxes. I want to see if I can refer back to this article in the future and see more expensive decks now than in the future.
If there is interest, I could also write similar articles in this series about Modern or even Legacy decks to show players which decks are currently the cheapest to play and which decks increase or decrease in price over time. For now though, I want to keep the scope to Standard because the most widely played format is going to have the most price swings and will need the closest watch to determine the fluctuations of prices.
Scope of Analysis
The scope will include the following to determine a deck's value:
All decks that have been recorded on TCGPlayer (http://magic.tcgplayer.com/standard_deck_hq.asp)

For my own sanity's sake, I am going to take the average of the first five decks that I find that match to an archetype on MTG Top 8, preferably using the decks of the archetype that got 1st place or were PT finishers. I will not use decks that aren't ranked in the averages, but I will use all decks in the overall count in order to assess the popularity of the deck. There are 19 deck archetypes out there and trying to average each deck of all singular archetypes into one general price is too much work for only slightly more precise averages. Thus I stick with five.
Decks will be non-MTGO decks that placed at in-person events like Pro Tours, GP's, State Champs, etc. since the data is from TCGPlayer and they do not track MTGO. If there is interest, I can track the price of MTGO decks as well in a future article.

All prices reflect TCG Mid Pricing
The term "deck" for this analysis includes both main and sideboard cards
Finally, I realize that there are budget-based decks beyond what is recorded on TCGPlayer and that's fine. What I am trying to aim for in this article is that if you are playing an extremely budget based deck at an FNM or other tournament, there are other options out there that have already proven themselves as a viable archetype that probably aren't much more expensive than your deck. Especially if you are willing to sacrifice NM condition and go for cards that are SP or lower.
With my scope out of the way, let's see which decks are the most and least expensive in Standard right now.
Data Set – Khans Standard Deck Prices
| | | |
| --- | --- | --- |
| Deck | Average Cost | Copies Listed on TCGPlayer |
| Abzan Midrange | $708.74 | 98 |
| Jeskai Tempo | $444.77 | 77 |
| Mardu Midrange | $649.46 | 37 |
| Temur Midrange | $537.52 | 26 |
| RG Midrange | $554.87 | 22 |
| GR Devotion | $461.41 | 19 |
| Monogreen Devotion | $475.52 | 19 |
| GB Devotion | $464.10 | 16 |
| Esper Control | $458.40 | 12 |
| Rabble Red | $150.23 | 11 |
| Sultai Midrange | $565.57 | 10 |
| Monoblack Aggro | $254.34 | 8 |
| Naya Midrange | $695.00 | 7 |
| Mardu Tokens | $533.20 | 7 |
| Naya Superfriends | $713.76 | 6 |
| BW Aggro | $309.07 | 6 |
| Mardu Control | $552.85 | 5 |
| Abzan Reanimator | $453.42 | 5 |
| Jeskai Burn | $430.57 | 4 |
| *Jeskai Combo (Lee Shi Tian) | $407.57 | 1 |
| *Abzan Aggro (Thiago Saporito) | $530.06 | 1 |
| *UB Control (Ivan Floch) | $369.64 | 1 |
| **Sultai Dredge (Christian Seibold) | $444.96 | 1 |
| **Boros Tokens (Brad Nelson) | $371.64 | 1 |
| **Jeskai Control (Justin Cheung) | $557.36 | 1 |
*PT Khans Top 8, only appearance
**Place highly at PT Khans outside Top 8, no other appearances
Notes about the data set:
The copies on TCGPlayer represent the amount of players who are listing their deck – this does not reflect the number of Top 8's that the deck has received.
Average cost represents the average cost of five winning decks (first place), as available – if there were fewer than five winners I picked the next highest placing decks of the archetype for the average. All averages were based on decks in Top 8's.
I included the rest of the Pro Tour Khans Top 8 decks in the analysis, which did not show up in the TCGPlayer top played deck archetypes, to see where the rest of the PT Top 8 was on the budget scale.
I also included a few other PT recorded decks that were in the TCGPlayer database in the analysis that did fairly well at the tournament to see where they landed on budget.
Data Set – Graphical Representation
Ten Most Represented Decks on TCGPlayer – Average Cost, Ordered by Deck Price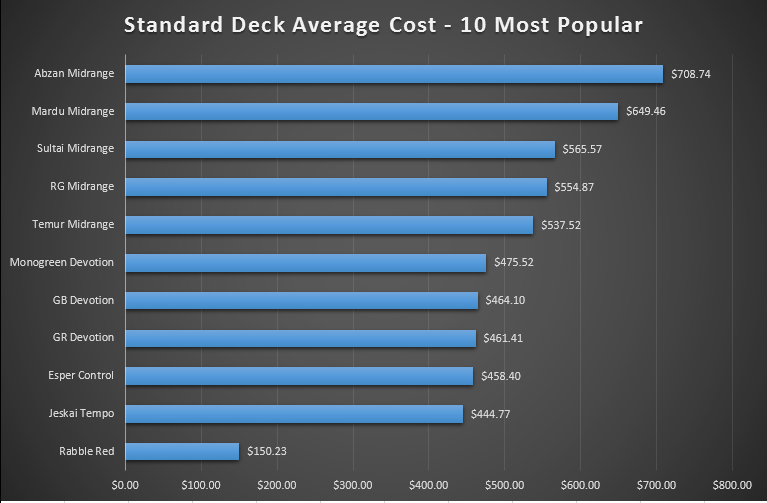 Remaining Standard Decks and High Finishes at PT Khans – Average Cost, Ordered by Deck Price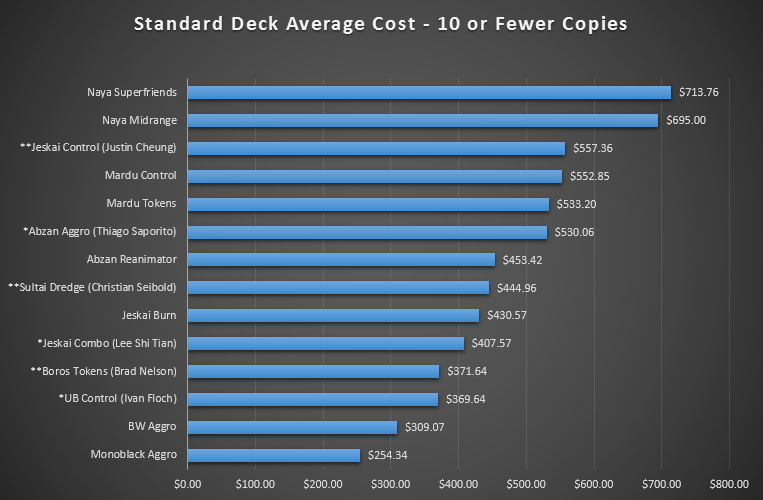 Data Set Analysis
Not surprising is that that the Pro Tour winning deck Abzan Midrange is now the most expensive deck in Standard right now along with being the most popular on TCGPlayer. I believe the prices of several cards in the deck, specifically Siege Rhino, Wingmate Roc, and Sorin, Solemn Visitor are driven by the hype of the win. I expect this deck to go down in overall price over the next few months as the Khans pieces of the deck decrease in price.
Surprisingly, out of the top five most played decks of the format the Jeskai Tempo deck is significantly cheaper than the other top four decks even after the Mantis Rider, Goblin Rabblemaster, and Dig Through Time spikes. However, looking further into the deck we can easily see why. The archetype plays many solid commons and uncommons that the Abzan Midrange and other midrange decks replace with planeswalkers, which are typically among the most expensive mythic rares in the set. Most of the Jeskai Tempo decks only play two copies of Sarkhan, the Dragonspeaker as their planeswalker with the occasional deck playing one or two copies of Chandra, Pyromaster along with Sarkhan. The other midrange decks are playing six to seven planeswalkers, which significantly drives up the price of the deck especially if the walkers are Sarkhan and/or Sorin. Keep this in mind if you're trying to build a competitive Standard deck on a budget – Jeskai Tempo is currently a mid-budget deck that should get cheaper as more Khans product is released and is one of the more dominant decks of the format right now.
In terms of budget decks, there are several options available right now that are around $400 or less. The first that pops out to me is the Jeskai Ascendency combo deck and UB Control deck that both placed in the Top 8 of PT Khans. These decks can currently be had for $408 and $370, respectively. I'll give you a guess as to what these decks have in common. That's right, neither deck plays Planeswalkers in either the main deck or the sideboard. This allows the decks to be more to akin "budgetary" decks than the other decks that are showing up on TCGPlayer.
A true budget deck based on the results is Rabble Red, coming in at $150, and Monoblack Aggro coming in at $250. If you are playing Standard, it seems like the minimum amount you will need to spend to remain competitive is about $200 for one of the cheaper aggro decks. However, what surprises me is that Floch's control deck is among the five least expensive decks in Khans Standard! For about $150 more you could build yourself a competitive control deck if you hate being on the aggro plan all the time and your budget is limited.
To summarize, the five most expensive Standard decks currently are:
Naya Superfriends    $713.76
Abzan Midrange        $708.74
Naya Midrange          $695.00
Mardu Midrange        $649.46
Sultai Midrange         $565.57
I'm certain a few of these decks, like Abzan Midrange, contain several cards that are driven by hype right now and that their average total prices should come down over the next few months. If you can, avoid playing these decks for now even if you don't have a limited budget since you should eventually be able to play them for cheaper if you wait for more Khans product to be released.
The five least expensive Standard decks are:
Rabble Red            $150.23
Monoblack Aggro    $254.34
BW Aggro               $309.07
UB Control              $369.64
Boros Tokens         $371.64
These are the decks that should allow you to remain competitive at FNM while not burning a huge hole in your pocket. There is even a control option in here, UB Control, if you can't stand playing aggro decks. Or maybe you just like the color blue!
Middle of the road decks (between $450 and $480) include:
Monogreen Devotion    $475.52
GB Devotion                 $464.10
GR Devotion                 $461.41
Esper Control               $458.40
Abzan Reanimator       $453.42
*Honorable Mention – Jeskai Tempo $444.77
These are the decks that are competitive and generally more consistent than the lowest priced budgetary decks, since they contain more powerful mana fixing or a few more planeswalkers than the budget decks. Keep in mind, Jeskai Tempo is not strictly in the middle five decks however is actually cheaper than all of them and is in many players' view more a powerful archetype. There are two blue decks here, so again there are options for those players looking to avoid spending $500 or more on a Standard deck while still being able to play blue.
Last Thoughts
Let me know if you like this type of article. I enjoyed writing it and I hope you liked seeing most of the current deck archetypes and what the prices were. This will show you what you can play for all budget levels. Hopefully this will give new players and existing Standard players a starting point for choosing a deck from a financial standpoint after a Standard shakeup. Standard can be expensive, however many overall deck prices should go down over the next few months as more Khans product is added to the market.
---