By: Guo Heng
A month-and-a-half ago, I wrote about the long-term potential of the Theros gods. Today we are going to cover the five gods in the set that comes after Theros, aptly named Born of the Gods.
The Theros block gods are financially interesting because they are splashy, unique cards exclusive to that block. They are popular in EDH, both as commanders and in main decks, and a couple of them rank among the most popular commanders in the format. The recent no-tuck ruling also bolstered the gods' prospects as commanders.
In short, the gods are cards with immense casual appeal and are unlikely to be reprinted due to their quintessential  flavor and Theros block-exclusive Nyx-ified frame, ingredients for a rosy long-term growth recipe. I could not describe the gods better than Corbin (@chosler88) did in his column two weeks ago:
Either way, these are basically mini-Eldrazi that will see growth over time, even if it's not the momentous growth that Emrakul and friends saw.

-Corbin Hosler
We have scryed what the future potentially holds for the Theros gods in the first part of this series, and today, we are going to take a look at the five gods in the Born of the Gods pantheon.
Ephara, God of the Polis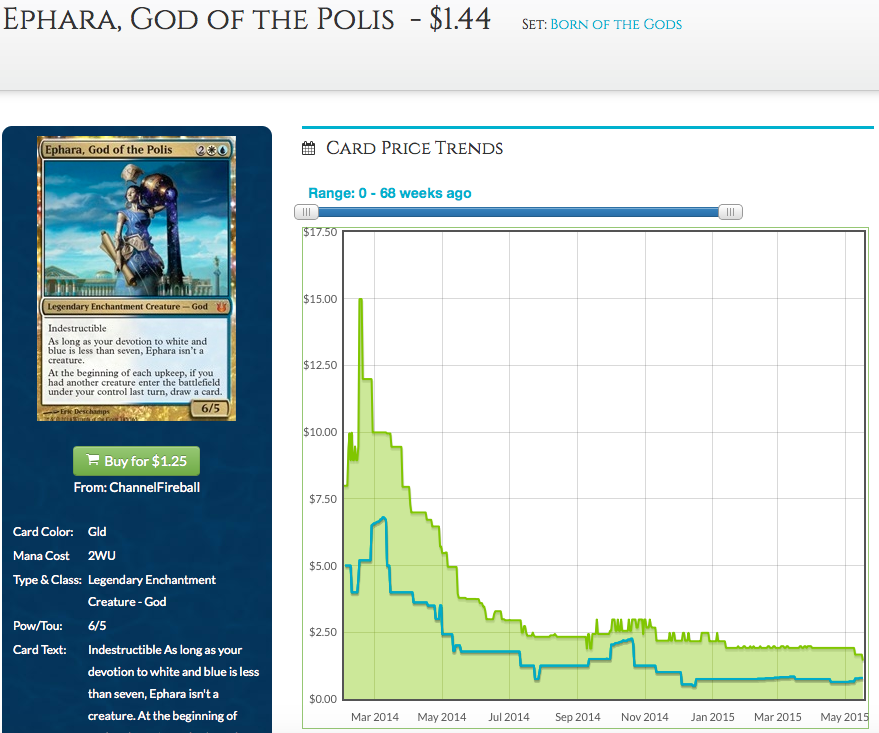 Ephara, God of the Polis is the cheapest god among the Born of the Gods crew. Ephara's ability is unassuming and requires a deck to be built around it, which narrows the number of decks that can run her as one of the 99.
However, Ephara does make up for her shortcomings by being a pretty fun commander to build around. Her draw-a-card ability triggers every upkeep, which allows for a slew of ways to exploit the ability, be it using flicker effects—a popular effect among the casual crowd—flash creatures, or token generators, like a fellow god in the Theros pantheon, Heliod, God of the Sun. Ephara also happens to be in a color identity with the highest number of wrath effects, which synergises well with her indestructibility and the fact that she is an enchantment. Check out Danny West and David McDarby's deck tech and Versus video featuring Ephara on Star City Games from a while back to get an idea of the plethora of ways you could play around with Ephara's ability.
Non-foil Epharas are a good pickup at $1.45, which is pretty close to bulk price for a Standard-legal mythic. The high multiplier on her foils, currently sitting at $13.01, points towards her EDH demand. I would probably wait until rotation or at least later in summer to pick up foil Epharas.
Karametra, God of the Harvest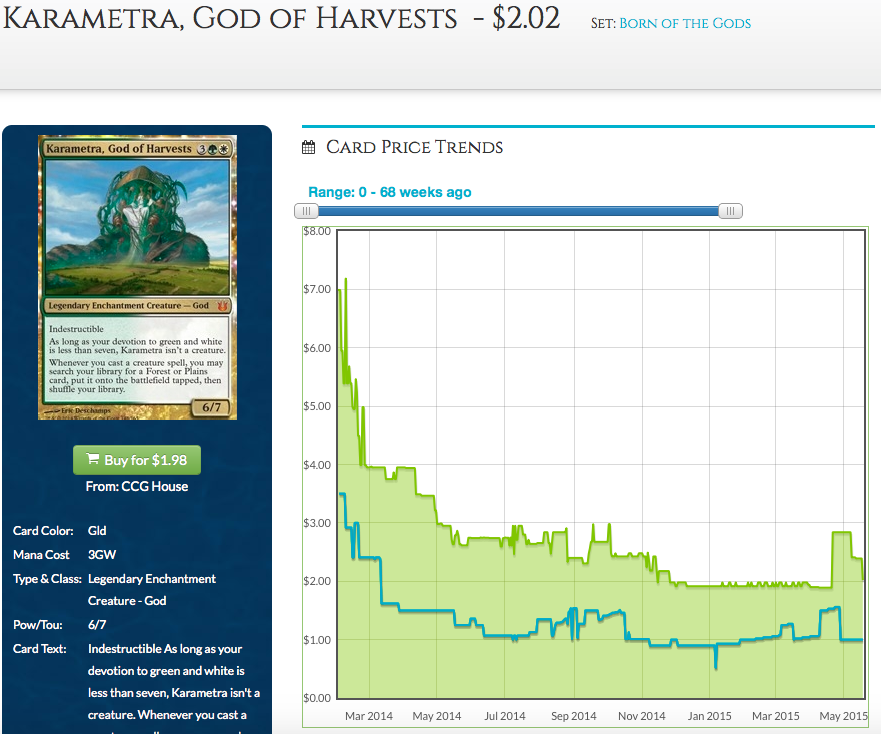 Karametra, God of Harvests is unbelievably cheap at $2.02 for a second-set card with EDH and casual appeal. Creatures and ramp are popular strategies in EDH and Karametra embodies the best of both.
Non-foil Karametras are certainly a good pick-up at $2.02. Foils at $11.56 are a bit more steep, and as with Ephara, I would wait until the summer lull or rotation to pick up my copies. Foil Karametras have a moderate level of demand, reflected in her current spread of just 35 percent, unlike the 54 percent spread of foil Epharas.
Karametra has the potential to end up as one of the more expensive Born of the Gods gods in the long run. She is easy to build around and fits into a wide range of decks. Oh, Karametra is quite a fun commander to pilot, too.
Mogis, God of Slaughter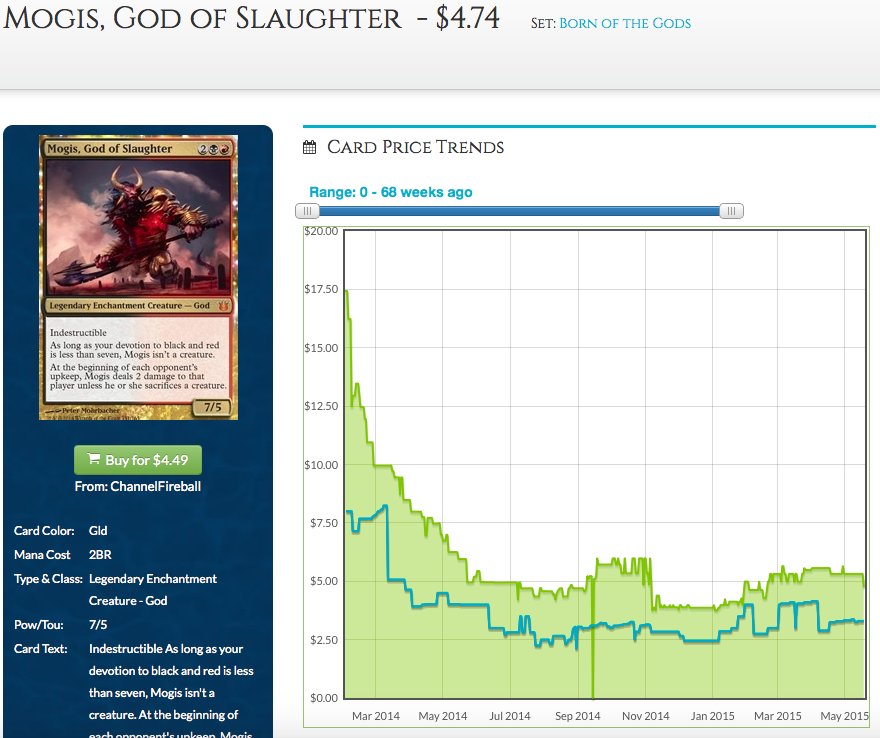 The price for Mogis, God of Slaughter baffles me. Mogis does not strikes me as a particularly popular commander, nor does he seem to fit in a large variety of decks. Yet, Mogis is tied with Xenagos, God of Revels for the most expensive god in the set, sitting at a price of $4.74 with a spread of just 30 percent!
Unless Mogis decks are more popular than I expected, I am honestly stumped as to why the card commands this price. I was expecting him to be at the very least cheaper than Karametra. At the moment, I would steer clear of picking up non-foils and foils ($14.60) and wait until rotation to see how Mogis's future price fares.
Phenax, God of Deception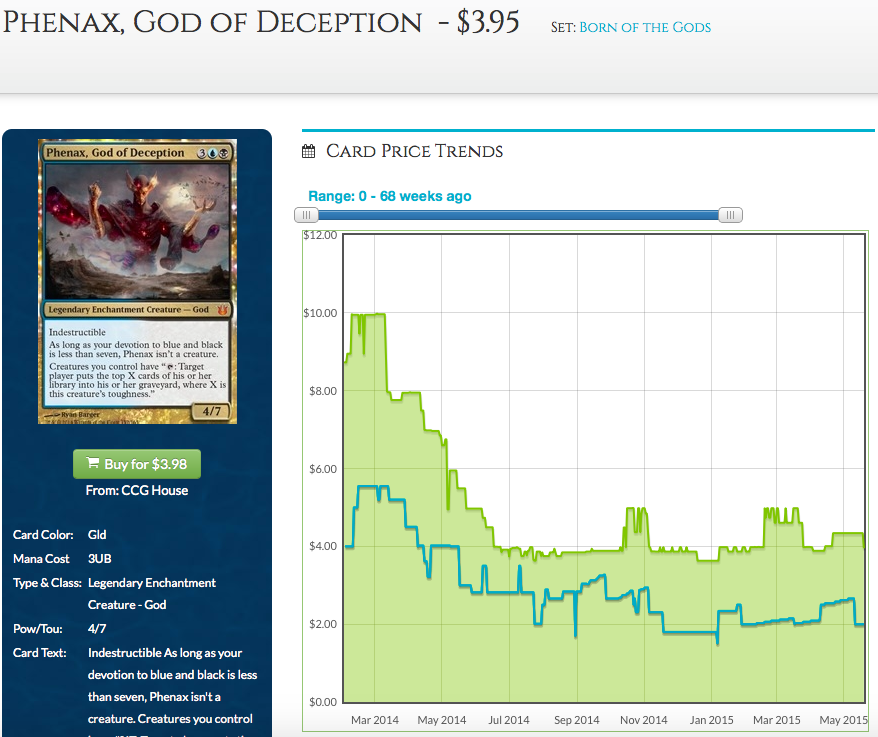 Phenax, God of Deception's reception within the EDH community was lukewarm. While milling is a popular casual mechanic, and Phenax is the God of Mill™, his ability requires a deck to be constructed in a way that would be absolutely powerless (walls can't attack) without Phenax, but insane with Phenax on board. Granted, Phenax decks do get better with the removal of tuck (Phenax players were probably happy to hear that tuck is exiled from EDH rules), but he may be better off being in Lazav, Dimir Mastermind or The Mimeoplasm decks as Redditors in the r/EDH thread above suggested.
It seems that Phenax's price of $3.95 is buoyed solely by casual demand, but the intensity of the demand is questionable with Phenax's spread of 49 percent. I certainly don't think Phenax is worth picking up right now. I am not even sure if he is a god you want to invest in for the long run come rotation.
Xenagos, God of the Revels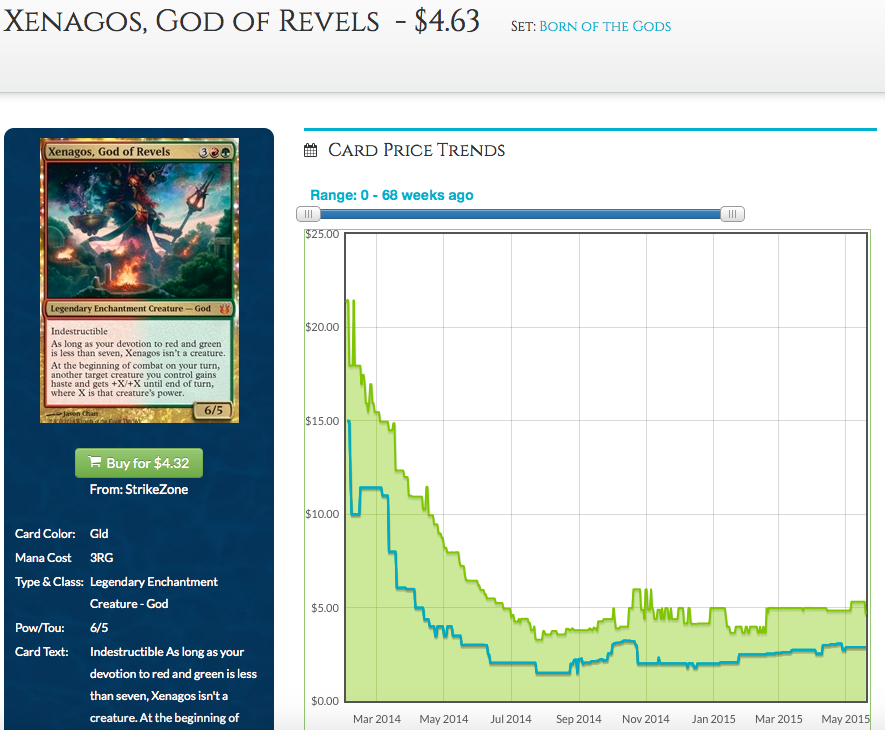 Last but not least, we have the newest member of the pantheon, Xenagos, God of Revels. As I expected, Xenagos is one of the most expensive gods in the Born of the Gods pantheon, by which I mean he has a non-foil price of $4.63. Xenagod has an explosive ability that appeals to Timmies, Johnnies, and Spikes, is a powerful commander himself, and also works well in Prossh, Skyraider of Kher, and Atarka, World Render decks for one-turn-kills with commander damage. Putting all those together, it is not surprising that Xenagod is one of the most popular commander cards from Born of the Gods, second only to Courser of Kruphix. Xenagod's EDH and casual demand is reflected in his foil price of $18.19, the most expensive among the Born of the Gods pantheon.
Again, non-foils are at $4.63 with a 38 percent spread as of writing. I think the window to pick Xenagod is not here yet. There is a chance that he may drop further closer to rotation, which would make him a very good pickup then. However, if he retains this price at rotation, just snap up whatever copies of Xenagod you can find at that time. He is the best Born of the Gods god in terms of EDH and casual appeal and I suspect he will be the most expensive of the pantheon a few years down the road. The rest of the Born of the Gods pantheon is playable (maybe except Phenax), but none has the wow factor Xenagod evokes.
The same approach applies to Xenagod foils, which have a spread of 34 percent at the moment.
TL;DR
In summary, I think both non-foil Ephara, God of the Polis and Karametra, God of Harvests are good pickups from right now until rotation. I am curious about the source of Mogis, God of Slaughter's demand, which propped up his price to the level of the resoundingly popular Xenagos, God of Revels, and I would stay away from him for now, lest my specs get slaughtered. Phenax, God of Deception seems to be the least popular of the pantheon and that makes him an unattractive pickup. Xenagos, God of Revels seems destined to be the most expensive of the lot, but the window to pick up foil and non-foil copies has yet to arrive.
Echoing Corbin, I don't think the gods' prices will hit Eldrazi heights, but I am confident most of them will not remain below $10 in the long run—and some may even break the $20 mark on the back of EDH and casual demand.
Thank you for reading. Share your thoughts below or catch me on Twitter at @theguoheng.