First, the good news. Modern Masters 2015 can be reordered, so you can all rejoice about how easy it is to get packs.

Now, the negatives. If you want those MM 2015 packs right away please keep in mind that there are several issues going on with the first print run of the set. This first run might not be that desirable due to printing and packaging errors. And let me be clear, there are many errors with this product. James did a good job in pointing out the issues.

Non-Tamper Proof Packaging
Since Wizards decided to be Earth-friendly for the release of Modern Masters 2015, they are putting these packs in cardboard packaging and using glue to keep the packages closed together. This youtube video shows why that maybe wasn't such a great idea. Modern Masters is going to have value, but please make sure to get your packs from reputable dealers or people that you trust.
In-Pack Card Damage
Next on the list is in-pack card damage. This Twitter picture pretty much tells it all.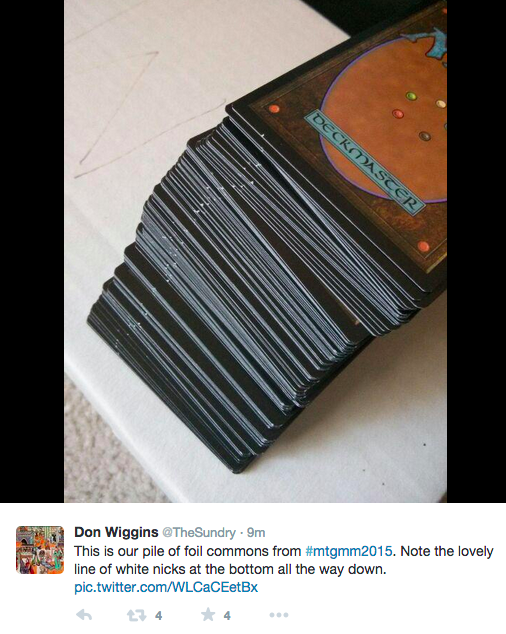 I find it quite sad that every single foil common in the box was nicked in this manner. What do you do if you open a money common foil and it had this type of issue? What if every card in your pack had these kind of nicks? Not a very good feeling to see that pack fresh cards aren't coming out NM and knowing that you have a good chance with this first run to get stuck with cards that are damaged due to the loose-packing style of the cardboard boosters.
Collation Issues
This reddit post does a great job explaining how cards in packs seem to be having collation issues. Washed out colors, misprints, badly centered cards – these are all basic things that shouldn't be happening in sets like Dragons of Tarkir, let alone Modern Masters 2015. I'm wondering if the cardboard packaging did this to the cards or if the quality control was just that bad. Maybe it's a one-of case that just happens to be anecdotal? Not sure, but based on what others are saying I find it hard to believe that this is an isolated case.
Pack Rarity Distribution Errors
This reddit post gives an account of packs containing no rares coming out of a sealed box. In the comments, a user gives an account of a friend opening packs containing multiple rares per pack. With this issue, I believe that Wizards will replace the defective product (that is, packs containing no rares) however it is still just another example of the low quality control seen so far.
Another issue with this is that you can even get these crazy DISCARD cards in your slot, or worse your mythic rare slot: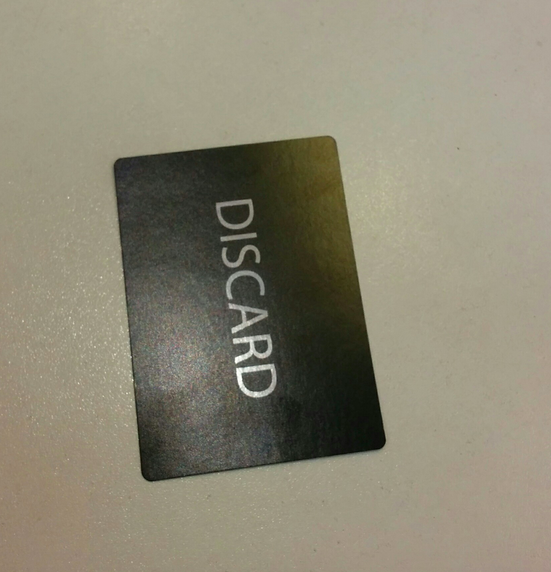 These DISCARD cards are a bit more common, as they have happened over the years in plenty of recent packs of sets, but to get one in a $10 pack is still pretty disheartening.
Wizards' Response So Far
Unfortunately, I don't think there is going to be a lot that you can do about many of these issues. Wizards was listening to feedback starting on Friday and through Saturday about the reported print run issues and released this Twitter statement along with an official statement from the mothership.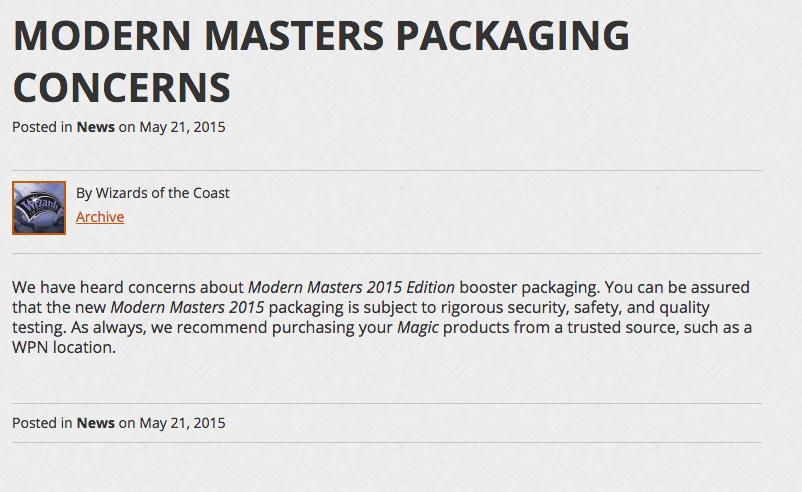 This statement doesn't address anything with the concerns that people have been bringing up. It's kind of a slap in the face to players, especially those who have bought boxes at WPN locations and discovered the issues with cards were nicked upon opening. Some of the louder voices on Twitter are continuously asking what we can do if we get packs with these types of print run issues. Hopefully there will be recourse in the future for the issues but for now we'll just have to wait and see.
Continuous Discussion About Value and Condition
I've talked about potential issues with value for Modern Masters 2015 in my last article, but this video by Tolarian Community College does an amazing job explaining exactly why or why not to buy into Modern Masters 2015. He does get a bit preachy, especially when calling Wizards greedy for pricing packs with Goyfs in them at $10, but after seeing everything that has been going on with Modern Masters 2015 at this point I am inclined to agree with him. He also provides more documented footage of card conditions of cards that are coming out of pack fresh boosters. Great, straight-to-the-point coverage by The MTG Professor.
I realize that the vocal minority always complains the loudest. However, in my many years of playing Magic I have never experienced the amount of card quality complaints that I am seeing with this set over the past weekend. One factor could be because of the higher cost of entry – since players are paying more, they expect a higher quality product, and who can blame them. I have certain expectations when purchasing a Cadillac versus purchasing a Ford, however with Magic cards it should be even easier to guarantee that the product is up to snuff. Another reason might be the bandwagon effect – since it is popular to complain about Modern Masters 2015 during opening weekend, why not chime in with your own personal anecdote even if most other players haven't experienced it. I mean, we're all just kind of shooting from the hip here since we don't know how exactly how much of the product is defective. However, recently players have said the Commander 2014 decks were also having issues, and I don't remember the feedback for those decks being as negative as for Modern Masters 2015. This is only the first weekend, so maybe over time we'll see that this is just overblown. However, I felt it was important to write this article because if you experienced these types of issues with your premium Modern Masters 2015 packs then please know that you are not alone and that several other community members both on Twitter and Reddit have been documenting and adding issues they are finding with the set.
I'll leave you with this – even after seeing all of the issues with Modern Masters 2015, I still think Wizards has a chance to get it right with the next print run. They seem to have recognized that there is a problem, due to them Tweeting about it and releasing a statement on Saturday, however now we need action from Wizards to follow up with their mistakes. I expect great things from Modern Masters 2015 and hopefully future waves will correct the mistakes we are seeing on release weekend.