By: Derek Madlem
This last weekend saw the world of competitive Magic pause while big stupid monsters flooded out of hedron-lined crates to do Battle for Zendikar. Every social media channel was jammed full of Expeditions #humblebrags as players showed off their newly unearthed wealth.
Frequency
When we were introduced to the concept of Expeditions in that now infamous Wil Wheaton conducted train wreck stage show. During that deluge of faux-enthusiasm and butthole jokes we were given the approximation of "slightly more common than premium Mythic rares" which equaled out to roughly one per case. Initial reports from the field have these showing up at roughly 1 in 100 packs…a far cry from the "one per case" that we had all anticipated and based our theorycrafting on.
For now we can probably just ignore all the conspiracy theories about loaded prerelease packs, higher occurrence rates in the first print run, or reptilian illuminati overlords. While we've seen that it is incredibly easy for Wizards to manipulate print runs and collation, there isn't much incentive for them to make a set less desirable to consumers. They're in the business of selling packs of colored cardboard, not in bamboozling their clientele.
This heightened occurrence rate is going to put MASSIVE downward pressure on singles from this set as retailers are going to be incentivized to open more product during the initial scramble for competitive staples. This isn't even taking into account the number of misguided mouthbreathers that conspired to buy case upon case of sealed product to cash in on the Expedition lottery.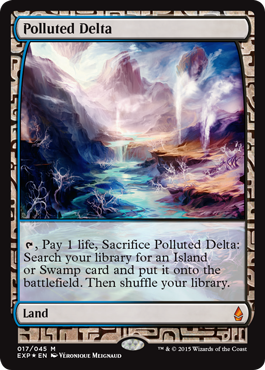 Numbers
With the release of Expeditions into the wild, we've got real numbers to look at. TCGPlayer and eBay are both providing actual real world data for the actual selling prices of these cards. Here's a rough breakdown of what these things are selling for:
Tango lands:
Smoldering Marsh – $50
Canopy Vista – $55
Cinder Glade – $55
Prairie Stream – $65
Sunken Hollow – $65
Shock lands:
Temple Garden – $100
Overgrown Tomb – $100
Godless Shrine – $100
Sacred Foundry – $110
Watery Grave $120
Blood Crypt – $125
Breeding Pool – $125
Stomping Ground – $140
Hallowed Fountain – $145
Steam Vents – $180
Fetch lands:
Marsh Flats – $170
Bloodstained Mire – $170
Windswept Heath – $170
Wooded Foothills – $175
Arid Mesa – $220
Verdant Catacombs – $260
Flooded Strand – $335
Polluted Delta – $375
Misty Rainforest – $375
Scalding Tarn – $440
There's not too much surprising about the initial price spread on these lands. The tango lands are a little higher than I would have guessed while pretty much all the shocklands with the exception of Steam Vents are spot on. I expected the lower fetches to be a lot closer to $100 than they ended up, but the market is still in flux on all of these cards.
The average price of an Expedition land comes out to roughly $170, this is a number we're going to use going forward but it's important to note that the average is heavily skewed by those blue fetches at the top end of the spectrum.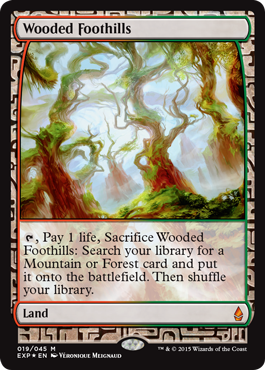 Wholesale
A huge piece of the puzzle that is aggregate pricing for Magic cards is the wholesale price that retailers pay. A booster box costs most retailers between $75 and $80 each. We'll just call it $80 a box because it's a nice even number that equals out to $480 a case.
With a case containing 216 packs and a frequency of one Expeditions land per 100 packs, we can expect two Expeditions lands per case (three Expeditions lands in every sixth case) providing an average value of $340 to retailers. This means that retailers only have to make up $140 out of the remaining 216 rares/mythics, 216 full art basics, 6 foil rares, 1 foil mythic, and some quantity of sweet full art foil basic lands to break even.
When you average the EV of the Expeditions across every box, it's basically adding $56 in expected value to every box, or 70% of the wholesale cost. Factor in another $18 just off of selling full art basics at 50¢ a piece and you've got that booster box nearly paid for without selling a single rare. I know there's a subsection of you out there getting ready to point out that the full art lands will not sell for that much, but if these weren't already in high demand how is SCG preselling fat packs for $60?
With Expeditions contributing this much EV to booster boxes, it's a doomsday scenario for individual card prices after the first week or so – nothing makes it out alive this time folks.
Demand
Right now (Sunday night) on eBay, there are a total of 16 total Scalding Tarn Expeditions lands for sale (U.S. only) and only 7 "completed" listings. What do I take away from this? That even the people in the market for these cards are not quite in the market for them at current prices.
Here's the thing about people with disposable income – outside of lottery winner and trust fund babies, there isn't a large number of stupid people with boat loads of money…it's a self correcting ship. So those avid collectors know that now is not the time to buy into Expeditions, which may be a portent into a future where the price on these pornographic landscapes comes tumbling downward. In other words, $400+ Scalding Tarns are likely unsustainable.
Balancing Act
Ok, we're likely looking at decreasing Expeditions prices. Why doesn't that mean that we'll see other prices holding up better? Well, there's twice as many as we expected for one and we're not likely to see the prices drop THAT much. Fortunately, or unfortunately depending on your perspective, we're not likely to see this set's flagship cards take the big hit.
We previously predicted that this set wouldn't retain much value thanks to the one Expeditions land per case. With two Expeditions land per case that outlook hasn't changed even if the Expeditions lands end up at half their current value, which is unlikely. I expect to see all of the Expeditions lands to dip in price, but that decline won't be spread evenly across the entire set. We're much more likely to see the blue fetches take a minor hit while we see the tango lands and lesser demanded shock lands take more significant hits to their value.
Something like this:
Tango lands:
Smoldering Marsh – $30
Canopy Vista – $30
Cinder Glade – $30
Prairie Stream – $35
Sunken Hollow – $35
Shock lands:
Temple Garden – $80
Overgrown Tomb – $80
Godless Shrine – $80
Sacred Foundry – $80
Watery Grave $110
Blood Crypt – $80
Breeding Pool – $90
Stomping Ground – $90
Hallowed Fountain – $110
Steam Vents – $150
Fetch lands:
Marsh Flats – $140
Bloodstained Mire – $140
Windswept Heath – $140
Wooded Foothills – $145
Arid Mesa – $175
Verdant Catacombs – $200
Flooded Strand – $300
Polluted Delta – $350
Misty Rainforest – $350
Scalding Tarn – $400
This is all purely hypothetical, so don't hold me to these numbers, but in this scenario the average value of an Expeditions land is still around $140, which still provides $280 in EV per case. At that rate, the expeditions are still covering nearly 60% of the EV in a case, add in those basic lands for an easy 80%. With Expeditions soaking up this much value, we might be entering a world of unprecedented low prices for standard cards.
Ignore everything I said last week (you probably did already), it's looking like the value of paper Battle for Zendikar cards might end up being so low that it's not even economically feasible to redeem MTGO sets.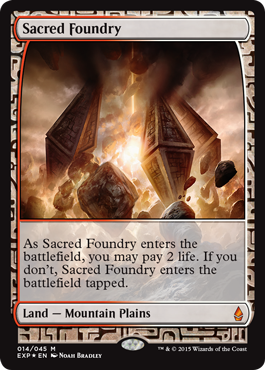 The Grand Experiment
If anything's becoming apparent, it's that Wizards is leveraging popular cards to line its own pockets while making standard cards more accessible. Modern Masters is a glaring example, but even the event decks and clash packs are becoming regular value bombs. We used to look at these decks as "almost worth it" and now they're basically free money.
What are we getting this time around? In case you missed it:
Warden of the First Tree
Whisperwood Elemental
Tasigur, the Golden Fang
Hangarback Walker
Llanowar Wastes
Evolutionary Leap
That's six quality rares for one low price, plus you get all that other crap along with it. This pattern of reprinting Standard staples and leveraging powerful reprints to depress the prices of other cards is definitely something Wizards is keeping an eye on…will increased accessibility make tournaments more appealing to a larger audience? Does the average Magic player really care how much "value" they get out of a booster pack as long as they have a chance to get something they personally value out of that booster?
If the Expeditions lands weren't enough downward pressure for BFZ prices, we can almost count on Standard's most popular cards showing up in the Oath of the Gatewatch clash pack in just three short months, so just the looming threat of reprints is enough to keep me from going deep betting on any Standard cards going forward. Tasigur was a sure thing right? Hangarback was right up there with him. Now neither of these cards look like too great an investment.
The End
During Worldwake people bought booster after booster just because they had a chance to open a $100 card. We saw the same behavior with Modern Masters and Modern Master 2015 (to a lesser extent) packs. With Battle for Zendikar we have the same thing all over again. Whether foil Scalding Tarns end up at $400 or $300, they're still a big shiny carrot that's sure to appeal to the degenerate gambler in all of us, even after every last bit of value is sucked out of the regular cards in this set.
There's even a good chance that we'll continue to prefer Battle for Zendikar once Oath of the Gatewatch comes out because there's frankly no land cycle that's going to be more appealing to open as an Expeditions card than the fetch lands.
---