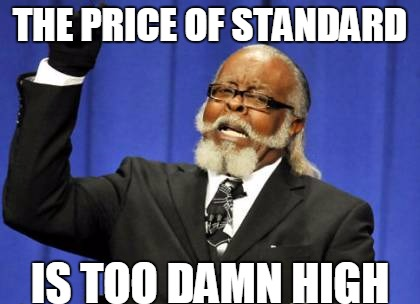 I've seen more than one person make this exclamation (not necessarily in those words, but the same sentiment).  Standard prices are out of control!  The price of 7 of the decks in the top 8 of the Pro Tour are between $675 and $800.  The one outlier is the "cheaper" atarka red deck played by Hall of Famer, Paulo Vitor Damo da Rosa,  which still has a price tag of $375.  What changed?  Why is everything so expensive?
Mana
Most of the price of standard decks right now is the mana.  The deck that won Pro Tour Magic Origins had a simple mana base, 21 mountains.  When calculating the cost of a deck you can usually leave the basic lands off since they're essentially free.  What does PV's deck play? Only 9 of his 21 lands are basic lands.  The other 12 are rare lands, 10 of which are fetch lands.  With the 10 fetchlands being about $20 each on average and 2 battle lands at $7 each, we add $214 to the total cost of the deck before there are any spells in it!  This is obviously a pretty large barrier to entry but there is some icing on the cake.  You will be owning 10 of the best lands ever printed.  There is some value in knowing the fact that your Standard mana base won't become worth a handful of nickels in the coming months.  Temples from Theros block are worth between $1 and $4 each now, a far cry from the $7-13 they had at their peak of popularity.  What does this mean for the future of fetch lands? It's hard to predict.  Khans of Tarkir and Fate Reforged are scheduled to rotate out in April with the entrance of the unannounced block code named "Tears".  Normally I would say that bodes well as their rotation will help ease some of the demand but that is only a few months before the start of Modern PPTQ season.  According to the 2016 PPTQ announcement, Modern PPTQ season starts July 16th (in conjuction with the release of the 2nd set of "Tears" block).  Will people sell their fetch lands only to have to rebuy them in 3 months?  If they do, does the price even budge or are vendors happy to hold them for 10-12 weeks?  There are too many questions that won't be answered in this first rotation.
Mythics + Rares
Here's a break down of Paulo's deck by rarity:
Mythics: 3
Rares: 24 (12 lands)
Uncommons: 23
Commons: 16
Basic Land: 9
36% of this deck is Rare or Mythics and the other 64% is commons and uncommons.  Let's compare that to Pro Tour Magic Origins winning list by Joel Larsson.
Mythics: 2
Rares: 21 ( 0 lands)
Uncommons: 26
Commons: 5
Basic Land: 21
This list is made up of 31% Rares and Mythics and 69% is commons and uncommons.  Even with less commons in this deck, at the time of the Pro Tour it was over $100 less.  What changed?  Rares that are eternal playable hold much higher values.  A lot of the creatures overlap in these lists (Zurgo, Swiftspear, Abbot of Keral Keep, and Lightning Berserker are in both lists), but the inclusion of eternal playable cards pushes it over the edge.  Atarka's Command is a massive $16 now and Non-blue fetch lands average $15-20 each. That's eternally playable rares!
Want to see what exacerbates this problem? Let's break down Ryoichi Tamada's deck from the Top 8.
Mythics: 10
Rares:  27 ( 17 lands)
Uncommons: 21
Commons: 12
Basic Land: 5
His deck is made up of 49% rares and 51% non-rares.  The increased prevalence of Mythic rares that are played as 4-ofs increases demand and cost.  So despite Tamada not taking advantage of some more ambitious Jeskai Black mana bases his deck is just blowing away pre-rotation standard decks.  But it can't be the rare and mythic count that is the entire reason that decks are so expensive, right?
Planeswalkers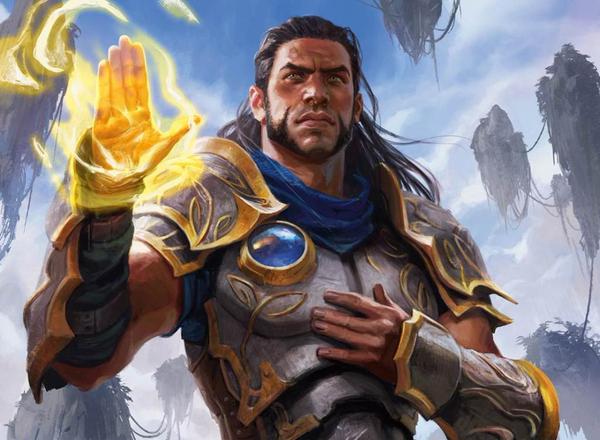 I so solemnly swear that the Champion of Justice was a mistake.  Gideon, Ally of Zendikar is the real deal.  With 5 decks playing 4 copies it seems his price tag will only continue to climb as the week goes on.  He bears a striking resemblance to another white walker from a year ago.
Elspeth, Sun's Champion was a dominant force during her stay in Standard and continues to define how good a 6 mana Planeswalker can be.  At the height of her popularity she was over $45 and I don't expect Gideon to stay any lower.  She saw a decline with the dip ended at the end of December (remember this article: Grinder Finance – Winter is Coming ) and I expect Gideon to bottom out then as well.  What luckily kept Elspeth's price in check toward the end of her life was the Elspeth vs Kiora Duel Deck.  Gideon probably won't be in the next one (as it will likely feature 2 Planeswalkers from Khans of Tarkir block), I expect to see him in the following year's deck.  What can we do now?  Not really a whole lot.  Hopefully people really like more cards from Battle for Zendikar and a second wave of box opening happens.  Unfortunately it seems like most of the innovation started in the SCG circuit and there's not much innovation left for Standard at the moment.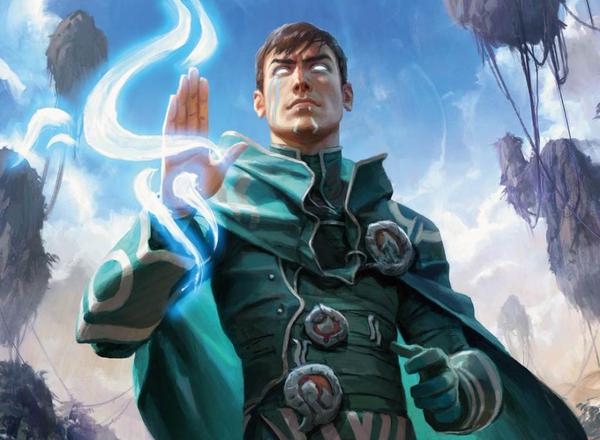 While Gideon looks like he's giving a heartfelt apology, Jace's smirk implies something else.  Jace, Vryn's Prodigy is the product of a whirlwind of beat beats to leave him the most expensive card in Standard in years!
Problems:
He's from a Core set which are traditionally under purchased
He's played as 4 copies
He's played in eternal formats
Modern Masters 2015 was released a few months before his set
The end result is not enough people had money to buy Magic Origins product and Jace and Hangarback Walker continue to prop up the set from the bulk bins.  Given the fact that Mark Rosewater has stated the extra costs associated with printing double-faced cards means they are unlikely in supplementary products, I doubt Jace sees any real reprieve from this price point.  I expect Jace to be $100 at Pro Tour Oath of the Gatewatch unless something odd like a Standard banning happens.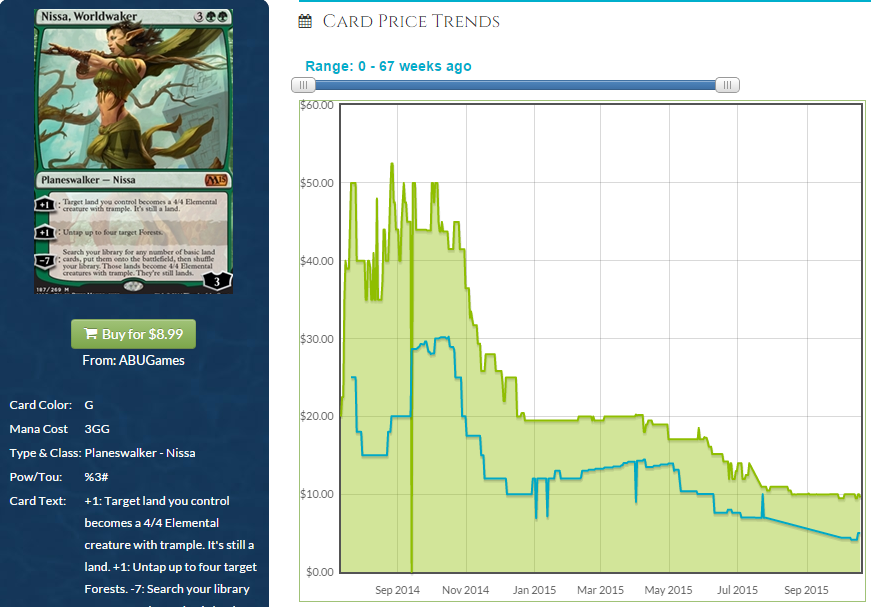 This is not the first time a core set Planeswalker has held an unreasonably high price.  Nissa, despite being mostly a sideboard card that is played 1-2 copies was a solid $20-40 card for most of her time in Standard.  Jace being playable outside of Standard means we will likely not see any price drops.
Where do we go from here?
Well, you can play Atarka Red on a budget but it's unlikely we will see any significant decreases in the price of Standard decks while 8-12 fetch land mana bases are popular.  The icing on the cake is a lot of this money is going toward cards that don't immediately plummet in value after rotation.
Closing Thoughts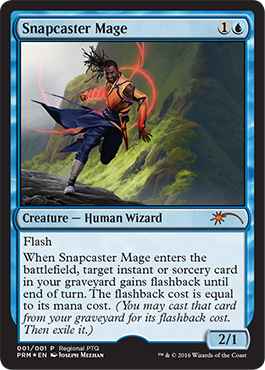 Snapcaster Mage was announced as a the RPTQ promo which means basically nothing will happen to it's price.  It's new art (which has been receiving mostly negative feedback) was expected. They have not reprinted any Invitational cards without new art except for time shifted cards (Avalanche Riders and Shadowmage Infiltrator). I expect non-foil copies to only quiver for a moment and foil copies to not budge.  Your Snapcaster Mages will be safe for another year.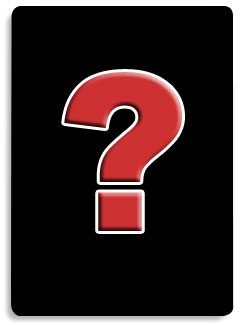 Speaking of promos, why do we still not know the GP promo for next year?   I want to remain optimistic but  I feel like there is some weird reason we don't know it yet.  Maybe there won't be one?  I don't know for sure.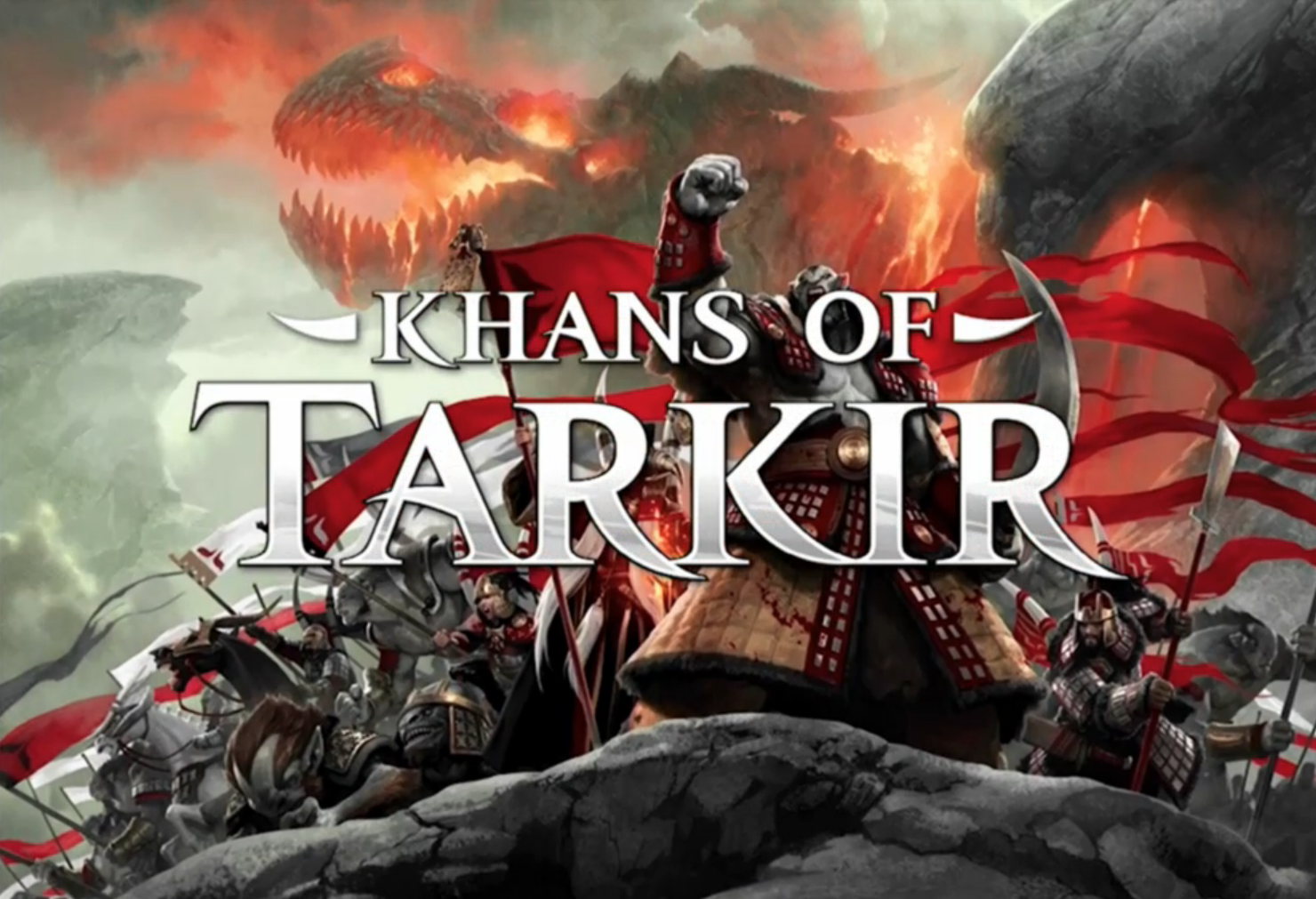 Don't have your Khans of Tarkir fetch lands yet?  What are you waiting for?  I don't expect to see any drop in price when they rotate in April.
Currently played KTK cards are on the rise.  I would look to move anything you're not planning to use in the next few months now.  Notable increases to the price of Wingmate Roc, Crackling Doom, and Mantis Rider.
Next week I'm planning an article to maximize your Pucatrading.  If you have any questions or concerns please leave them in the comments below or tweet at me @Phrost_ !