Twas the night before Christmas, when all through the internet, not a price was rising. Not even a Mox.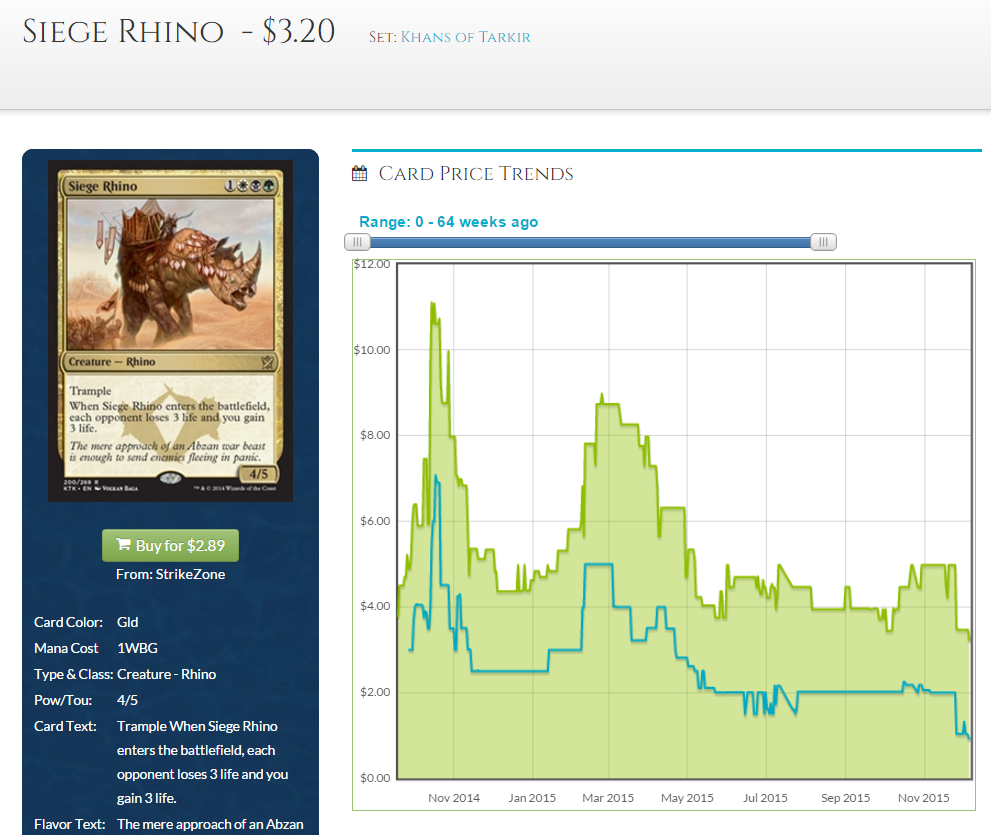 Once a year, Standard staples reach their lowest points before a sharp rebound the next year when people are back to playing Magic.   While this was not true of every card in Khans of Tarkir, Siege Rhino is one of the best case scenarios for people investing this holiday season.  Like many other people, I've been putting some cards on my naughty list and some cards on my nice list to purchase this holiday season.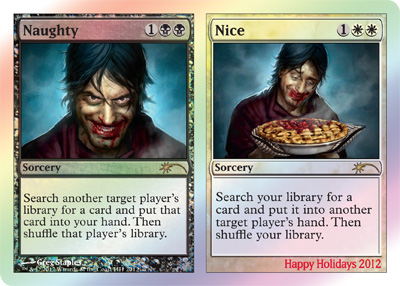 I'm going to borrow Wizard's 2012 Holiday card to help out a little this year.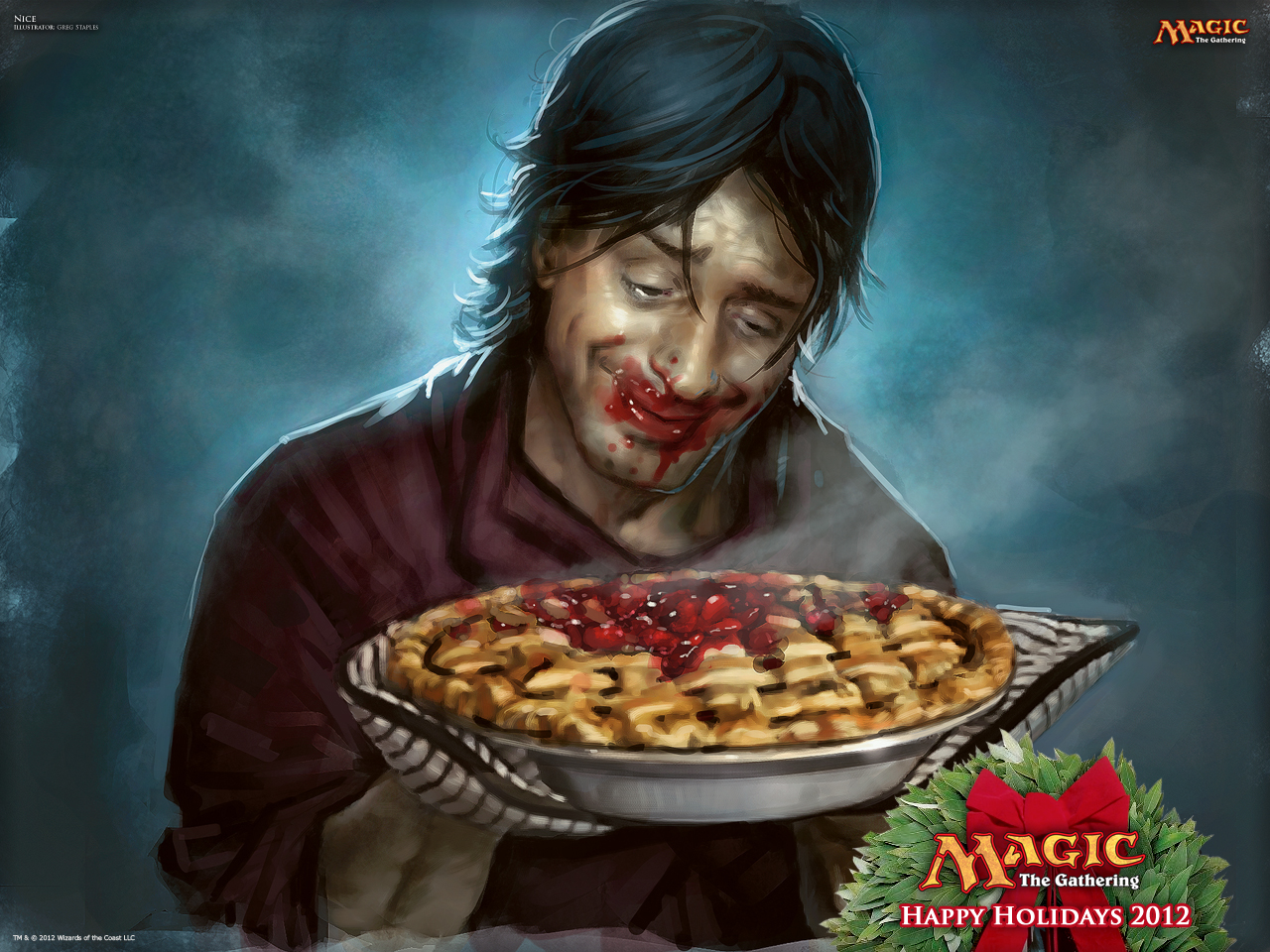 Nice
Gideon, Ally of Zendikar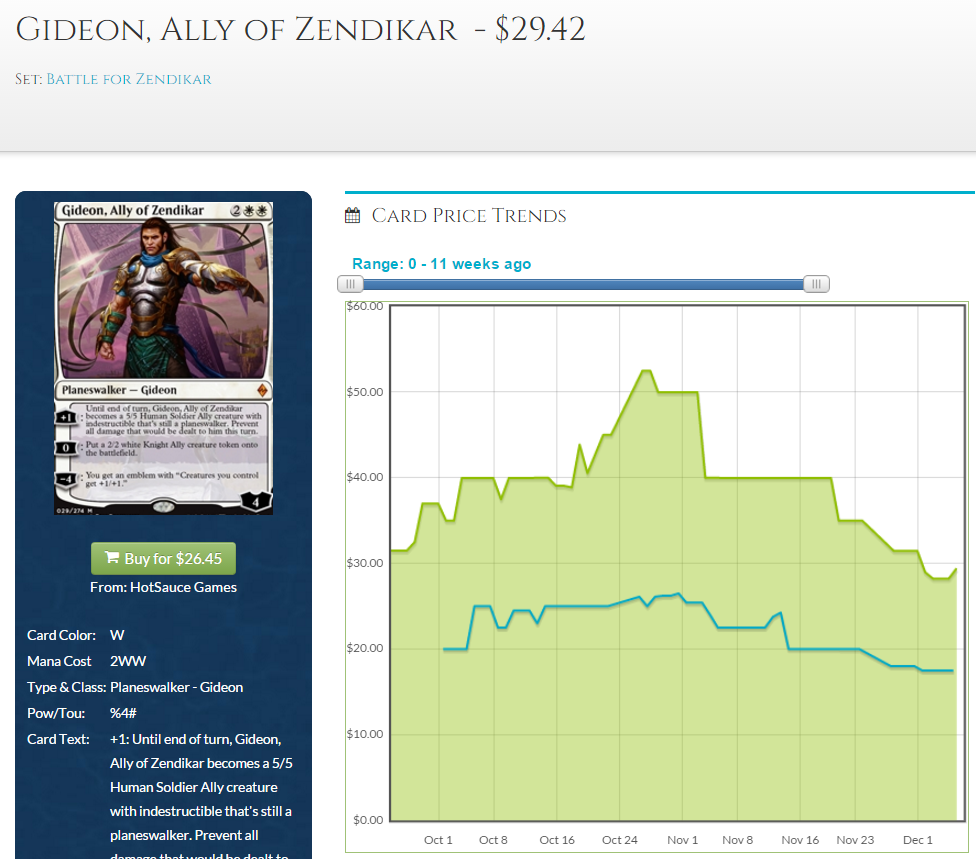 Fair trade price for Gideon right now is listed as $29.42.  A far cry from his actual price.  You're seeing very stubborn stores keep their prices high to recoup as much of their investment as possible before the end of the year.  The truth of the matter is cash value is much lower.  Right now you can find Gideon on TCGPlayer for $20 per copy and even lower – at 13 € (about $14 USD) in Europe.  That's pretty insane for what is essentially a format defining 4-of planeswalker, right?  There is another one on my naughty list I will show later, but right now seems like a great time to buy into Gideon.  He won't rotate until you've likely got more than your $20 worth of play from him.
Eidolon of the Great Revel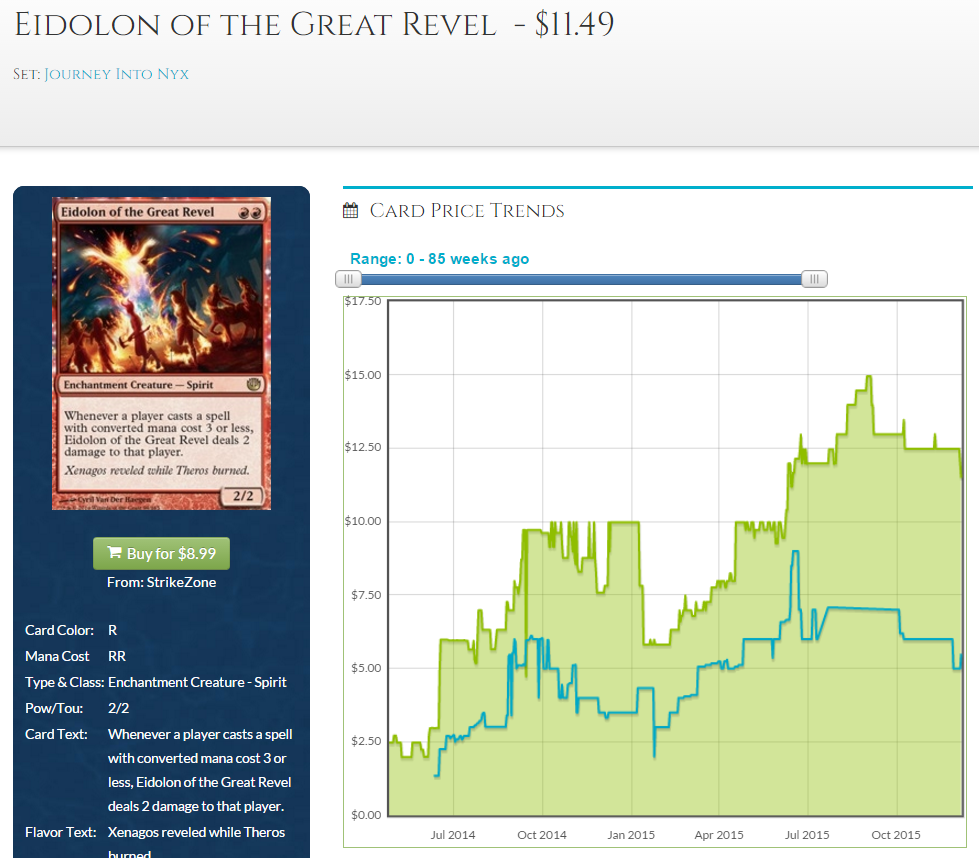 Eidolon is a mainstay of Modern Burn decks and will be for the forseeable future.  In a deck that doesn't play any other creatures with 2 CMC, it's obvious this card is a house.  While the spread between the Fair Trade value and TCGPlayer is rather low, this card has a huge price jump overseas.  On Hareruya, one of Japan's premier MTG card stores, Eidolon is listed at ¥1,800 (which is ~ $14.50) while it's on sale!  There is obviously much more demand over seas and it is only a matter of time before our market is corrected as Eidolons are bought and shipped to Asia.  This is one of the rare circumstances where North American card prices are not leading the way and influencing other markets.  I would recommend buying into them before the Modern Pro Tour and they get some camera time.
Stoneforge Mystic (pack foils)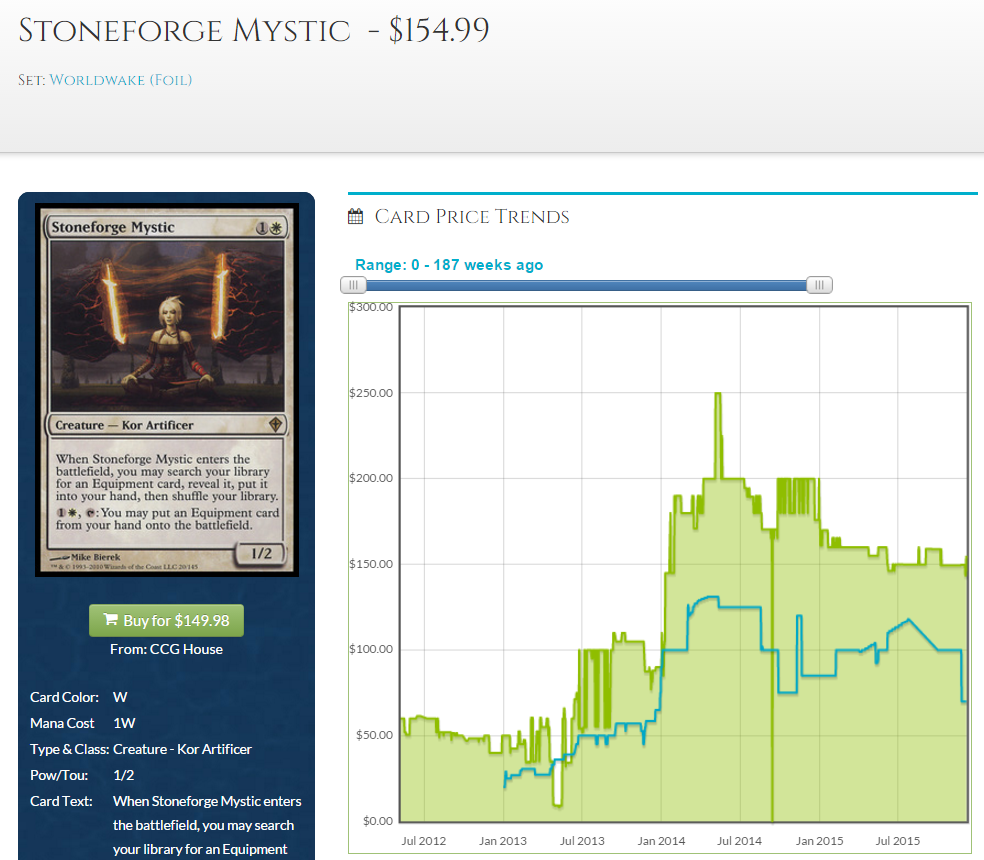 All you want for Christmas is a playset of pack foil Stoneforge Mystics?  Well now is probably the best time to pick them up.  A flood of foil Stoneforge Mystics will hit the market as it was announced as next year's GP Promo.  The way I see it, is if you play Legacy you have a lot less to lose by buying in later rather than now.  In an unlikely scenario where they unban Stoneforge Mystic in Modern, the price of them sky rocket until the end next year while we await distribution of promo copies.  If nothing gets unbanned, then they probably keep the same price trajectory as pack foil Griselbrands.  Pack foil Griselbrand dropped ~ $20 in the year and now with no more promos being distributed, will climb back up.  In the short term (a year) you may see loses buying in now but in the long term it is unlikely to see another reprint with this art.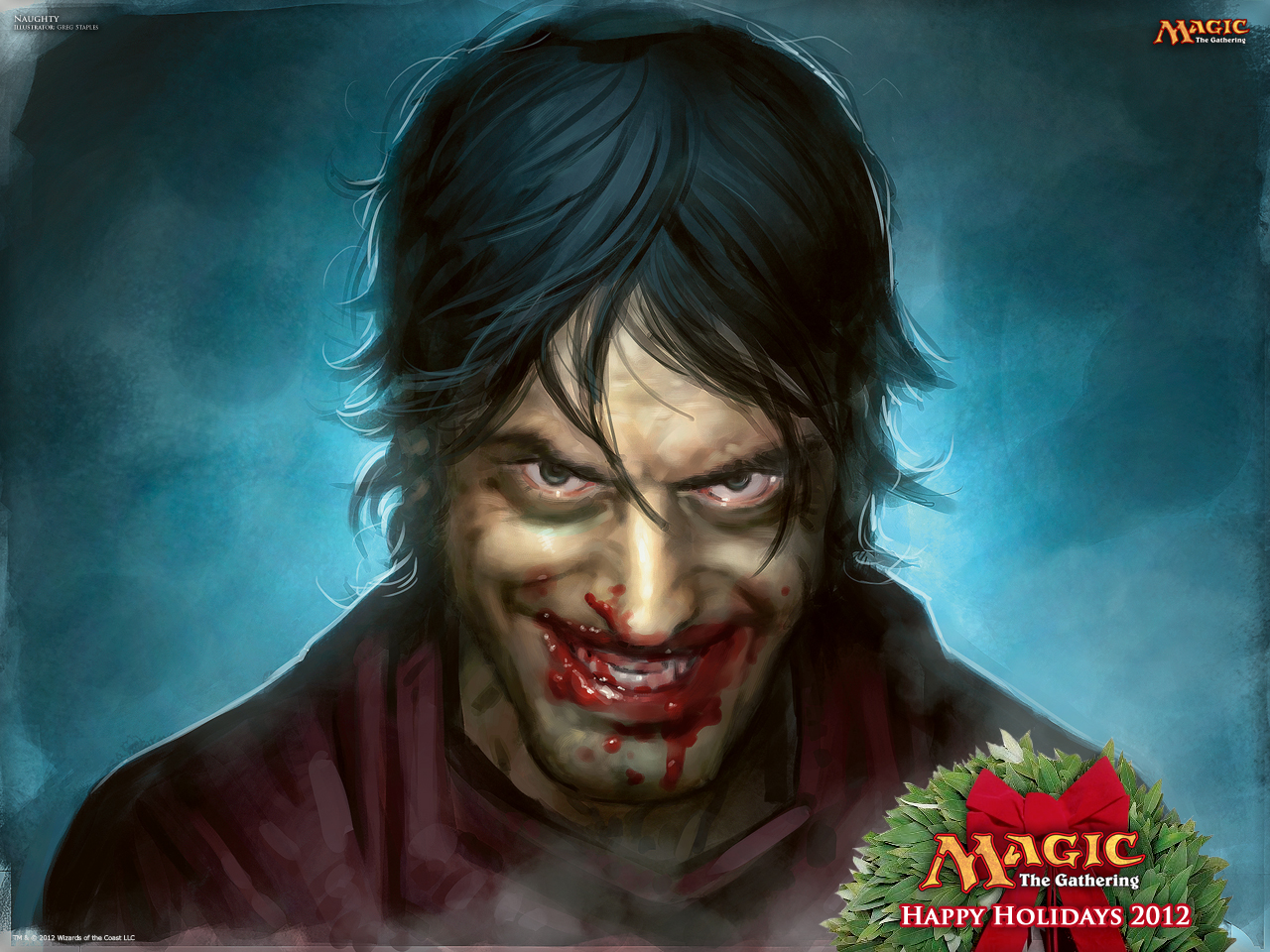 Naughty
Jace, Vryn's Prodigy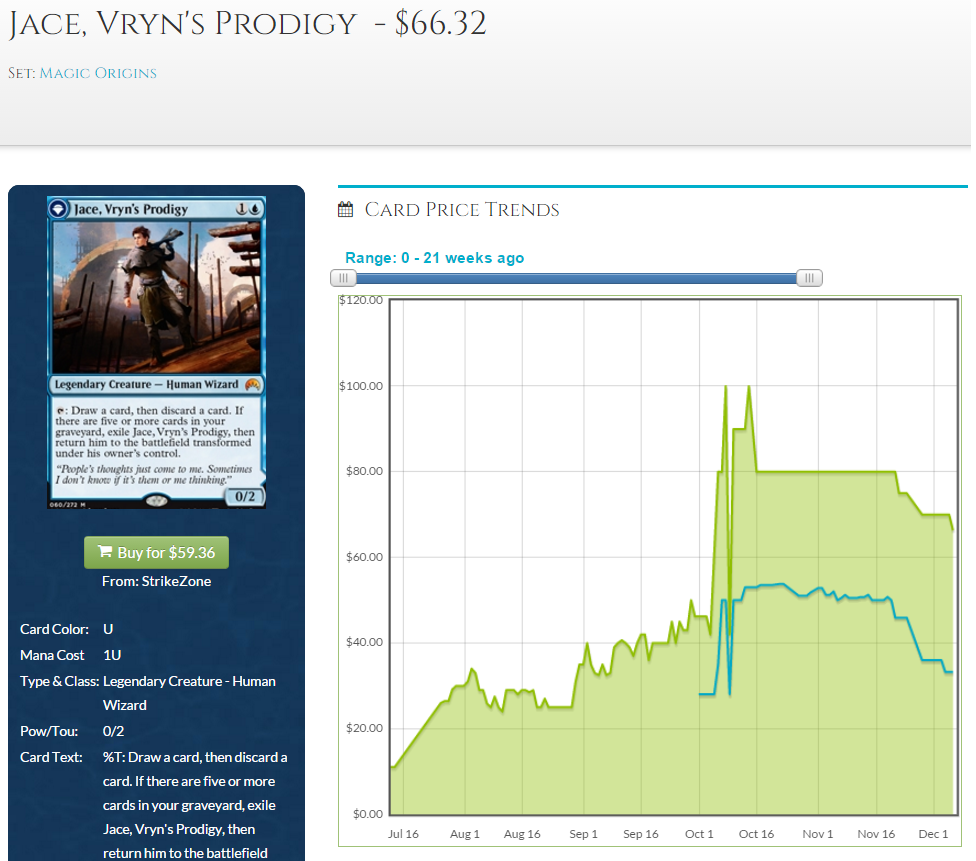 Jace has come a long way down from his Pro Tour spike but dealer confidence is pretty low right now.  Buy prices have dropped faster than the card prices so right now I'm not looking to buy in.  You can find JVP on TCGPlayer right now for ~$56 per copy which is only 85% of fair trade value.  It's not nearly as good of a buy as Gideon (which is 68% of fair trade).  Jace also survives one less rotation so there may be more time for him to drop if you want to play him in Modern.
Lantern of Insight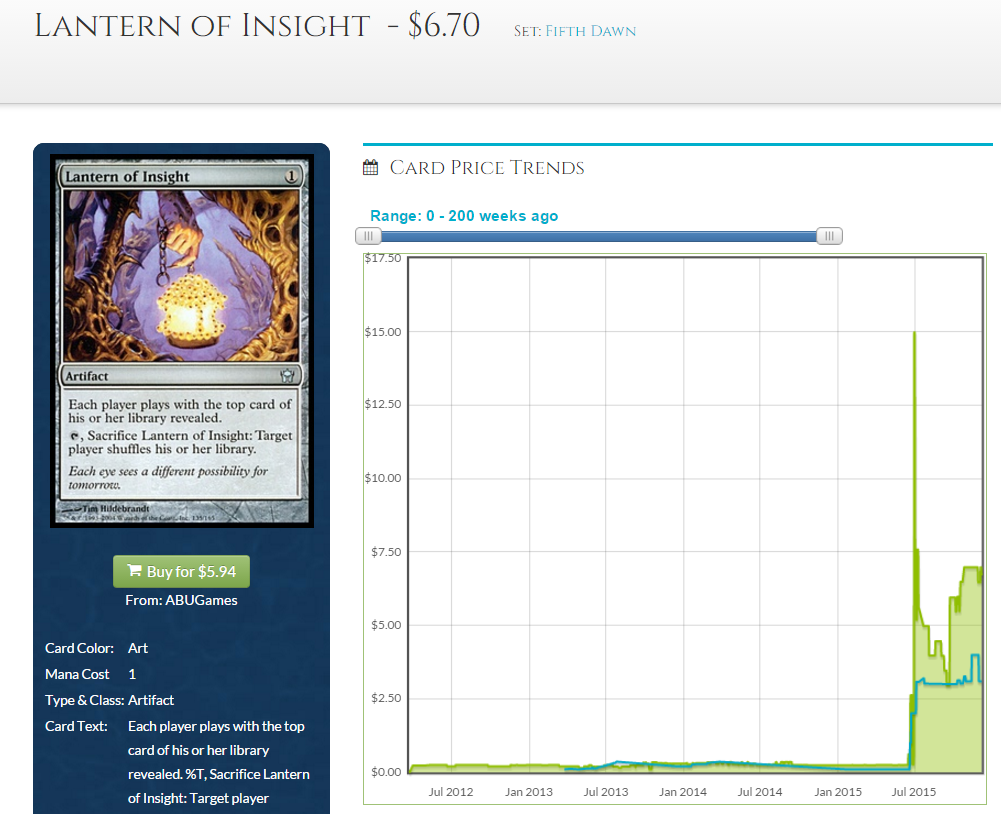 I don't have a lot of non-expletive words to say about this card so I'll communicate in interpretive memes.
The fact that is still not banned: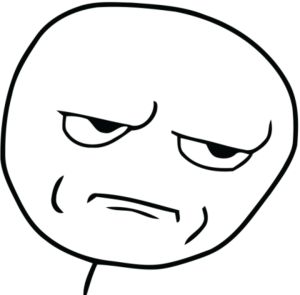 It's price: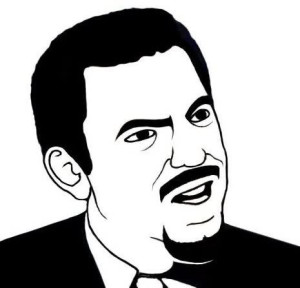 This card has a lot of the same problems written all over it as the Eggs deck did and Sensei's Divining Top did.  I don't want to buy these until the after the Ban and Restriction announcement January 18th.
Crucible of Worlds
I'm on the fence here.  Crucible of Worlds is probably due for another reprint but at the same time, there are some weird prices abound.  TCGLow is $11 more (at the time of this writing) than the fair trade value.  I checked the websites and there are about 11 copies of Crucible of Worlds listed between $45 and $48 on websites that MTGprice pulls it's fair trade value from.  Will they still be available at the time you're reading this? I'm not really sure.  That's why this card is on my naughty list.  I don't understand the large discrepancy in price and I can't give you a good guess as to what is happening.
Musings of the week
Stoneforge Mystic probably wasn't their first choice for GP Promo.  I'd expected something from RTR block so downward pressure on Abrupt Decay and Voice of Resurgence should be alleviated.
The internet wide buyout of foil Edgewalkers is silly.  The new legendary cleric might make the EDH popular but I think your money is better spent on cards for decks that exist but get better (ie colorless EDH)
Expeditions are going to be really hard to come by in the next few months.  I'm not sure if Oath of the Gatewatch Expeditions will be enough to stagnate demand for the prices to drop.
We're about a week and a half away from the cheapest BFZ cards for the next 6 months so it would be a good idea to consider filling out your battle land playsets then.