"No one ever went bankrupt selling stocks for a profit."
I don't know who initially penned this insightful phrase, but I look back to this mindset time and again. Now is no exception – if you truly hope to minimize the cost of playing Magic, you'll have to learn how to sell cards when you're profitable. We all have cards that we've developed an emotional attachment to, and that's not a problem. But keeping that subset of cards as minimal as possible will enable you to react unemotionally and profitably when opportunity arises.
And believe me – opportunity arises a lot.
This week I want to look at a handful of cards as case studies to identify appropriate strategies for buying, holding, and selling depending on where the card is on its price trajectory. This mindset should apply across all formats from Old School and Legacy to Standard. In fact only Vintage staples, playable Legacy Reserved List cards (think duals), and iconic cards really buck this trend by rising nonstop. But even these cards experience sporadic spikes that could yield healthy profits. Short of Power or the truly collectible, nothing is fully immune.
The Full Cycle
We've all seen it before. A card makes itself known and jumps onto everyone's radar in a couple different ways. Twitter buzz, a forum post, a successful performance on camera, the spoiling of a new card, a rise in a format's popularity, etc. These are all viable ways that could catalyze a price spike. Consider for example a card that has recently completed a full rise and fall cycle: Kiki-Jiki, Mirror Breaker.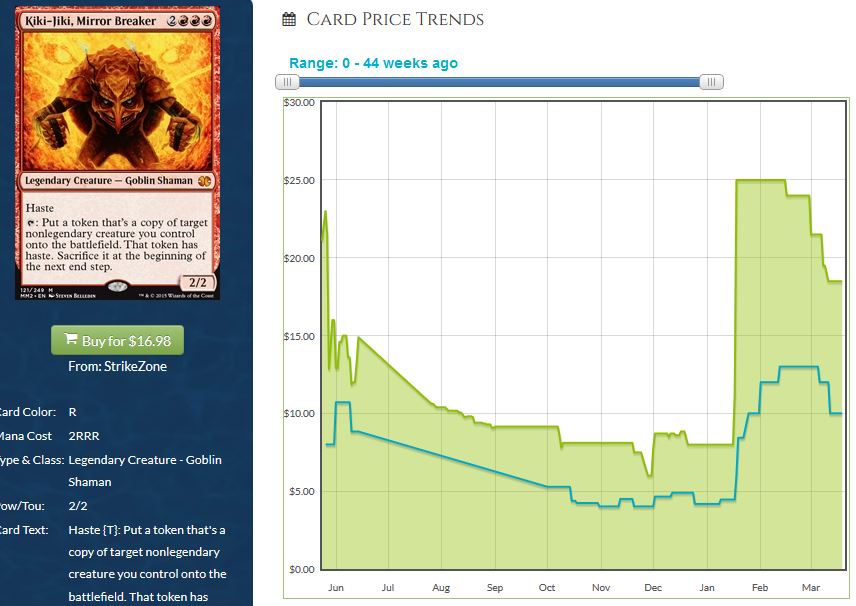 Throughout the winter this card had bottomed. The savviest would have been picking up this legendary creature around Christmas time. Unfortunately I didn't have that foresight. I did manage to make a couple bucks on this card, however, when the news came out that Splinter Twin was banned in Modern. The ensuing hype for Kiki-Jiki was palpable, and I could see quantities on TCG Player drop before my very eyes.
Of course, we all know how this story played out. Eldrazi took over the Modern metagame and Kiki-Jiki is virtually unplayable in the current meta. As a result, the price on Kiki-Jiki has pulled back well off its highs, with buy lists quickly following. At this point anyone still holding copies really can't make much on them after fees and shipping. Selling at that peak for profit was, in hindsight, the optimal play.
This trend happens time and again in MTG Finance. In some ways, profit is possible regardless of the catalyst for movement.

The rest of this content is only visible to ProTrader members.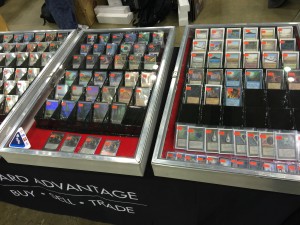 ProTrader: Magic doesn't have to be expensive.