By: Travis Allen
@wizardbumpin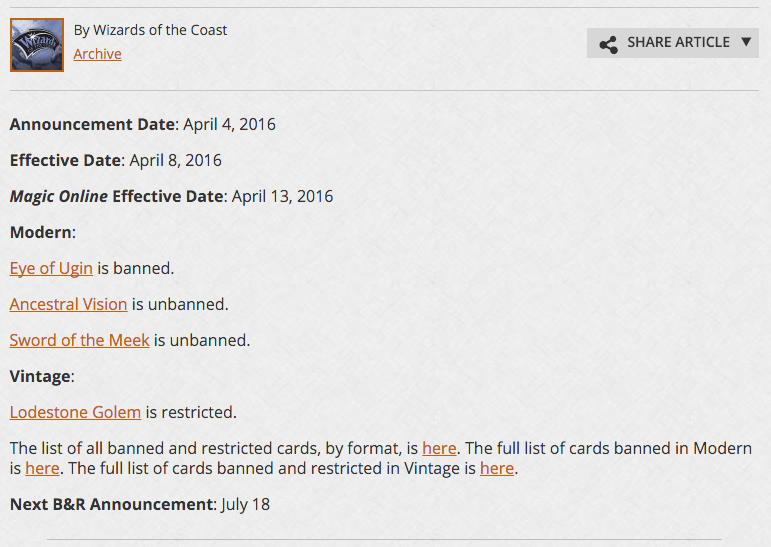 This is hands down the most surprising and unprecedented Banned & Restricted list update that Modern has seen since the format began five years ago. (Has it only been five years? It feels so much longer than that.)
Everyone knew part of Eldrazi was going; it was simply a matter of Eye of Ugin or Eldrazi Temple. Frankly I'm surprised they chose Eye. I think it's the less consistent card and comes with greater drawbacks relative to Temple, a land which carries no penalty aside from making only colorless mana. You can't turn-two Thought-Knot Seers with Eye, but you sure can with Temple! Whatever. What's done is done.
No, the Eldrazi ban isn't surprising. What's surprising is the unbans of Ancestral Vision and Sword of the Meek. We haven't seen a shake up this profound in Modern ever before, and it's possible that reading between the lines will give us even more information. (Credit to @kirblar024 for initially bringing this to my attention.)
Wizards has typically held changes to Modern's ban list until just before the Pro Tour, in order to give the top level pros a new format to take a crack at. We all get to watch exciting new decks, and pros have the ability to leverage their deck building and format exploration skills. However, seeing two unbans at this point in the year, and alongside a major ban to boot, may mean that we're not getting another Modern Pro Tour. Without a Pro Tour to hold changes for, there's no reason not to fire of the unbans as soon as they're appropriate. While there was a tremendous outcry at the removal of the Modern Pro Tour initially, that was before they announced the change to the block structure. Now that we know about that change, many of us have walked back our comments about needing a non-Standard Tour. Wizards has listened in the past, and they may have again.
Ok, back on track. Eldrazi gone, Visions and Sword here. Let's do the Eldrazi real quick.

The rest of this content is only visible to ProTrader members.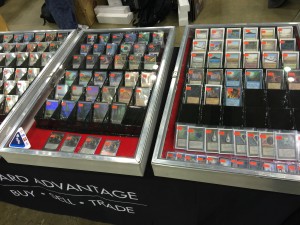 ProTrader: Magic doesn't have to be expensive.