Whewwww! Grand Prix Las Vegas is in the books and it was quite the experience. Having attending multiple two-day Grand Prix, I wasn't sure what to expect as far as this massive five-day event was concerned other than "Yeah, this event is just going to be longer, right?" Well it sure was longer and larger than I could have imagined and I knew I had to document some of my favorite sights and scenes from the Grand Prix!
The WotC coverage team did a great job as always taking photos encompassing the venue, the attractions, and players of the event. I figured I would do something a bit different and would go hunting around for awesome photo opportunities and capture some less photographed rarities and special cards. Everyone would see pictures of cosplayers and artists' alley, but would you get to see a full set of Summer dual lands? Original Magic artwork? Graded cards galore? Come take a look at the amazing items I found at the Grand Prix! (Sadly, no, I did not purchase any of these items)
Hopefully you got to attend the Grand Prix. If not, I hope these photos help you live vicariously through me to see some of the awesome eye candy from this historic MTG event.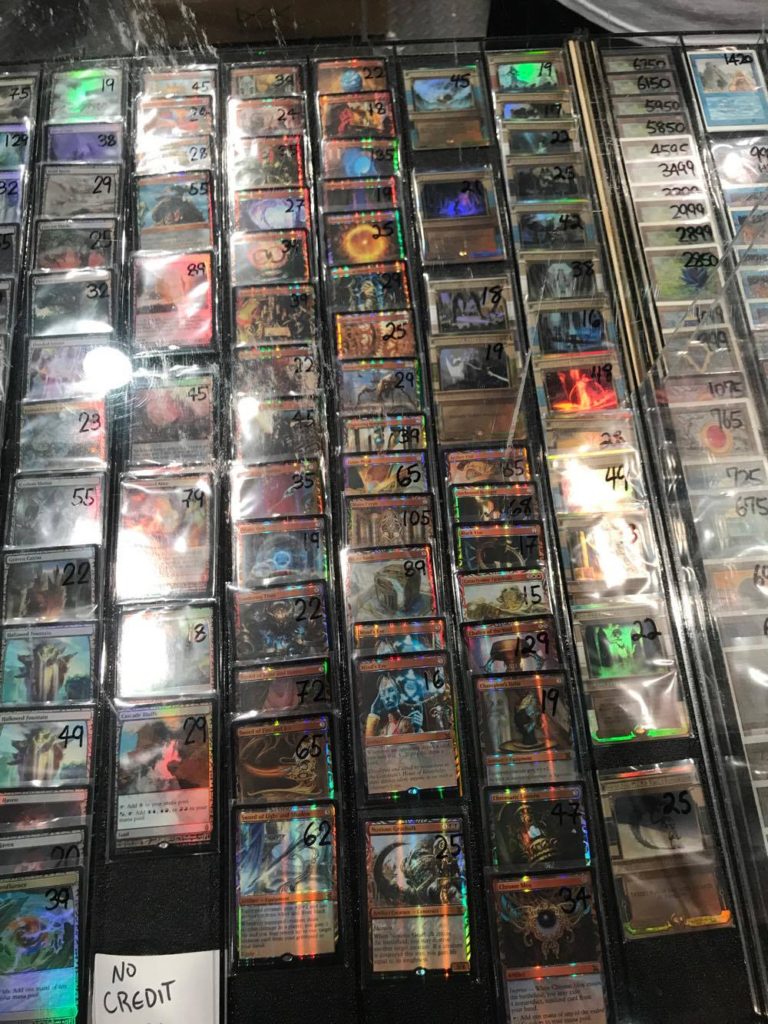 Okay, I absolutely LOVE the way the Masterpiece Series looks in dealer cases. They are real eye catchers and so shiny that they get this girl to waltz right on over. Some pretty solid prices here to boot. Oh yeah, check out those ten Black Lotus on the right side there. No big deal right? There were certainly several hundred Black Lotus in the room this weekend which is mind-blowing to think about!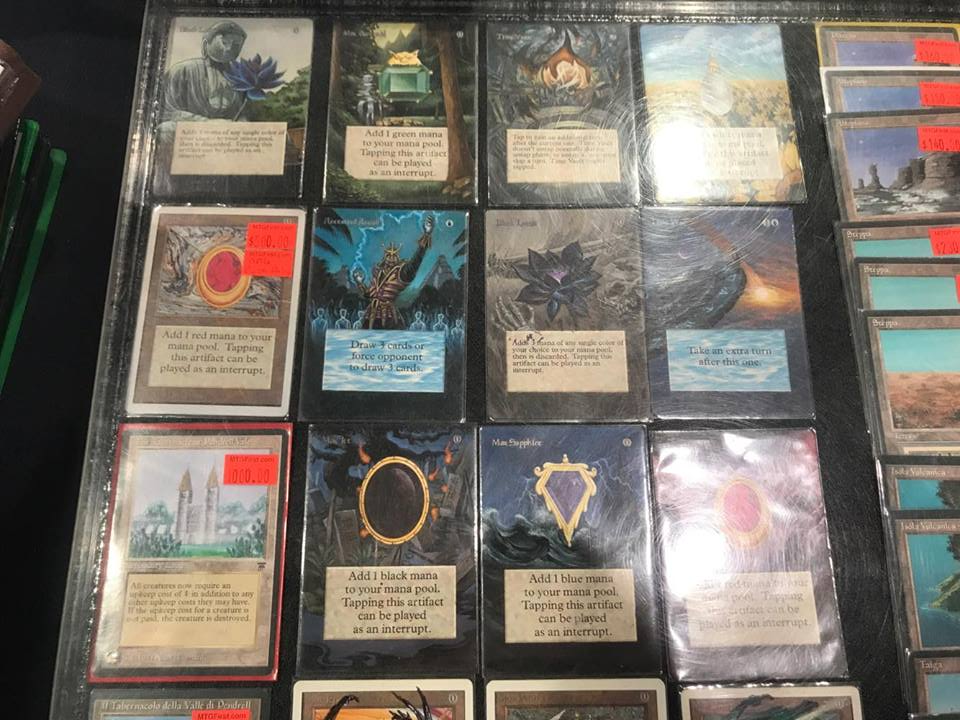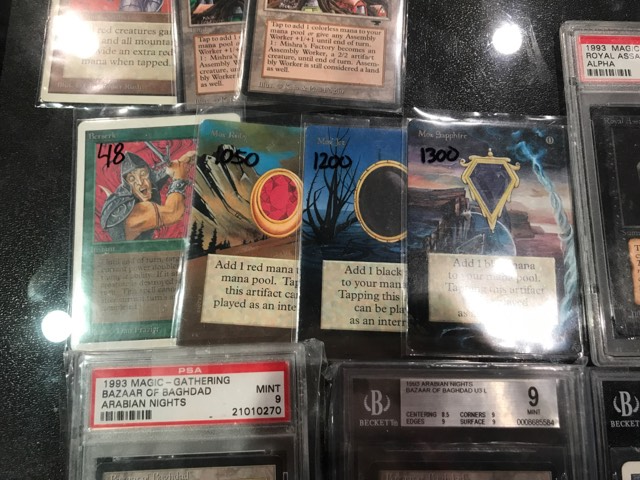 Speaking of power, here are some Power 9 cards that have various alters on them. Although admittedly, the thought of applying a paintbrush to a Black Lotus makes me shudder, I do understand that sometimes these can be restoration projects as well.
I am not too big a fan of the basic land alters such as the Mox Jet with the Urza's Swamp background or the Mox Sapphire with the Zendikar Island background, but they are an interesting and unique take for sure. As for the prices, I honestly have no idea if they are a bargain or not. I certainly wouldn't purchase them but that doesn't meant they wouldn't make great additions for some folks.
Similarly, the Power 9 with the updated artwork from the Magic Online Vintage Cube versions, while well-done, doesn't do it for me. OG artwork all the way, but it is an interesting way to have your pieces stand out.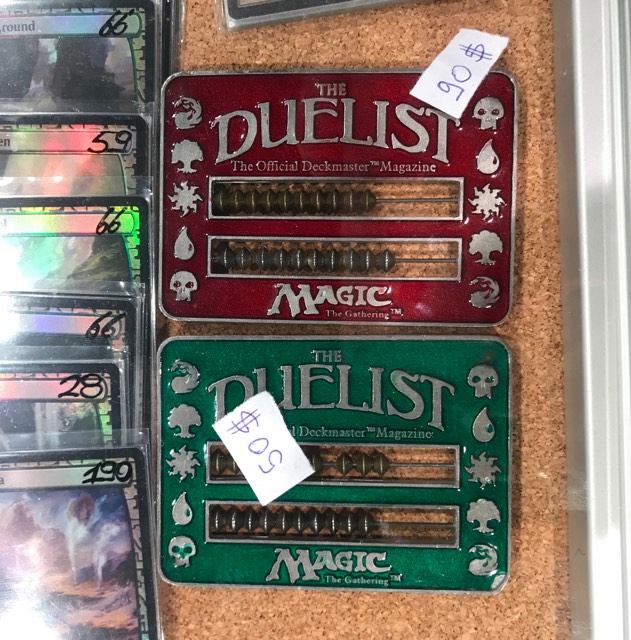 Magic calculators!! Well, sorta. Sadly, most have moved towards pen and paper to keep track of life totals, but real men and women use an abacus! These relics of days gone by were released by Duelist Magazine all the way back in 1995 and are still quite rare to this day. Obviously, the blue one is the most expensive of the lot, but $50 for a green one isn't too shabby. If only this was the go-to method for keeping track of life totals we would see these be astronomically more expensive. However, if you and your opponent get into a life total dispute, if they have pen and paper and you an abacus, I don't need to tell you who the judge will side with. SAD.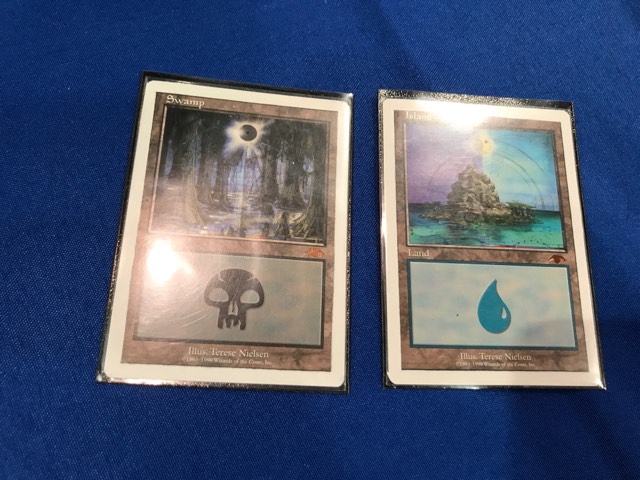 Be still my beating heart! What unholy disaster has taken place here? And before you ask, NO, these are not those new white border plastic inserts. Someone actually took an eraser to those borders and committed a cardinal sin. Jokes aside these look surprisingly cool and certainly are quite eye-catching. Don't let the new white border inner sleeves trick people into thinking you aren't deranged. There is plenty of crazy out there for us all!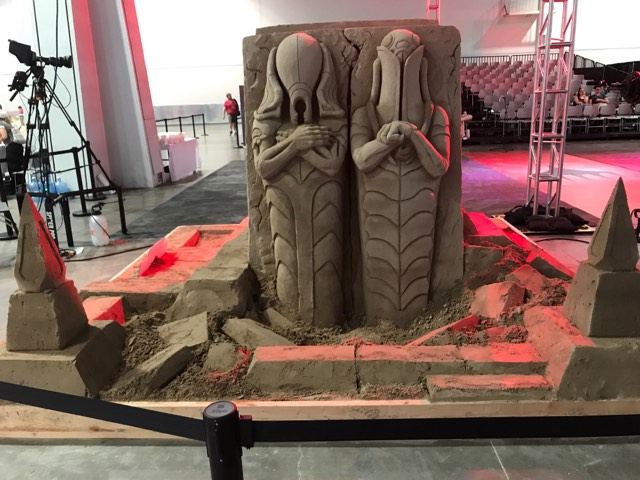 SAND!!
But for real, these sculptures were really awesome! Someone was building each day of the event and they were hard at work toiling away like a citizen of Naktamun! Perfectly flavorful and super interesting addition to the Grand Prix.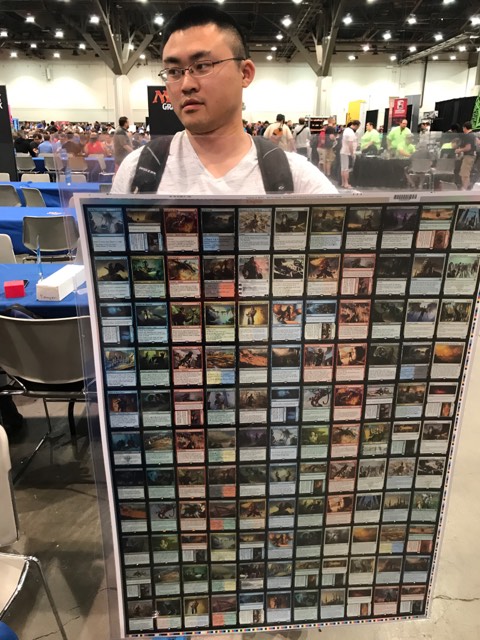 This lucky fellow won an uncut rare/mythic sheet of Amonkhet. I wouldn't know what to do with one if I got it. Would I frame it or just resell it? I'll get back to you on that when I win an uncut sheet tournament!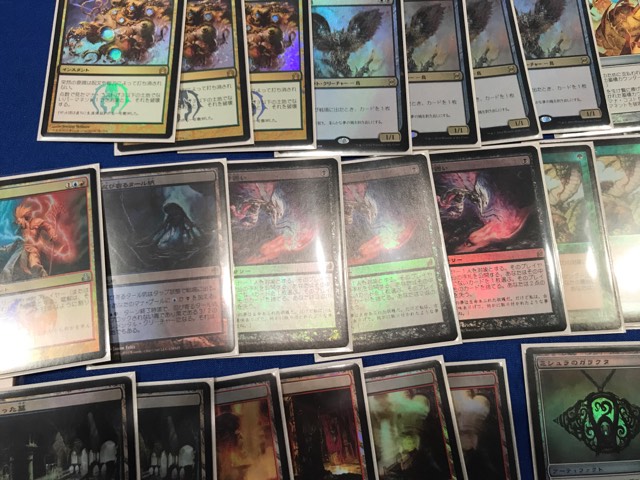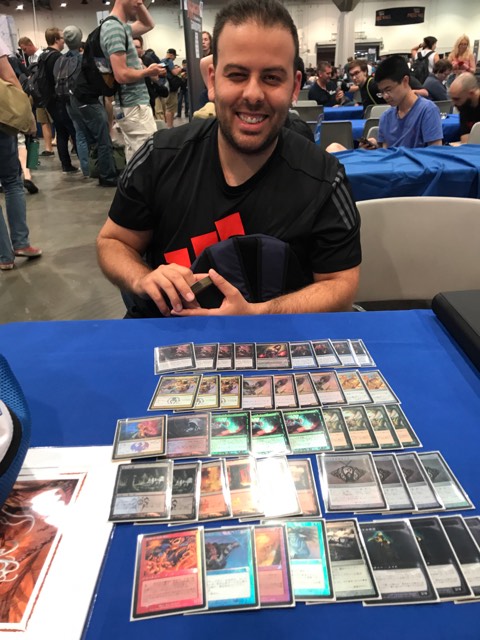 I met some awesome people from Spain this weekend who played in the main events. One of them had some sweeeet Japanese foils to show off. A full playset of Japanese foil Mishra's Baubles is something I've never seen before and must be worth a pretty penny (especially since the set wasn't printed in Russian).
And don't even get me started on those Thoughtseizes. Good gracious! I would love to pimp my ride one day with those beauties. What I love about images like this is that is shows the heart and soul someone pours into their deck to pick up rare cards and customize things the way they love.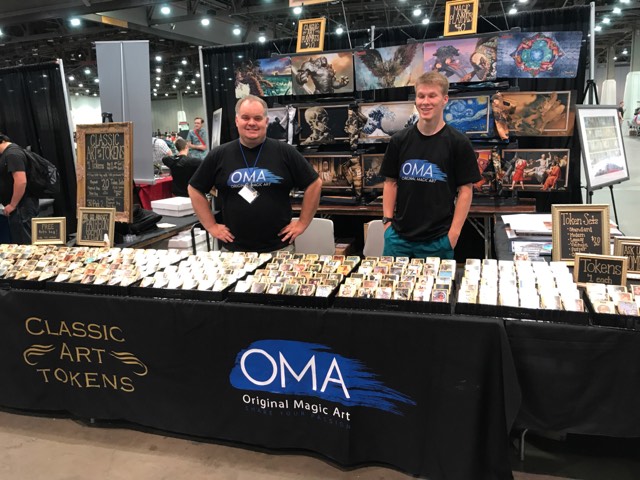 The Original Magic Art, OMA, booth was bustling this weekend as well. So many amazing choices when it comes to tokens for your deck. So what's interesting about them? They feature historic real-world art from around the world and through the centuries. What could be better than using The Great Wave of Kanagawa as a Master of Waves Elemental Token?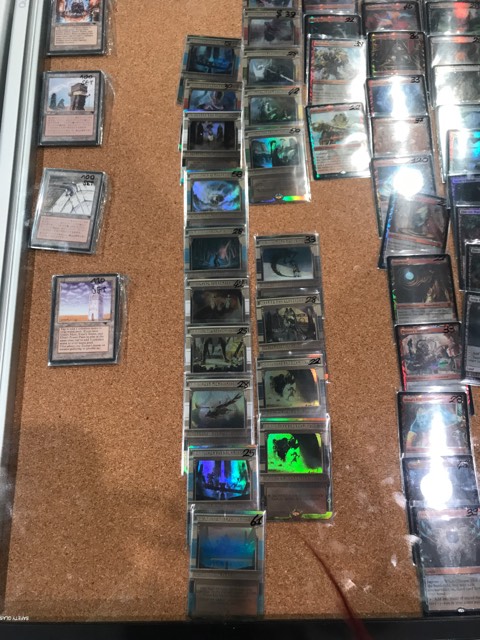 Alright, well here are some most Masterpieces! Quick trivia, without scrolling up to the top of the page which booth had better deals? Look at the Mind's Eye and Mind Twist. Which booth was better? The previous picture showed Mind's Eye at $16 and Mind Twist at $25 while here you would be paying $28 and $33 respectively. That's a 67% increase, or a free $20 bill to spend elsewhere. Tsk tsk. It always pays to shop around at Grand Prix and for many floor traders and dealer flippers it works out like an hourly wage. For those who just want to pick up a sweet card for their decks or cube, it will still always behoove you to shop around.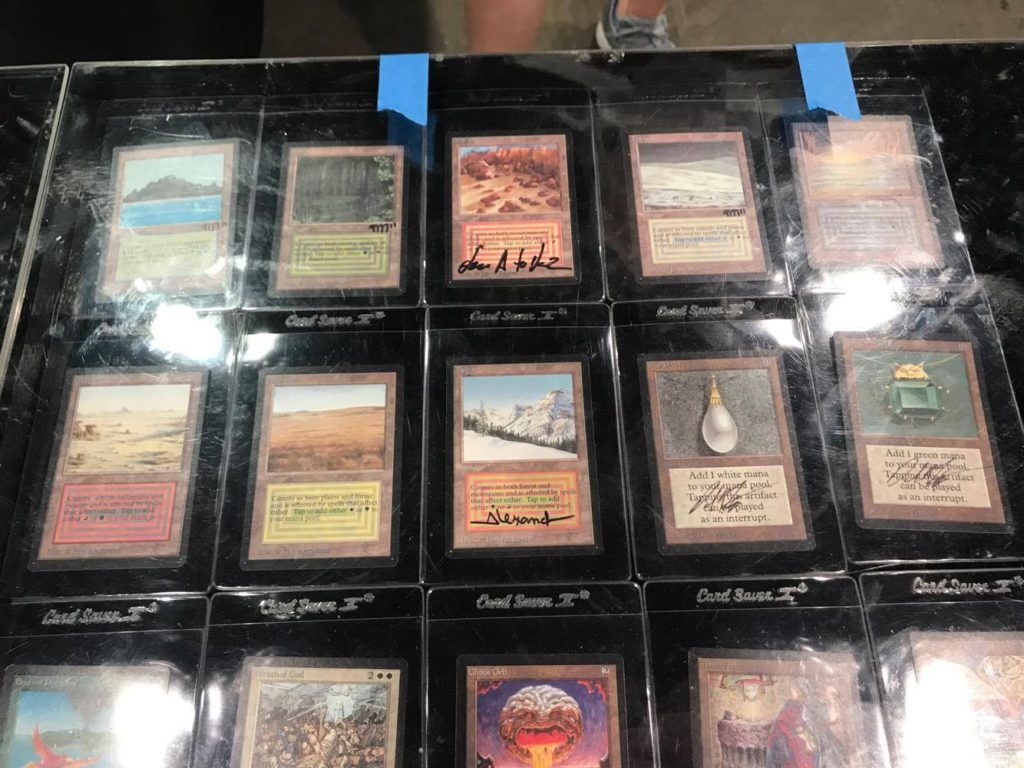 Unf, I want theseeee. Look at those delicious black borders. There is nothing better than playing with cards from Alpha and Beta, and while I don't always gravitate towards signatures, I would happily sleeve some of these bad boys up. Notice the lack of prices? If you have to ask, you can't afford them 😉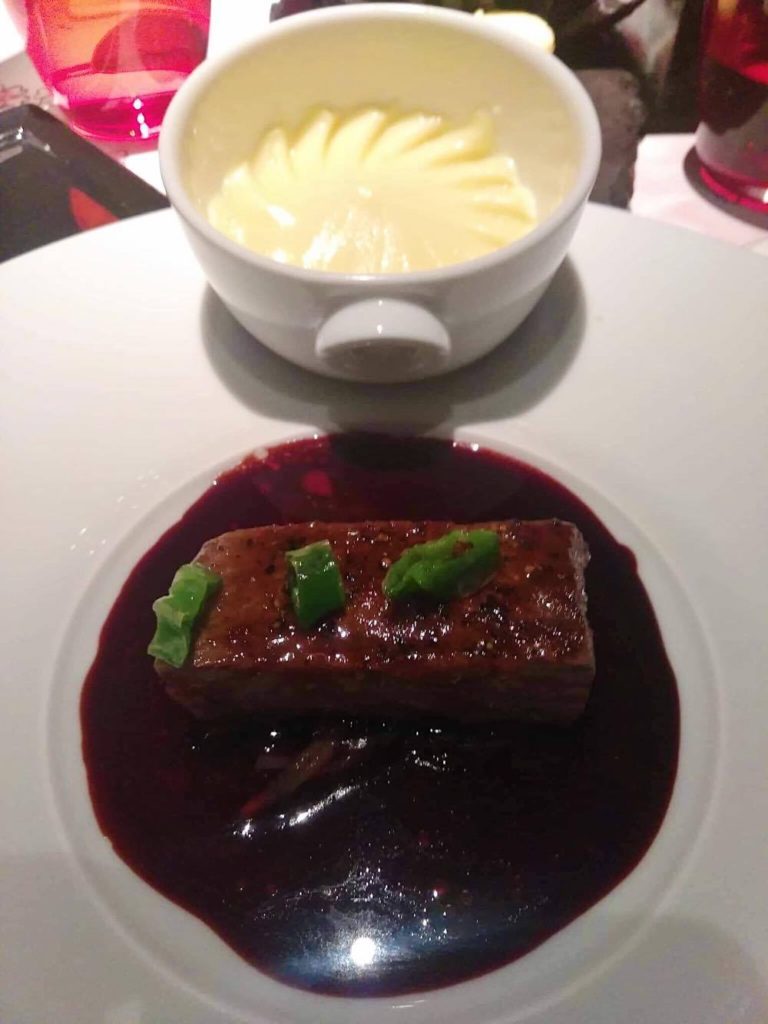 At what would a wonderful and hectic Grand Prix day be without concluding with dinner? This was an amazing Wagyu Beef that was out of this world. The food in Las Vegas is world-class and this dinner was one for the ages. A big thank you to VintageMagic.com.
There you have it, some great finds and hidden gems from the monumental Grand Prix Vegas. I hope you enjoyed checking it out and will enjoy part 2 as well. What were your favorite things from the Grand Prix? I would love to know in the comments!
Rachel Agnes is a VSL Competitor, Phyrexian Princess, Collector of all things shiny and a Cube, Vintage, Legacy, and EDH enthusiast.
Catch on Twitch and Twitter via Baetog_.