We're almost a year out from the release of Ikoria, Lair of Behemoths, and although most of them started out pretty cheap, some of the Godzilla alternate art cards have been on the move in a serious way. Ghidorah, King of the Cosmos (also known as Illuna, Apex of Wishes) (yes these names are unnecessarily confusing) foils have popped to $300+ on TCGPlayer, with only six copies available, and others are heading that way too.
Try not to confuse these ones with the comic book style alternate arts, because there are multiple versions of some of these cards just to keep us on our toes. There are some Godzilla variants that have great potential but haven't quite popped off yet, so strap in and let's take a look!
Dorat, the Perfect Pet (Sprite Dragon) (Foil)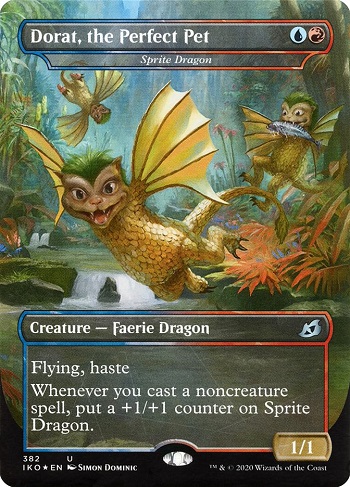 Price today: $7
Possible price: $20
Sprite Dragon has become a staple in Modern UR Blitz decks, as well as being adopted into a multitude of other formats including Standard, Legacy and Vintage. It's at its most powerful when you're stuffing your deck full of zero and one mana spells, something which is much easier in older formats, and can hit really hard pretty early if you get off to a good start. Combine it with a turn one Monastery Swiftspear and you're going to be killing your opponent more quickly than they might like!
The foil Godzilla versions of these are starting to run pretty thin on the ground, down to 21 listings on TCGPlayer now. This is only an uncommon so don't expect it to reach the dizzying heights of cards like Ghidorah, but I think that a triple-up from $7 should easily happen within the next few months, or sooner if the Godzilla hype train keeps rolling. There are cheaper copies in Europe too, starting around €2 and supply being a little deeper – so if you can pick some up there then I'd advise doing so.
Biollante, Plant Beast Form (Nethroi, Apex of Death) (Foil)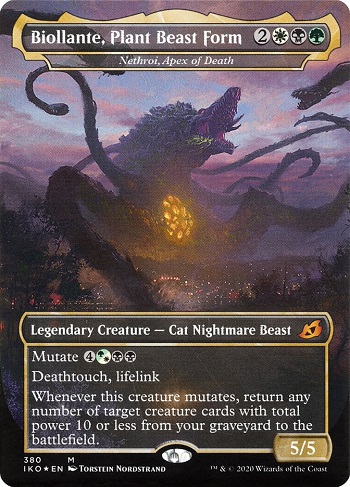 Price in Europe: €20 ($24)
Price in US: $70
Possible price: $100+
Moving away from competitive formats, Nethroi has remained the most popular commander built from Ikoria pretty much since the set was released, and it's also one of the top EDH cards from the set for part of the 99 as well. Mutating it really isn't too difficult in EDH, and if you start playing around with cards that can have negative power in the graveyard (like Death's Shadow and Scourge of the Skyclaves), then you can really start doing silly things with it.
The vast price gap between Europe and the US here might indicate that this should be purely an arbitrage pick, but considering the prices we've seen Ghidorah post I could actually see Biollante hitting well over $100 at some point in the not-too-distant future as well, as another mythic from the set. There are only four of these on TCGPlayer but you might be able to find some cheaper elsewhere in the US – that being said, if you have access to Europe then these are a slam dunk at €20.
We'll probably see Ghidorah retrace a bit from $300 but I wouldn't be surprised to see these heading in that direction before long as well – after all, Ghidorah was a $60 foil just a couple of months ago.
Mothra, Supersonic Queen (Luminous Broodmoth) (Foil)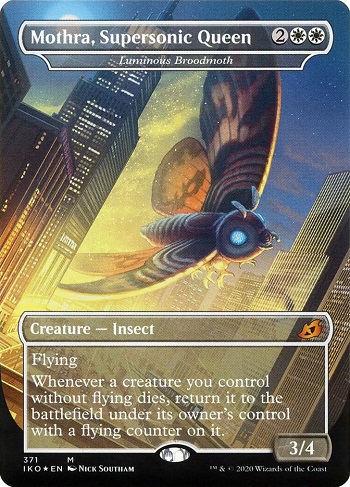 Price in Europe: €27 ($32)
Price in US: $78
Possible price: $100+
Finishing off today, Mothra has also proven to be powerful both in competitive and casual formats, popping up in combo decks using Solemnity as well as being the second most popular white card in the set for EDH (behind Drannith Magistrate, which is fair enough really). What we're here for though is the Godzilla variant of the card, because just like Biollante it's way cheaper in Europe than it is in the US…but the $78 US copies could easily still be a buy here.
This one's another mythic from the set which means there aren't many around, especially in the special version, and with only 13 listings on TCGPlayer they're starting to be more difficult to get hold of. MKM is your best option here, but if you can't get those then I'd advise hunting around some different sites or LGSs for better deals. Either way, I think that these are headed over $100 soon enough, and it's highly unlikely that we'll see a reprint of these versions any time soon, if ever.
If you're after personal copies of any of the Godzilla cards then I'd advise picking them up as soon as you can, because the only way is up from here.
---
David Sharman (@accidentprune on Twitter) has been playing Magic since 2013, dabbling in almost all formats but with a main focus on Modern, EDH and Pioneer. Based in the UK and a new writer for MTGPrice in 2020, he's an active MTG finance speculator specialising in cross-border arbitrage.