ADVERTISEMENT:
I have to admit, every time I hear about the MTG Finance 'cabal', those 'shadow manipulators,' I've got to laugh.
I don't know of another group (granted there might be others, but they charge more, like a bookie's sports line or a stockbroker's private group) who does more to be transparent. I've been part of this site for more than five years, and I admire the way that we all make it super damn obvious what we're doing and why.
You're allowed to be annoyed when a card becomes unaffordable for you, but it's not our fault if you don't want to listen. We (James, Jason, Travis, me, plus the long and impressive list of others who've written for this site) want you to gain value and avoid losing value in your collection. That's all we do, and we're very open about our thought processes.
So this week, I want to go over my information sources, some of these are super obvious and some might not be. None of these are going to cost you much, either.
The rest of this content is only visible to ProTrader members.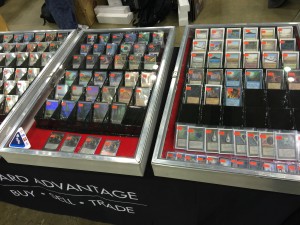 ProTrader: Magic doesn't have to be expensive.

Cliff has been writing for MTGPrice for five years now, and is an eager Commander player, Draft enthusiast, and Cube fanatic. A high school science teacher by day, he's also the official substitute teacher of the MTG Fast Finance podcast. If you're ever at a GP (next up: Oakland in January!) and you see a giant flashing 'CUBE DRAFT' sign, go over, say hi, and be ready to draft.
Track your collection's value over time, see which cards moved the most, track wishlists, tradelists and more. Sign up at MTGPrice.com - it's free!
ADVERTISEMENT:
Please follow and like us: