Over the weekend, the last Theros legal tournament was held at SCG: Milwaukee. Because of this, many players are going to be looking at getting rid of extraTheros cards that they will no longer need moving forward. Rotation is upon us, so it is time to look at what the future might hold for Theros cards and which ones will be worth holding over the long term.
Target number one, the best of the best from Theros block, is going to be Thoughtseize. I mean, take a look at this history just to get a picture of how in-demand this cards is even with tons of players looking to dump Theros in favor of Battle for Zendikar.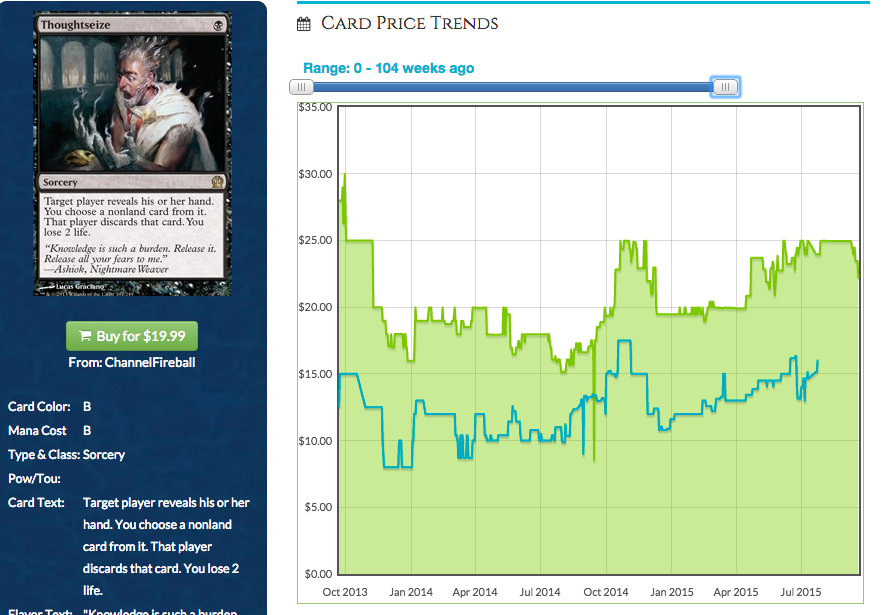 Rotation hasn't even made a dent in this card. One would argue that Goblin Rabblemaster is another powerful card from the current Standard, and look at what rotation is doing to it.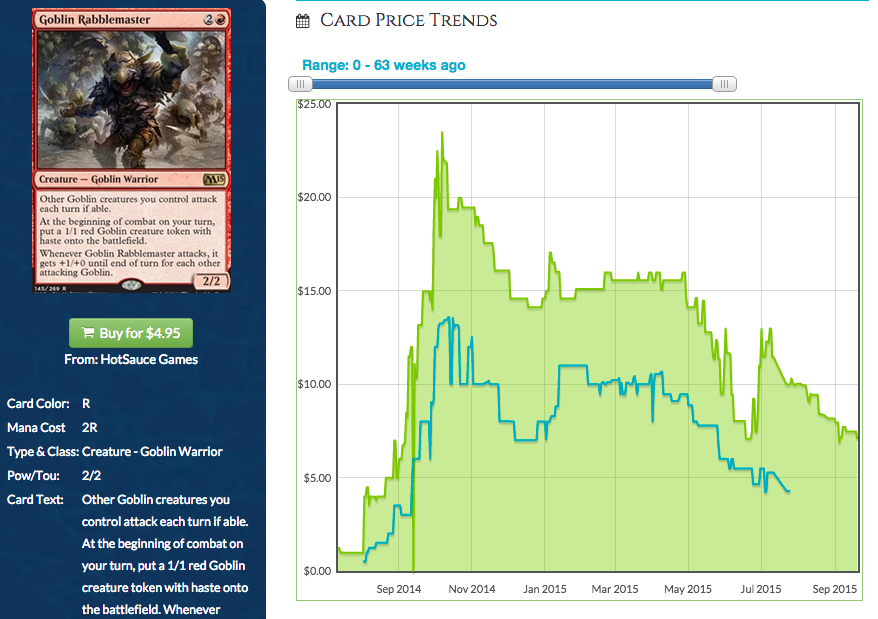 Arguably one of the most powerful cards in Standard is getting kicked in the teeth because of rotation. What does this tell us about Thoughtseize moving forward, a card that we can expect to always see in Modern and Legacy?
We're not going to see much cheaper copies of Thoughtseize around, at least not until the next Modern Masters set is revealed.
Players are holding this one, as we've been advising to them to do as #mtgfinanciers. The low point for Thoughtseize was $15, so if you bought in then you're looking pretty good now. The next best time to get out will be during the hype of the next Modern season.
Foils are also going to be very in demand, since eternal players like to foil out the various parts of their deck. Surprisingly, the foil copies of Theros Thoughtseize are starting to reach a low point upon this rotation cycle. Check out the price history below:
We all have a pretty sweet chance to get in on a foil lull for the               card.
All in all, Thoughtseize is looking pretty good as a spec moving forward, as we all know it will be. But what about other maybe non-obvious pickups? Let's review some of the more talked about cards from the Theros block in reverse order, since Journey into Nyx was opened less and therefore we can predict that cards from this set will be more valuable in the future since fewer packs were cracked for drafting.
Journey into Nyx Current Prices (Non-Foil Top 20)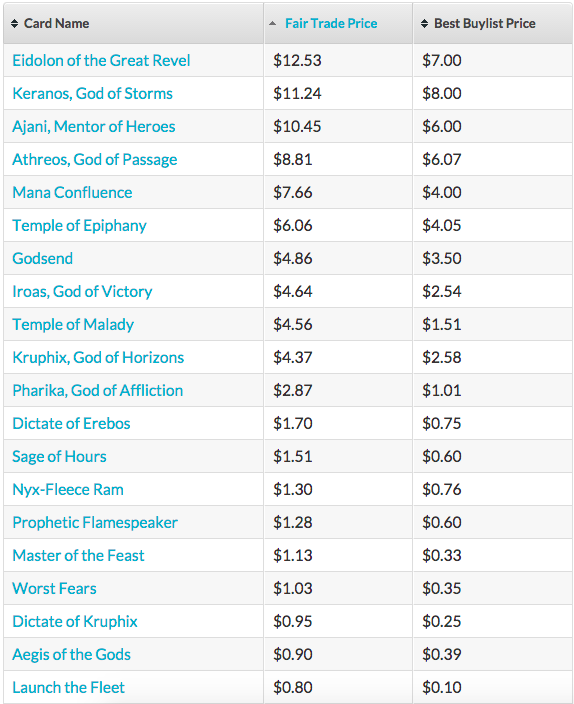 Eidolon of the Great Revel is the number one card from this set that you should be targeting if you play any Modern or Legacy. Burn was put back on the map due to the power of EotGR, so picking up copies for future value gains is a good move since players are looking for playsets that want to play them.
Keranos is looking to be the most valuable god from the sets, but I would pick up copies for Commander demand more than anything else. Yes, he does see play in Modern and sometimes Legacy, however I think his effect on these formats is marginal at best, and that most future demand for all the gods in general is going to come from the casual crowd. I would wait a bit to pick up all the gods, about three months from now when rotation prices are going to bottom out as more and more Standard players continue to dump cards like gods. All the gods from JIN are going to be great pickups at this point, as they are the rarest gods by numbers are JIN was the least opened of theTheros sets. A CAVEAT – The enemy colored Commander decks being released this fall could contain one copy of each of these gods. If that is the case, then the JIN gods are going to take a huge hit in value and be suppressed in price for quite some time. Keep this in mind while waiting to pickup gods. Foils are better targets for this reason, at least until we know if they're in Commander 2015.
Dictate of Erebos is the final mention I'd like to make.  This card is going to be casual gold and is the bottom dollar slow gainer that will make waves over time. It is already almost up to $2 retail with no Standard play and rotation about to happen. Foils will be especially good targets moving forward.
Born of the Gods Current Prices (Non-Foil Top 20)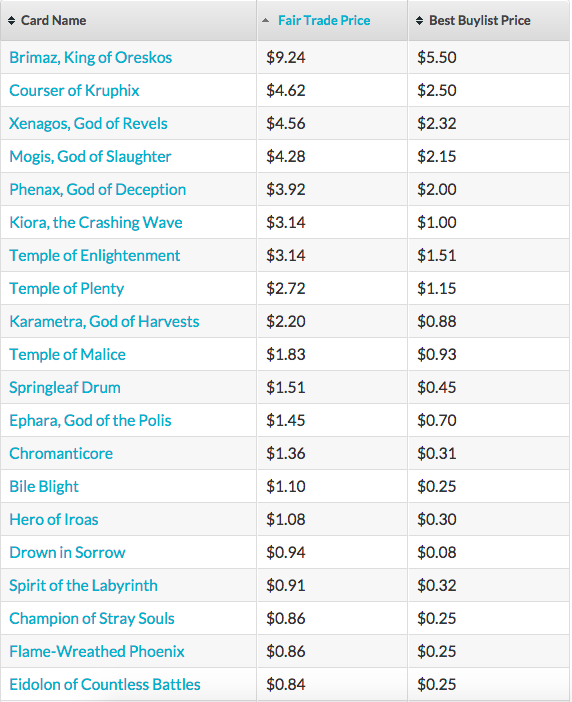 Unfortunately there just isn't anything appealing to me in BNG for pickups moving forward. Brimaz is a great card, it is very efficient for the mana cost, but right now white weenie strategies in Modern just aren't that great. He will be an amazing Commander, and will even be great in Legacy Death and Taxes, but for Brimaz to carry the bulk of the set's value is pretty sad and I don't think he is going to be going over $10 for the foreseeable future.
Even Courser, a Standard powerhouse, is lackluster in eternal formats and is hardly worth picking up right now. Again, Commander applications and sometimes seeing the Courser in Modern/Legacy isn't going to be enough to make it see significant gains anytime soon.
Since we're not going to be getting enemy colored Commander decks in the near future, I would feel very comfortable going deep on some of the more popular gods from the set about three months from now. Even with Karametra, you can't go wrong picking up copies at $2 or less since casuals love these types of big, splashy mythics.
Theros Current Prices (Non-Foil Top 20)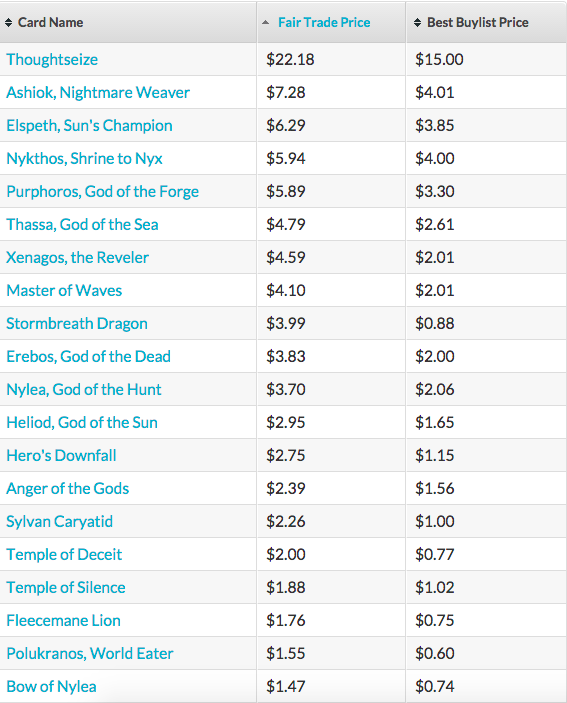 We've already discussed Thoughtseize at length, so let's take a look at some of the cards in the set with the knowledge that they are going to be the most suppressed since Theros was open the most of the sets in the Theros block.
Ashiok is a sweet card, one that has applicability both because of Modern and Battle for Zendikar's Eldrazi Ingest theme. I don't think the card is going to get much cheaper than $6-$7 per copy, since UB Mill is a thing with casual kitchen table Magic. Picking up plenty of copies in anticipation of future demand is a fine move. On the other hand, I'm not so keen on Theros Elspeth due to the Duel Deck printing so I would advise to avoid these cards since there are tons more Elspeths than Ashioks out there.
Both foil and non-foil versions of Nykthos have started seeing upward movement upon rotation, and for good reason – this card is a Cabal Coffers for any color that is also Modern legal. I mean, the foil has already spiked and it hasn't even left Standard yet! Pick up your copies now before the next season's Modern deck is going to make non-foils spike as well.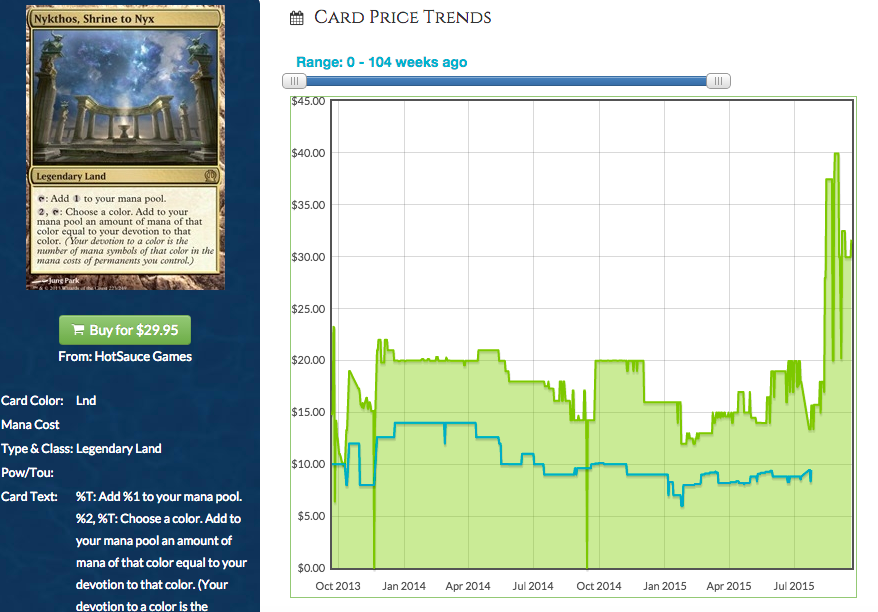 Master of Waves has a great Modern advantage due to being featured in Merfolk, one the top decks of the format. Foils are great targets, but even nonfoils at $4 and less are going to look good a while from now.
Monocolored gods, like their BOG and JIN bretheren, are also going to be nice pickups for future gains. Some will gain more than others as we see how they fit into Commander moving forward, but foils of each should be nice collector's items in the future. If you want foils to finish out Commander decks than rotation is going to be the best time to get deals on these cards.
Final Thoughts
So there you have my thoughts about Theros since rotation is upon us. Is there anything else you guys think I should be mentioning, or that I glossed over that has more applications than I think? What are you guys targeting for rotation, and how deep are you? Personally, I'm looking to start picking up foil Theros Thoughtseize since I think it will be one of the more solid places to park value, but maybe I'm overlooking a cheaper option. As always, let me know in the comments and thanks for reading.