My interest in Standard is usually very fleeting. When I'm covering a Standard event, I get pretty deep into it. I know the decks, I know the pilots and designers, I know the strategies. Then a few months will go by without me covering a Standard tournament, and I'll gradually lose interest and track of the format. Coupled with the fact my Friday Night Magic is Draft instead of Standard, it means my connection with Standard is tenuous at best most of the time.
Except.
Except at Rotation, that is.
That's where we're at now, or at least heading up on it. Previews are coming fast and furious — not to mention in some pretty incredibly awesome ways — and we're quickly getting ready to depart pre-Sarkhan-meddling Tarkir (the Dragons will be sticking around). That means the fetch lands are going away. Gone is Siege Rhino. Mantis Rider is no more. We won't be cruising or digging through time any more, nor will we be dashing any Kolaghans.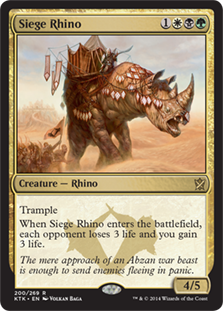 I love Rotation. It's a time of unbridled creativity for deckbuilders, and as much as I enjoy writing finance and coverage, the truth is I like to play a little Magic too. In truth, I actually play quite a bit. While I'll leave the Grinder Finance to Jim since I'm rarely ever to play in big tournaments anymore thanks to doing coverage at them, I spend a lot of time playing in several tournaments a week at home, and I play a good deal of Magic Online.
My favorite format to brew in is Modern, and I've had a fair amount of success doing so. Obviously Merfolk is the deck most people associate with me, and I've done a lot of work over the years to help shape it into its current beautiful form. But I'm constantly brewing up other decks as well, and while I'm not sure I had anything to do with it I was streaming Flagstones of Trokair – Boom/Bust for a week before they spiked.
Anyway, I won't bore you further with my exploits, other than to say I enjoy Rotation for the same reasons. It makes Standard new and exciting, and often times more fun.
It also brings with it financial opportunities. It's those that I'll be exploring today.
The Future of Standard
Honestly, I feel like a lot of post-Rotation decks will be heavily based in Dragons of Tarkir and Magic Origins unless Shadows over Innistrad just blows it out of the water (which is certainly possible). But take, for example, this Jeskai Dragons deck that Top 8'ed the Star City Games event two weeks ago. Outside of the mana base, which will adjust for all decks, only nine(!) cards rotate from the maindeck, and some of those are fairly easily replaceable with cards from Magic Origins or newer sets. The Dragonlords themselves are all still very powerful, and Thunderbreak Regent and Draconic Roar isn't getting any worse.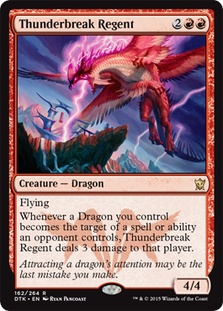 It's not the only deck in this position – the Bant Company deck that won that event has only some fetch lands and a pair of Wingmate Roc rotating out. In many ways, we're already living in the future.
So what opportunities does this present financially?

The rest of this content is only visible to ProTrader members.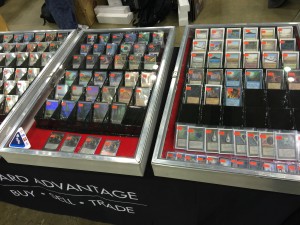 ProTrader: Magic doesn't have to be expensive.