Since the exit of Supreme Verdict, players who enjoy resetting the battlefield have struggled to find an 'always good' sweeper.  Crux of Fate and End Hostilities were too late at five mana, unless you're the only dragon owner in a control mirror. Drown in Sorrow and Anger of the Gods just never seemed to get everything in games two and three.  Now, I feel Languish is filling the void at the CMC we expect from a sweeper. Sure, it's not the Damnation reprint everyone and their mother speculate during every spoiler season for the past year, but this should be powerful enough to asset in shaping the future metagame.
The list of creatures it kills is long and probably not worth talking about.  The list of creatures it can't kill are far more important.  This could give hints on speculation-worthy rares for new Standard.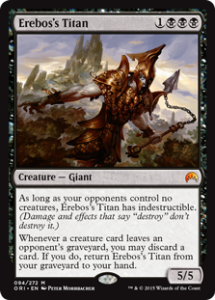 Languish doesn't Kill, but rotates: Most Theros gods (if active), Doomwake Giant, Polukranos, World Eater, Reaper of the Wilds, M15 Soul/"Titan" Cycle.
Languish doesn't kill, and doesn't rotate: All Dragondlords (except Ojutai), Erebos's Titan, Gurmag Angler, Siege Rhino, Tasigur, Archangel of Tithes, Sagu Mauler, Sidisi, Undead Vizier, Surrak Dragonclaw, Woodland Bellower, and Ashcloud Phoenix (4/1 mode).
Clearly not a lot of speculation prospects listed above. Some have multiple printings, don't have enough power for consistent Standard play, or are already expensive.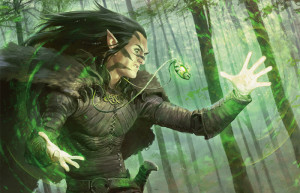 Thoughts on a Languish Standard format
Elves and goblins have a lot of hype but both easily fall to a well-timed Languish.
Abzan Midrange or Control will improve with the addition of Languish alongside metagame removal.
Green-based devotion strategies will fall out or favor due to their dependency on early mana dorks.
White devotion receives Tier 1 potential with Heliod and Archangel of Tithes at the top end of the curve. Brimaz and Wingmate Roc advance the board without over committing. Banishing Light and Chained to the Rocks (if splashing red) remove problems while also increasing devotion.
Black devotion receives tier 1 potential. I made many of these validations in last weeks article , Financial Five: Magic Origins. Erebos's Titan along with the other returnable creatures help recover devotion without losing card advantage.
Focus Cards
Abzan Midrange/Control
Elspeth, Suns Champion ($6) – Even though she has two printings and will be rotating in a few months, she's still a powerhouse.  Languish encourages players to play larger creatures. Elspeth wipes out those creatures.
Ajani, Mentor of Heroes ($10) – Potential value without being affected by Languish and also fits in decks that want to play Languish.
Tasigur, the Golden Fang ($8) – You should already be picking up this card anyway.  Surviving Languish is just added to the list.
Mono-White Devotion
Soldier of the Pantheon ($0.50) – Potential evasion & Lifegain to avoid force-blocking
Knight of the White Orchid ($3) – Increasing or quickly recovering devotion while continuing to curve out.
Heliod, God of the Sun ($2) – Easier to turn on with Origins printing Knight and Angel.
Anafenza, Kin-Tree Spirit ($2) – Rewarding you for playing creatures and might even pull a few creatures out of Languish range.
Brimaz, King of Oreskos ($10) – One of the best creatures to cast on an empty board.  Best post-Languish play.
Wingmate Roc ($2.75) – A powerful top end to take advantage of your Nykthos.
Mono-Black Devotion
Despoiler of Souls ($1) – Recurring devotion plus reasons from last weeks article.
Bloodsoaked Champion ($1.75) – Recovering devotion plus reasons from last weeks article.
Herald of Torment ($0.25) – Bestow allows sweepers insurance, evasion, devotion assistance.
Master of the Feast ($1.25) – Survives Languish, blocks most dragonlords, evasion.
Final Thoughts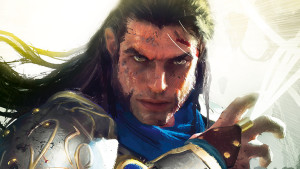 Languish doesn't guarantee a defined Standard meta, but it does serve as an arrow pointing us in the right direction. From past experience, the influence of removal has on shaping the meta.  It hasn't always guaranteed a profitable spec, but it does happen an above average amount of the time.  Clearly, the largest Standard card pool is going to increase my chance of overlooking deck potential, but we can learn a lot from past Standards.  Look at the influence of Hero's Downfall over the past year.  Look at Lightning Bolt or Abrupt Decay and their influence on shaping the eternal formats.
Also, with the thought of rotation haunting the back of your mind, that doesn't mean it's time to dump anything Theros. Understanding the potential movement of Standard can set up optimal opportunities to dump rotating staples at key moments before they actually crash at the Battle of Zendikar release.
As always thanks for reading
---