Hello world! I'm Igor Shapiro. I've started a business out of magic within the last 2 years. Learning this ropes in this market isn't easy; it's been mostly a trial and error process. In a world where everyone has the Internet in their pocket, spotting trends and being able to analyze how the market behaves is what I believe will set you apart from every other floor trader. My goal is to help the community understand this market better and how it works. But enough about me – let's get to the numbers!
As some of you may have noticed, Modern cards have recently skyrocketed in value. For example, look at the trend of Kiki-Jiki: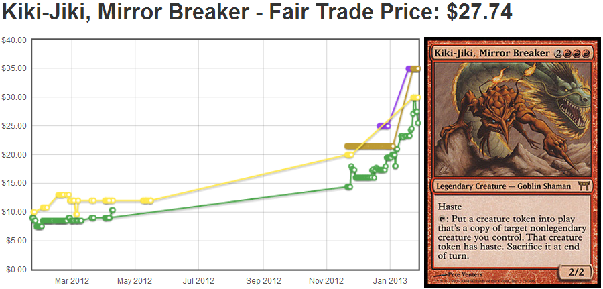 It almost doubled in price within the last 3-4 months. But why is that? It's simple: demand for Modern has significantly increased due to the PTQ season. The availability of older cards (Pre m10) has always been low. Especially since lots of Kiki-Jikis are already hidden away in EDH decks. Now with the PTQ season everyone wants to play Modern. Kiki-Jiki is found as a 3-4 of in the Kiki-Pod decks and also at least a 2 of in some Splinter Twin decks.
This card is on its way to $30. I sold my copies to a vendor at a recent local PTQ for $22.
This card may have surprised many people. If you told me a year ago that this card would be $30, I would have laughed. But Kiki-Jiki isn't the only card that has spiked to extraordinary amounts. Almost every card in Modern has reached very high price points, higher than we've ever seen before. I would want to own as many Modern cards as possible right now. With the Modern PTQ season in progress, the demand for these cards is through the roof and supply is low. They have a high liquidity and vendors are willing to overpay on these cards just to remain stocked. Most Modern cards can be sold to many vendors for close to eBay prices. Learn what vendors are paying on hot Modern cards and remember that trading for these hot Modern cards on the floor can be the equivalent of trading for cash.
The next card I want to look at is Venser, Shaper Savant. Let's look at the data: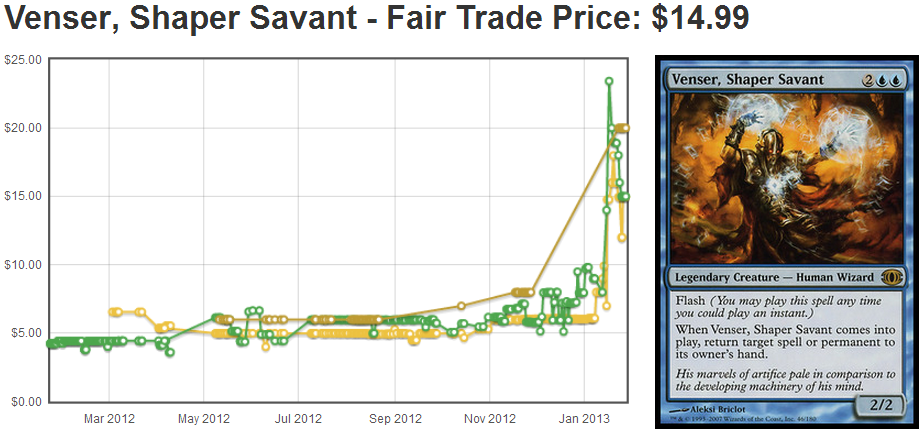 You can see the sharp increase happened very recently.  I don't think the $20+ price tag is stable. He's starting to see more play in legacy and is still a popular EDH card. Let's investigate what happened.
Speculators helped buy up all the copies online (especially on TCG player) causing the price to rise to a ridiculous number. There was a point where you could list them on TCG at $18 and they would sell by the end of the day.  But cards have a certain chain of exchange.
Let's look at Venser as an example.
 Here, the card starts trending upwards, with slow, gradual growth.
Then, speculators buy the Vensers from stores.
Supply of the card dries up online, accelerating the price upwards as everyone wants to get in and make money.
Vendors raise the buy price for Venser in order to restock.
The speculators that bought Vensers sell them back to vendors at the new inflated price.
The vendors drop the buy price.
The new price is either stable if it reflects actual demand (are there people that are willing to purchase at the new price point?) or the new price drops above what it was before the spike but below the inflated price it was at when there were no copies online.
The most important question to ask is whether the card actually has use somewhere.  What formats does it see play in? (Remember that Casual is a format when it comes to MTG Finance). In the case of Venser:
It sees minor play in Legacy.
It sees minor play in Modern.
It sees minor play in EDH.
In the end, I think that Venser's price will stabilize at $15. It's not seeing any groundbreaking amount of play in any new decks but still is a fine casual and cube card.
Now let's look at what you should be trading for this week. All these cards are trending up and you can capitalize by picking them up at their old prices before the market and everyone else catches up.
Clifftop Retreat – Many new Boros cards are in Gatecrash (Boros Charm, Aurelia's Fury). People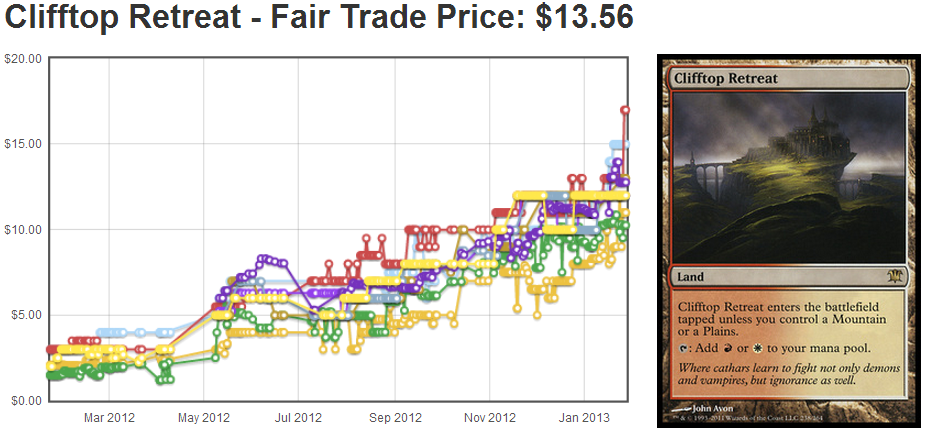 will want to build the deck. The retail price is up to 15 on some major websites. Pick these up at 10-12 in trade if you can. Should be very liquid.
Huntmaster of the Fells– This guy is finally starting to see a lot more play in standard and even Modern. In most lists he's a 4 of. If you can still pick him up at 25 on the floor I'd snap them up. These DKA mythics are only getting harder to find. There is also upside if Gruul is a deck. I can see him being $40+ in the upcoming months. (Thundermaw Hellkite is a good precedent)
Inquisition of Kozilek – How is this still $6? This is a $12 card. It's seeing a good amount of Modern play, it's seeing a small amount of legacy play, and it's a budget replacement for Thoughtseize. Also, being in Rise of the Eldrazi doesn't hurt either. I was offered $5 from a vendor and still said no. I'd trade for these at 6-7 confidently.
Inkmoth Nexus – $5? Really? Go ahead and look up the price of Blinkmoth Nexus. This is a 4 of in the Infect deck and Affinity. I see this card being $12 by next season very easily.  I'd buy any copy I see at 4 (was being offered this by vendors). Inkmoth Nexus is still $5 on a lot of major sites so take advantage of that when trading.
NOTE: Inkmoth and Inquisition can't be reprinted in Modern Masters which makes me like these cards even more.
That is all for this week folks!  I hope you enjoyed my article.