All the cards from Dragon's Maze have finally been spoiled. The new cards from Dragon's Maze have enabled several two-card-combos that have significant potential in both the Standard and Modern formats. These cards may not fit into ready-made decks, but they are just waiting for a prospective deckbuilder to find the right fit for them to rise in value.
Beginning with Standard, we now have the Whispering Madness plus Notion Thief combo. When these two cards are played together, they add up to your opponent discarding their hand while you draw an abundance of cards. I think you can usually manage to win after achieving that. Right now Whispering Madness is at the low price of $0.68, so the entry cost to get in on this card is very low.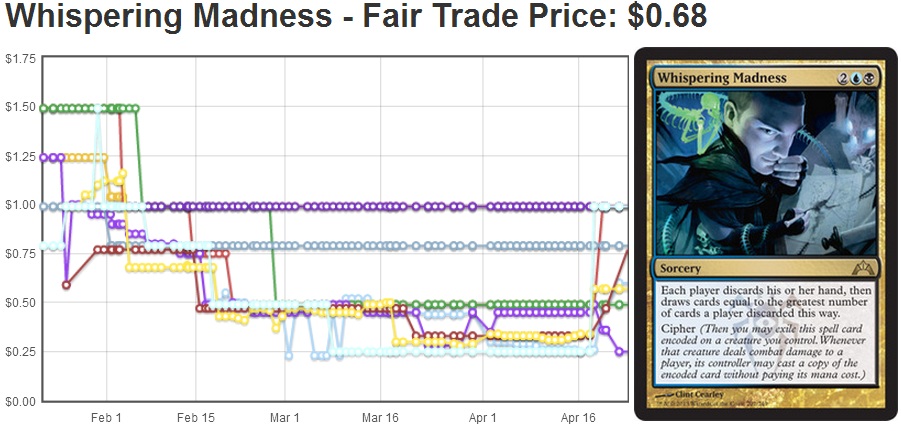 While it is debatable how tournament worthy this combo is, casual appeal alone should drive this card up to a few dollars at least. Other options besides Whispering Madness that also combine with Notion Thief are Reforge the Soul, if you want to dip into red, and Otherworld Atlas for double the card draw with no downside. These support cards that combo with Notion Thief are all under a dollar right now, so there is very little risk in speculating in these cards. Even if the price doesn't go up, they should trade very well because of this combo, so you can just flip them into something else you want. If you want to use this combo in Modern, any symmetrical draw effect such as Howling Mine works well.
The next combo is best utilized in Modern, where we can take advantage of Intruder Alarm plus Beck and Call. When Beck was first spoiled, the price of Cloudstone Curio immediately shot up to $10.00. Intruder Alarm has the potential to follow that same rise, as it is not immediately apparent which combo piece the Modern Elves deck wants to use in conjunction with Beck. Intruder Alarm works better at creating massive amounts of mana, while Cloudstone Curio is better at drawing extra cards after Beck has been played. Whichever card (or maybe it will be both) ends up getting played in the Elves deck, I expect it will maintain a high value, as Elves was among the most powerful decks in Modern before Glimpse of Nature became banned.
The last combo I'll write about for today is Death's Shadow plus Varolz, the Scar-Striped, to be used in Modern. With Varolz in play, any Death's Shadows that are in the graveyard can be scavenged back to grant a permanent +13/+13 to a creature.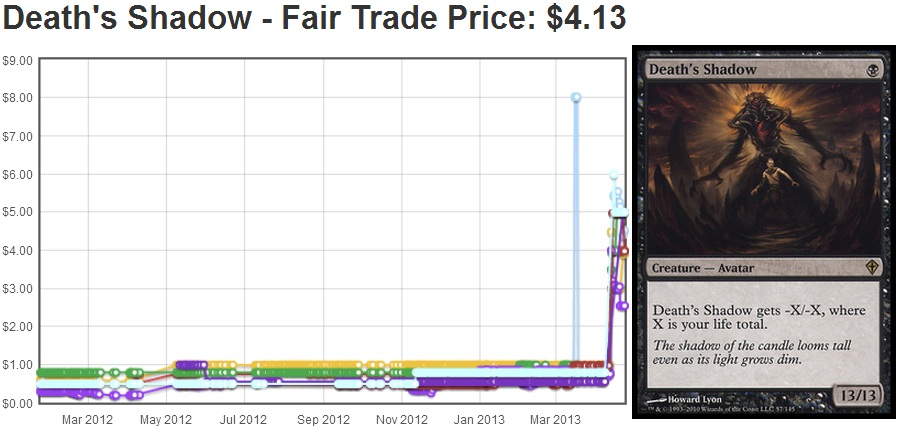 One good aspect of Death's Shadow is that you have control over whether you want to play it immediately to see it die for its scavenge counters, or to hold onto it to use as a big creature later on, depending on your situation. I could easily see these cards fitting into a Vengevine deck, along with all the other usual suspects.
One last note for now: Staff of Domination was just unbanned in EDH, so don't forget to adjust your price accordingly when trading! The foil price, especially, has gone up.