With the conclusion of this three-Grands Prix weekend, we draw ever closer to the end-of -year lull in Magic.  Let's talk about some new announcements and discuss the expected price drops in the comings weeks.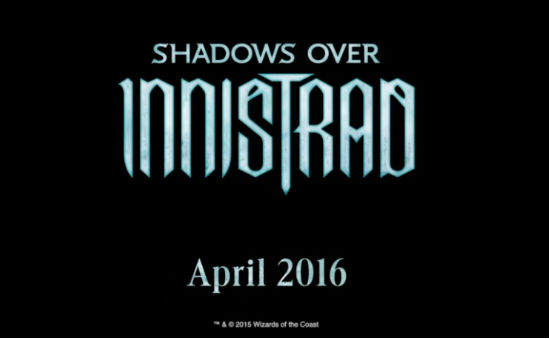 If you are a Vorthos player, you may have been expecting this.  In this article, Ugin explains to Jace that the only way to stop the Eldrazi is to seal them again.  He instructs Jace to go to Innistrad and find Sorin and bring him back to Zendikar.  Another important thing that Ugin mentions is that the Eldrazi Titans will planeswalk away when mortally threatened.  There are a few expectations we can draw from these events.
Shadows over Innistrad is the start of a new block.  It will be treated like a large fall set.
Liliana is MIA in the Zendikar storyline, I expect to see her return in Innistrad (This would be a prime place to reprint Liliana of the Veil without devotion in Standard)
We may see flashback return in SOI but with a Snapcaster Mage RPTQ promo he will likely not return in the set.
We may see an Eldrazi titan escape and attack Innistrad (Given the fact that Oath of the Gatewatch's set symbol looks like Kozilek's head shards, it will probably be Emrakul)
This is all of course speculation but so far the story articles seem to be a reliable way to tell the future.
Why are we going back to Innistrad?
With a real definition of what is "new" and what isn't, I expect this to continue to in the future and be a conduit for important reprints outside of Modern Masters.  We can expect the Fall 2016 set to be a "new" plane.
Now that we've got that out of the way, let's shift gears and talk about events.
What events are left in the 2015 calendar year?
Do you know how many weekends of Grands Prix are left? After this triple Grands Prix weekend, there are five left on three weekends to close out the year.  Seattle/Tacoma (Legacy), Atlanta (Sealed), and Pittsburgh (Modern) are the last three Grands Prix in North America this year.  There are two Standard GPs left, one in Brussels and one in Kobe, and that's it!  There is over a month off and then GP Oakland opens up the year with a Standard Grand Prix before almost another month off before the next set of Grands Prix after the release of Oath of the Gatewatch.  Thats not a lot of Standard being played outside of the LGS level.
Let's take a look at the other major circuit, the Star City Games Open Series. There are five SCG opens for the remainder of the year.  Four are Standard (Philadelphia, Kansas City, Denver, and Las Vegas) and one is Legacy (New Jersey).  That's also not a lot of opportunities for the rest of the year to play in high level Magic events.
What does this all mean?  Well, it precludes the December price dips.  You basically have one month to sell or trade any Standard cards you will not need for the rest of the year before their price starts to drop significantly.  I already traded away my Gideon, Ally of Zendikar this weekend for Eternal playables. I would recommend dumping any Khans of Tarkir cards especially since there will be no more Standard Pro Tours to breathe new life into them before they rotate.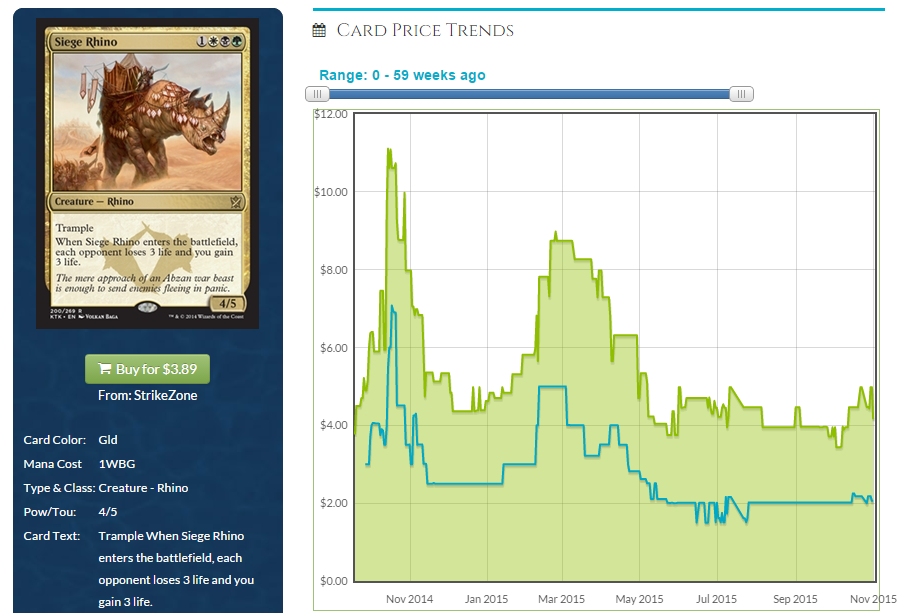 As you can see from this graph, the post Pro Tour price tag quickly dips into a yearly low in December.  If you want to get expensive cards from Battle for Zendikar, I'd wait until then.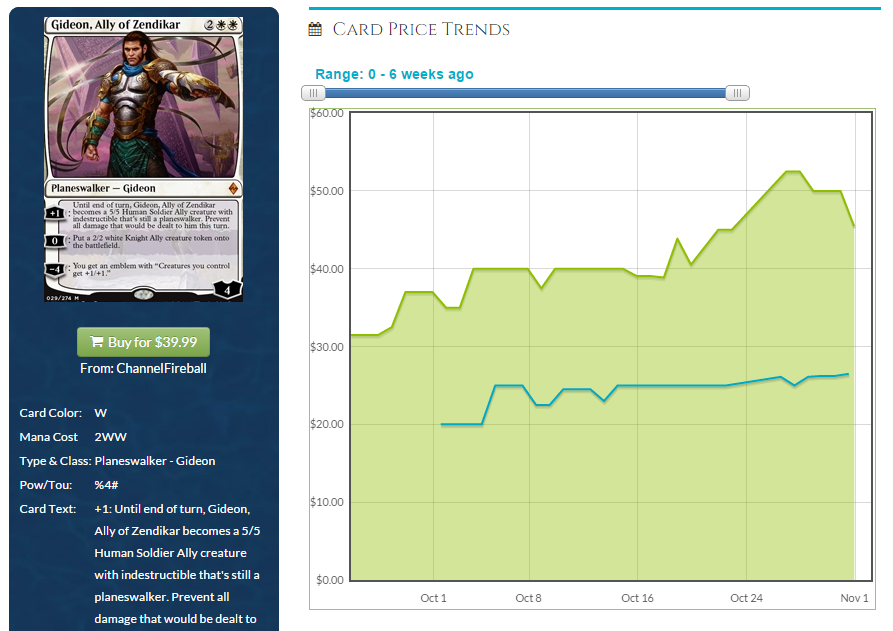 Although Gideon doesn't have a long price history, we can see he's peaked and is already on his slow descent.  I'm just guessing here but I could see Gideon being as cheap as $20 by Christmas.  While it's clear he will be a player in Standard for his entire lifetime, it is unwise to hold copies you're not actively using.  But, it's not all gloom and doom for a buyer.
These two lands have already shown up in some decks as a way to ramp out huge Eldrazi.  It might not be a thing today but I feel like the deck is very close to breaking out.  I wouldn't be surprised if these two lands are the mainstay of a top tier deck in Oath of the Gatewatch.  Kind of hilariously, right now that is the basis for one of the cheaper Standard decks as it doesn't play any fetchlands, Gideons, or Jaces.  At about $0.50 per land, I wouldn't fault you for picking up a playset of each in preparation for Kozilek in Oath of the Gatewatch.
Grand Prix Articles
Do you like the articles that Jeremy (@LengthyXemit) does for Grands Prix?  I will be lucky enough to attend the last two American Grands Prix of the year and can provide some commentary for people looking to buy cards.  Are there other questions you have for the Grand Prix process?
I took a week off due to some work-related complications but I will have the Pucatrade article for next week!  Hope you all had an awesome Halloween and I look forward to your comments below!